Can a patient get inexpensive implants? Kuta in Indonesia offers affordable quality procedures.
Dental implants, as a complex dental treatment, are more likely to be very expensive considering the procedures that is involved. Fortunately, there are some countries that offer affordable treatments without compromising quality. Among the popular dental destinations offering inexpensive implants, Kuta stands out as a leader in price and quality. Inexpensive implants can certainly help change a patient's life.
A dental implant is a procedure that replaces teeth that is broken, missing or not matching the natural teeth of the patient. Dental implants are a solution to restore teeth, smiles and quality of life for many patients. During the procedure, a titanium post is inserted into the jaw bone, which acts just like a natural tooth root. This is where the crown is finally attached giving patients a natural look as it will closely resemble a natural tooth. This is a smile restored. More so, dental implants can be a way of maintaining one's health oral tissues.
If you are wondering whether these treatments are affordable or not, at Dental Departures we can help you get the dental care you need at a competitive rate. Meaning, all dental clinics we present are providing services at the lowest prices with warranties.
Worried about the cost factor? The price comparison below will settle that.
INTERNATIONAL PRICES VS. KUTA, INDONESIA PRICE.
PROCEDURE

AUD$

NZD$

US$

COMPARISON

DENTAL IMPLANTS

$ 5,098.00

$ 5,238.00

$ 3,913.00

INTERNATIONAL

$ 1,987.00

$ 2,114.00

$ 1,585.00

KUTA

39.00%

40.30%

40.50%

% PATIENTS PAY
ARC Dental Clinic maintains very high standards of hygiene, technology and excellence in patient care with its team of professional and highly qualified dentists. ARC Dental Clinic offers a wide range of dental health services at a remarkable and affordable price. They make sure that patients receive the appropriate care. Their treatments include deep cleaning, full denture, acrylic teeth, implant supported overdenture, root canal and dental implants.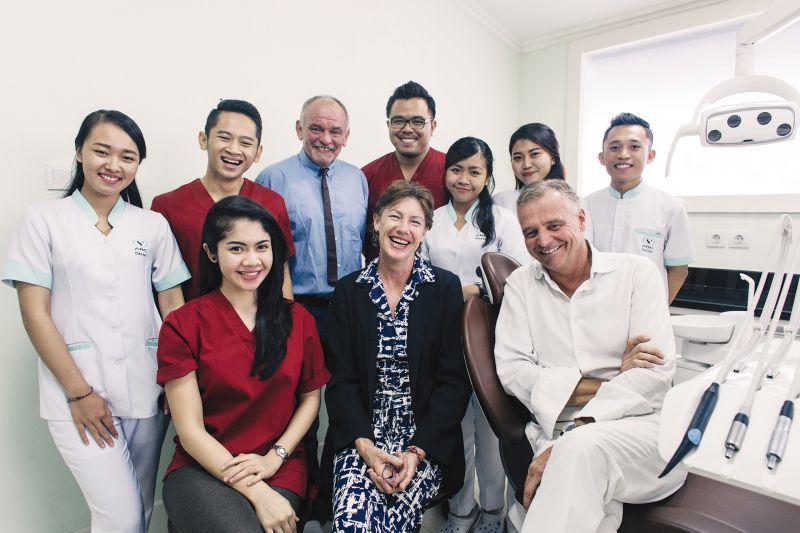 Bali 911 Dental Clinic - Kuta branch is a beautiful clinic that is strategically located in the ideal location to help patients feel relaxed while getting dental treatment. This clinic specializes in orthodontics, cosmetic dentistry and implants. Patients are assured that the diagnosis will be accurate as the clinic uses highly advanced technology like periapical digital x-rays,
Dentes Denta Clinic (Kerobokan) covers both general dentistry and restorative treatments. These treatments are as follows:
General Dentistry
Teeth Cleaning
Deep Cleaning, Scaling and Planing
· Laser Teeth Whitening and Take-Home Whitening Kits
Composite Fillings
Extractions including wisdom tooth removal
Night guards
Restorative Treatments
· Crowns (full ceramic, porcelain, porcelain fused to metal, gold, zirconia)
Bridge
Dentures
Veneers (composite, porcelain, zirconia)
Implants
Titanium dental implant
Zirconia dental implant
Root Canal Treatment
Braces (with brackets or clear aligners)
Knowing the significance of having affordable dental implants and from which clinics the international patient can get the procedure; it is now up to the patient to make the necessary moves. This can assist international patients on deciding where to get inexpensive implants. Kuta dental clinics welcome any potential patient who wants to have a dental implant procedure at an affordable price.