In the city of Johor Bahru, Malaysia, you'll find dental clinics offering high quality treatments like veneers. Prices in Johor Bahru are lower compared to Australia, New Zealand, and the UK. The affordability of treatments is not due to inferior quality of treatments, but because of the low-cost of living and operating expenses. Check out the following dental clinics in Johor Bahru that offer veneers and other treatments.
Tiew & Partners Dental Clinic - Bukit Indah Branch is part of ST Tiew Dental Group that has been serving patients for more than 29 years. It has now 30 clinics in the region. The dental group has its own dental laboratory (Nationwide Dental Services), a dental supply shop (One Dental Supply Sdn Bhd), and a specialty clinic (White Dental Cosmetic Centre). The award-winning clinic offers a wide range of dental services such as Restorative Treatments, Cosmetic Dentistry (veneers, crowns), Periodontics (gums), Endodontics (root canals), Orthodontics, Oral Surgery, and other specialized treatments.
Klinik Pergigian Dr. Hong is managed by a dental surgeon who completed his studies from the University Of Sydney, Australia. The clinic offers Oral Surgery, Restorative Treatments, Orthodontics, and other specialized treatments. It has an in-house laboratory complete with Computer-aided design/computer-aided manufacturing (CAD/CAM) technology CEREC system that manufactures veneers and crowns onsite.
Dr. Chong & Partners Dental Clinic - Bukit Indah Branch offers exceptional dental services in a modern and relaxing environment. The clinic is equipped with ultramodern technology such as 3D CT scan, Implants systems, diode laser, Digital Smile Design, and other hi-tech equipment that delivers accurate results. The clinic covers Preventive Care to specialized procedures such as Root Canal Therapy, Gum Treatment, Dental Implants, Full Mouth Rehabilitation including Smile Makeover (veneers, laser teeth whitening, crowns).
YSmile Dental Surgery is headed by a dentist who is a graduate of University of Frankfurt, Germany. She has more than 22 years of experience in various procedures. The clinic covers dental services such as General Dentistry, Root Canal Treatment, Restorative Dentistry, Cosmetic Dentistry, and Oral Surgery.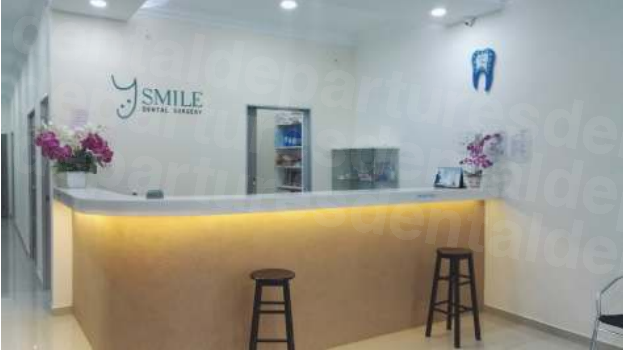 Q&M Dental Surgery – Molek is part of Q and M Dental Group that was established in Singapore and expanded in Malaysia. This is also an award-winning clinic known for outstanding dental service. It has a roster of specialists in Endodontics, Oral Surgery, Orthodontics, Gum Treatment, and Prosthodontics (teeth replacement) that work together in improving patients' smiles.
The cost of treatment in these clinics is a fraction of the price you'd pay at home. For example, the price of veneers in Johor Bahru is approximately AUD $753 (NZD $808; UK GBP444) compared to Australia, its AUD $2,810 (NZD $3,015; UK GBP1,461). The price varies depending on the type of material used, number of teeth, and other factors. Talk to the dentist about your concerns, the dentist will prepare a special treatment plan based on your budget.
Shape up your teeth with veneers. Prices in Johor Bahru is much lower compared to your home country. Let Dental Departures help you find a clinic in Johor Bahru. Book an appointment by phone, email, or online chat.