Considering dental treatment in Bali? Enjoy far more affordable options comparerd to home in this Indonesian tourism gem. Save up to 60% on cheap dental implants in Bali with Dental Departures.
Take the edge off a major dental procedure whilst relaxing in style on this luxurious island. Or, if you are on vacation, benefit from top-notch, cost-effective dental care while you're there, saving hundreds of dollars on treatment.
Known as the "Islands of the Gods," brimming with glorious beaches and diverse natural beauty, many patients choose this exotic travel hotspot for top-notch, affordable dental work.
Why Visit Bali for Dental Implants?
Many of our fully-approved clinics in Bali provide highly-trained dentists specialising in a range of dental procedures including single and multiple implants . Undertaking a wealth of everyday and specialist dental care, all our background-checked clinics provide bilingual staff, the latest equipment and contemporary interiors, ensuring a patient-focused experience. Enjoy major savings on your dental health, whilst soaking up the sun in one of the world's most idyllic resorts.
Bali offers a thriving tourism sector alongside leading, well-established dental facilities that caters to cross-border and international patients.
Travellers can access this enchanting destination in less than 12 hours from both Auckland and Sydney, flying into Denpasar's Ngurah Rai International Airpor. From here, patients can explore the rest of this vast, exotic country and Southeast Asia, thanks to several regional discount airlines offering low-cost fares.
What Level of Care Will I Receive in Bali?
We are aware finding and choosing the right dentist is essential. Dental Departures meticulously vets each clinic that appears on our site: for quality, clinical care, hygiene, dental qualifications and much more. We do the hard work so you don't have to, allowing a hassle-free, first-rate experience.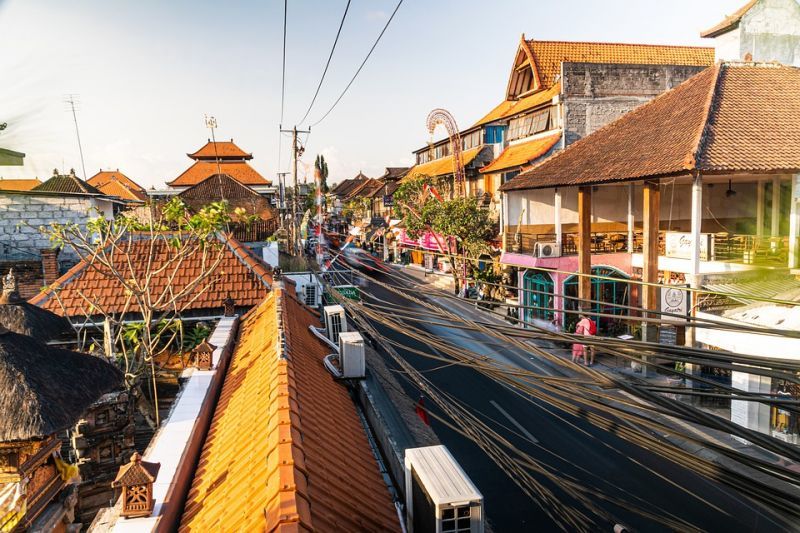 Our best dentists in Bali are also members of local and international organisations such as the International Congress of Implantologists . Check out virtual clinic tours, view maps, compare prices and research our outstanding dental Implants review Bali for verified patient experiences. Notable clinics include Bali 911 Dental Clinic Kuta and Bali 911 Dental Clinic Denpasar .
How Much Can I Expect to Save Compared to Australia or New Zealand?
Save up to 65% on dental Implants cost in Bali
Dental implants cost in Australia: $5,098

Dental implants cost in New Zealand: $5,238 NZD

Average dental implants cost in Bali: $1,585
Staying in Bali?
Several accommodation options await you when you visit Bali , suiting all wallets and budgets, from cheap hostels to sophisticated five-star hotels
Denpasar in the South is popular as well as Kuta Beach, Seminyak, Nusa Dua and the old Colonial capital, Singaraja. Patients are never far from top-quality dental clinics dotted around the island.
Why Bali?
Based near Western Australia, Bali is steeped in culture, religion and heritage with a deep Hindu and Buddhist spiritualism. Excelling as both a world-class dental tourism and holiday destination, Australian and New Zealand patients regularly visit for first-class affordable dental care as part of their travel plans.
Discover Seminyak, Kerobokan, Sanur and Ubud— Bali's cultural heartland or relax and recuperate on many of its unsullied beaches.
Filled with lush vegetation and distinct rice paddies, Bali is home to a staggering 10,000 temples. Diving hotspots can be found in Nusa Penida, whilst you can discover Balinese dance and several places of interest including the ancient site of Goa Gajah (Elephant Caves) and Bedugul Botanical Garden, displaying 2,000-plus plant species.
How to Book?
The more informed you are about dental implants, the better equipped you will be in finding and choosing the ideal clinic. When you are ready to book, call our toll-free number or book online for superior, quality dental care in Bali at the lowest available prices.