Do you suffer from decayed, rotting, or missing teeth? If so, you may have considered getting dental implants.
Dental implants are a great way to restore your smile, but unfortunately, the cost is high.
In a country such as Australia, dental implants can cost over $5,000 AUD, whereas in Pattaya dental implants cost around $1,500. That's enough to make anybody think twice.
In fact, procedures are so inexpensive, that every year, more and more people are turning their trip to the dentist into a holiday vacation. By seeking care overseas, you can cover the cost of your trip, while still saving thousands of dollars.
Why choose dental implants over dentures?
Dental implants are a permanent solution to dentures. With dentures, you run into issues such as slippage, adhesives, messy cleaning, storage problems, hygiene issues, aesthetic appearance, and more.
With dental implants you no longer have to worry about any of those things. They sit permanently fixed in your mouth, and they look great.
For most patients, the only downside to implants is the price. But in Pattaya, Thailand, you can find treatment for just a fraction of the price you would pay at home.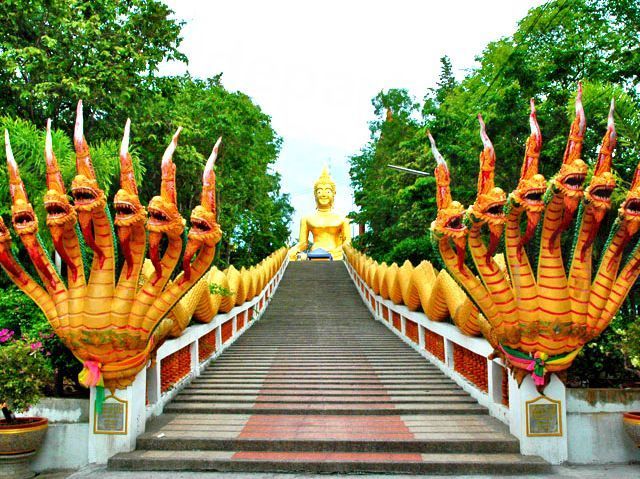 Where is Pattaya?
Pattaya is a relatively small coastal town located in Thailand. It is about 2 hours south of the capital city Bangkok, and is easily accessible by airplane, bus, taxi, or train. It is also a world-famous tourist destination, bringing in over 8 million visitors a year.
While in Pattaya, when you are not at the dentist's office, you can spend your time relaxing in the sun on the beach, snorkeling, scuba diving, enjoying an island tour by long-tail boat, trekking through the jungle, riding elephants, visiting ancient temples, dining on local cuisine, or chilling out by the pool at a 5-star resort. With so many things to do, you are sure to have the vacation of a lifetime.
What procedures are available?
If you are looking for dental care in Thailand, there are many clinics offering a wide range of treatments and procedures.
Be sure to check out The Dental Design Center, conveniently located in downtown Pattaya. They treat their patients in a state of the art facility, featuring only the latest and most modern dental technologies. Their services include fillings, cleaning, extractions, whitening, crowns, veneers, dentures, diagnostics, dental implants, orthodontics, mouth restorations with four implants, root canals, and more.
With so many procedures available at affordable prices, The Dental Design Center is sure to have you leaving with a smile.
How can I schedule an appointment?
Still have questions about Pattaya dentists, dental implants, or procedures? No problem. Just speak with one of our Customer Care Team representatives. They are available and ready to help 24 hours a day.