Have you been putting off your much-needed trip to the dentist's office, simply because you don't want to be stuck paying off the extremely costly bills? You are not alone - but you don't have to suffer any longer.
In Kuala Lumpur, quality dental care is finally within your grasp with prices up to 70% lower than back home.
In this article, we will discuss how treatment abroad can save you thousands of dollars. In Kuala Lumpur, crowns, fillings, root canals, mouth restorations, and more are priced in a range that won't leave you thinking twice about that visit to the dentist's office.
Where Is Kuala Lumpur?
Kuala Lumpur is a large city located near the eastern coast of central Malaysia. It is the biggest city in the country, with a population of approximately 7 million people. It is a very modern and diverse city, scattered with skyscrapers, shopping malls, sports complexes, fine dining, and cultural exhibits
It also has a major international airport connecting the city to the rest of the world, with direct flights from Australia, New Zealand, the UK, Europe and other parts of Asia.
In addition, it is home to many high-quality affordable dental clinics, with some of the very best listed with Dental Departures.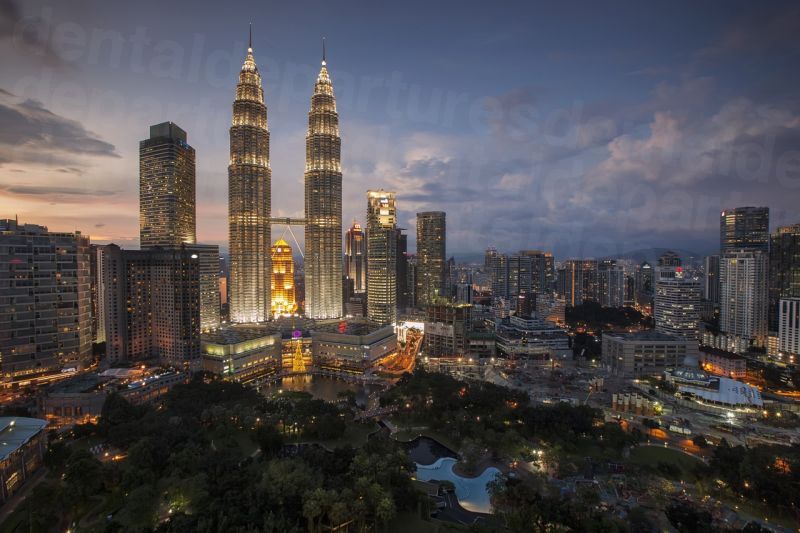 How much do dental crowns cost?
For dental crowns at home, you are going to be looking at a bill of approximately AUD $1,505 in Australia (NZ $1,545; UK £863; Eire €1,000; US $1,164; CAN $1,480).
Now let's compare that to what you would pay in Kuala Lumpur.
On average, the price in Malaysia for dental crowns is about AUD $450 (NZ $471; UK £266; Eire €303; US $339; CAN $456).
With all the money that you save, you should be able to cover the cost of your flights, accommodations, and entertainment. So why are you overpaying at home? Isn't it about time you took a vacation?
What Are Some of the Top Clinics in Kuala Lumpur?
Check out the list of our top dental clinics in Kuala Lumpur. With so many to choose from, you can rest assured that all of your dental concerns will be satisfied.
Imperial Dental Specialist Centre – Established in 2013, Imperial Dental can help you with all of your beauty and dental needs. Formerly known as the Beverly Wilshire Dental Centre, they have years of experience catering to foreign clients. Their team of 8 highly qualified and specialized dentists are ready to help get you smiling again.
Chai Dental – Kuala Lumpur – In operation since 1978, Chai Dental is helping patients receive the care that they need, using only the most modern and up-to-date technologies and facilities. With a team of top dentists with advanced degrees from abroad, you can be sure that you are in good hands. Chai Dental offers a wide range of services from dental crowns to root canals, and full mouth restorations.
Dentalpro Dental Specialist Centre – conveniently located on the outskirts of Kuala Lumpur, near KL International Airport, Dentalpro is serving patients daily, in their state of the art facilities. Offering a wide range of procedures and treatments, Dentalpro is a one-stop-shop for all of your dental needs. Specializing in restorative and aesthetic dentistry, they are ready to work with you and your budget to get you the treatment that you need.
Getting Started
In Kuala Lumpur, you can save thousands on your dental care. If you have questions or would like to learn more, visit us on the web, or speak with one of our Customer Care Team representatives, who are ready to assist you 24 hours a day.