The teeth define our smile; the symmetry, the colour, and the size all contribute to its overall appearance, and – in the bigger picture – it contributes to our entire facial aesthetic. So, it suffices to say that wanting a perfect set of teeth is perfectly natural. But to attain perfection, there is, of course, a cost – and it's quite a costly one. That is, if you do not know about the best veneers George Town has to offer! Quality service for the lowest cost possible—there is nowhere else you should consider getting your veneers, but George Town!
What are Veneers used for?
Veneers literally cover imperfections in size, shape or angle, by providing a superficial cover for your tooth, cemented in place on the front surface. The veneer material may be ceramic or made of composite resin.
Veneers require no surgical procedures, save for a local anaesthetic for you to feel no discomfort. A thin sliver of tooth enamel is scraped off the front surface of each tooth and impressions of the teeth will be taken and sent to a laboratory for veneer creation. After the veneers are created, they are fitted, and bonded to the teeth.
Where is George Town?
George Town is the capital of the Panang State of Malaysia and is one of the highest populated cities in the country. It boasts a booming tourism economy since it donned its title as a UNESCO World Heritage Site. George Town has an array of well-preserved sites from post-colonial forts and clock towers to Burmese temples and ancient familial landmarks. With its well-balanced modernity and cultural historicism, George Town makes a quaint and beautiful place to see.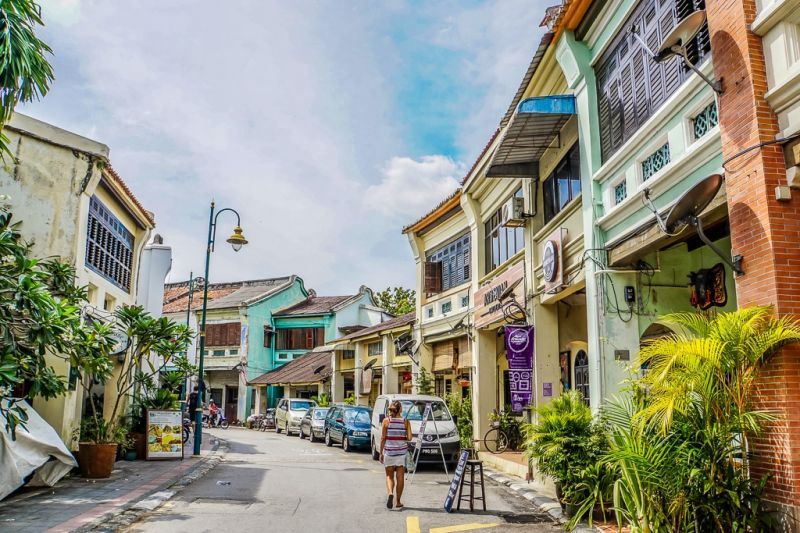 How much is the average rate for Veneers?
In addition, the veneers price George Town is one of the lowest costing dental procedures in the entire world! Here is the average cost of Veneers from Malaysia compared to other countries:
PROCEDURE

AUD$

NZD$

US$

COMPARISON

VENEERS

$ 1,623.00

$ 1,667.00

$ 1,245.00

INTERNATIONAL

$ 618.00

$ 685.00

$ 498.00

MALAYSIA

38.10%

41.10%

40.00%

% PATIENTS PAY
Dental Departures recommend these great clinics for you:
Wong and Sim Dental Surgery offers an array of aesthetic-centred procedures such as smile makeovers, teeth whitening, gum correction and of course, veneers. Wong and Sim Dental Surgery is equipped with state-of-the-art technology that contributes to the great, quality care treatment and procedures that assure you nothing but top-class results. Our great exclusive Dental Departures promotional package is available here!
Lim and Nyu Dental Surgery offer you dental solutions with their extensive care in oral surgery and cosmetic dentistry. Headed by Dr. Nyu Chui Ee, Lim and Nyu Dental Surgery employ a team of well-trained staff to provide you high-quality care. Here is the exclusive Dental Departures promotion you could avail:
Neoh Dental Surgery offers exquisite service of dental care and aesthetics, providing patients with preventative, cosmetic and functional improvements. Equipped with only the best technologies in dentistry such as panoramic x-rays and 3D/CT scanning, Neoh Dental Surgery will restore your dental health and help you attain your best cosmetic dental aesthetic.
Want to save on your accommodation while in Bali?
Dental Departures offer you this exclusive travel promotion for your benefit! Avail now!
Now you know where to get the best veneers. George Town offers patients an aesthetic opportunity that you cannot let pass! Book now through Dental Departures and see your smile turned into perfection!