The lower teeth whitening price Izmir in Turkey offers attracts many people visiting the city. The sky high prices of dental treatments in the west make dental tourist destinations like Izmir a pleasure for people who need to a dental procedure. So the next time you're there on holiday, make sure to get teeth whitening done before you return home.
Of course, you need to visit a good dental clinic to make the most of the attractive teeth whitening prices in Izmir. Dentaglobal is one of the best clinics in the city where you can brighten your smile. The clinic is located in the heart of Izmir, near the popular Folkkar Towers.
A lot of people from across Europe find affordable dental treatments at this clinic and get the best value for money. The clinic is open 10 am – 10 pm from Monday to Friday, and also on Saturday till 4 pm. The brilliant specialists at Dentaglobal Dental Clinic make it your visit this clinic worth it.
Teeth Whitening Cost – Izmir
How much can you save on teeth whitening? To save your time, we've put together the price comparison for teeth whitening. Compare the Dentalgobal prices with the prices you would have to pay in the UK and Europe: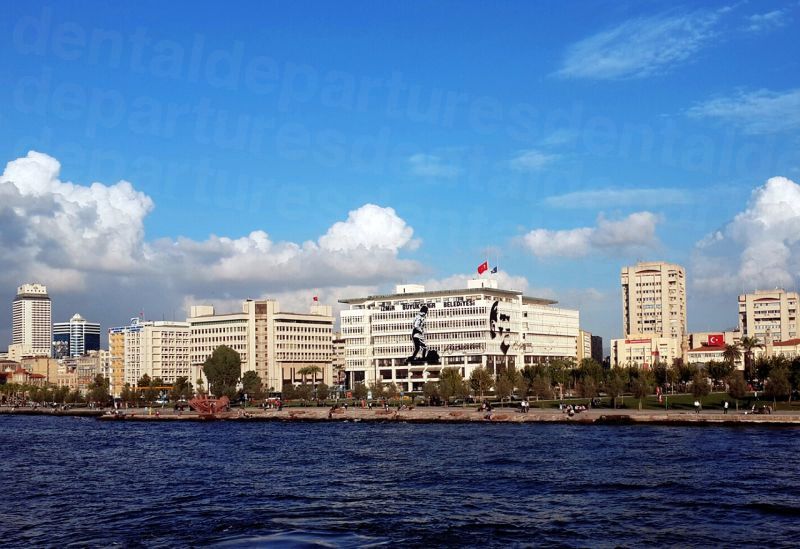 Laser Teeth Whitening
Cost in the UK: GBP £387
Cost in Europe: EUR 462
Cost in Izmir: GBP £150 / EUR €150
Teeth Whitening – Take Home Kit
Cost in the UK: GBP £215
Cost in Europe: EUR €256
Cost in Izmir: GBP £200 / EUR €200
So why not enjoy this nice price difference? Now you know which clinic to choose and the level of savings you can enjoy, you won't have to spend a lot of time figuring things out. After all, you don't want to spend half your holiday hunting for the right dentist right?
Rest assured that the lower teeth whitening price in Izmir doesn't mean lower quality. You should know the actual reason behind the affordable dentistry in dental destinations such as Izmir. The biggest reason is that running a dental clinic at such destinations is a lot cheaper compared to countries like the UK. This is why Turkey is a very popular dental tourist destination. While the price of teeth whitening itself may not be worth the special trip, it's definitely worth it if you're already there on holiday.
The whole point of a holiday is to have fun, relax, recharge your batteries. So why not return home from your holiday in Izmir with a more beautiful smile? The whiter teeth and the savings are great reasons for you to flash your beautiful smile! Thanks to Dental Departures, you know the best way to get it done. Don't miss the chance to enjoy the teeth whitening price Izmir offers when you go there on vacation. Feel free to read more about the Dentaglobal clinic and make an appointment.