Situated on Turkey's stunning western coast, Izmir offers a charming escape from the usual tourist crowds. Alongside browsing lively bazaars, dining out, hiking, trips out to sea and exploring some of the city's ancient ruins, one thing that you could put on your "to-do" list here is getting your teeth whitened.
You'll be able to save a substantial amount - and return home from your holiday in Turkey with a bright smile that'll impress friends and family.
Discover recommended quality checked clinics in Izmir for laser teeth whitening with Dental Departures.
Top Dental Clinics in Izmir, Turkey
Dentaglobal is one of the best clinics in the city where you can brighten your smile for less. The clinic is located in the heart of Izmir, near the popular Folkkar Towers. The clinic is open from 10 am – 10 pm from Monday to Friday, and also on Saturday until 4 pm. The brilliant specialists at Dentaglobal Dental Clinic are dedicated to making your treatment as comfortable as possible, with modern equipment and contemporary facilities.
DentaPoint's location in Izmir offers international patients who are holidaying in Turkey a convenient spot for their dental care. The clinic itself stands near the Bay of Izmir, overlooking glorious, azure-coloured waters and it is a good spot for visiting Ephesus and other resorts around the area.
As well as teeth whitening, the experienced team here offers a wide range of general, cosmetic and restorative dental service.
Another highly-rated clinic in the city for teeth whitening is Izmir Fi Dental, a modern facility that was established in 2015. Aiming to ensure total customer satisfaction, the clinic's team of qualified dental professionals value the relationship they have with their patients, offering personal, high-quality services to meet patients' oral health and cosmetic dentistry requirements.
Aside from brightening smiles, other treatments available include direct composite bonding, veneers, root canal therapy, orthodontics, gum disease treatments, dental prostheses and implants.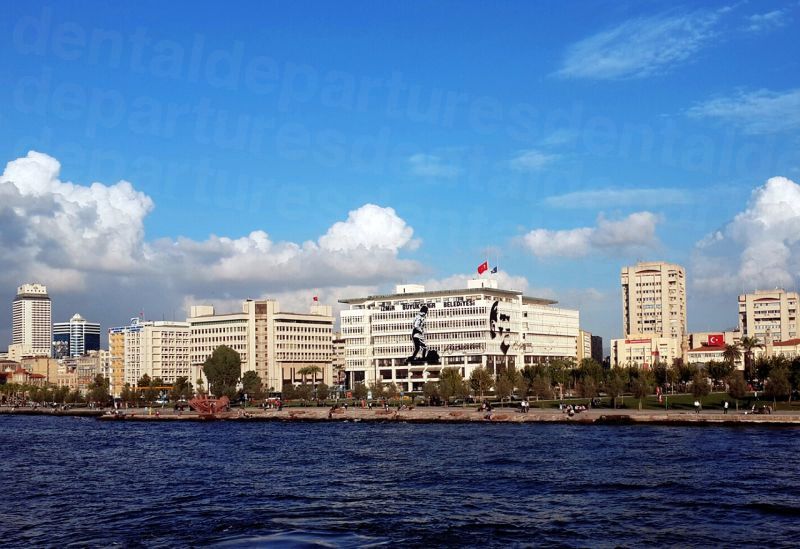 How Much Does Teeth Whitening Cost in Izmir?
How much can you save on teeth whitening? To save your time, we've put together the price comparison for the average prices for the different types of teeth whitening available in Izmir compared to other countries:
Laser Teeth Whitening
Cost in the UK: GBP £387
Cost in Europe: EUR 462
Cost in Izmir: GBP £150 / EUR €150
Teeth Whitening – Take Home Kit
Cost in the UK: GBP £215
Cost in Europe: EUR €256
Cost in Izmir: GBP £200 / EUR €200
[Please note that these are estimates at the time of writing. Take a look at our Izmir clinic listing pages for latest prices.]
Rest assured that the lower teeth whitening price in Izmir doesn't mean lower quality. The main reason for these lower prices is that running a dental clinic in such destinations is a lot cheaper compared to countries like the UK, while the overall cost of living in Turkey is much lower, too.
While the price of teeth whitening itself may not be worth the special trip, it's definitely worth it if you're already there on holiday.
Booking with Dental Departures
The whole point of a holiday is to have fun, relax, recharge your batteries. So why not return home from your holiday in Izmir with a more beautiful smile? The whiter teeth and the savings are great reasons for you to flash your beautiful smile!
You can book a free appointment directly through the Dental Departures site, which is free to cancel at any time. For more information or assistance with your booking, connect with our Customer Care Team here.
Sources:
Things to do in Izmir, Turkey. Novo Monde. 1 October 2020. https://www.novo-monde.com/en/things-to-do-izmir-turkey/
Cost of living in Turkey. Expatistan. 2020. https://www.expatistan.com/cost-of-living/country/turkey
Teeth Whitening. Colgate. Website accessed: 24 October 2020. https://www.colgate.com/en-us/oral-health/cosmetic-dentistry/teeth-whitening