Traveling to Algodones for dental implants? Check out our guide so you know what to expect before you go.
Los Algodones is now a go-to destination for many Americans and Canadians looking for reliable dental work they can afford. Some people are drawn to the town when they have to get expensive work, like dental implants, or root canals.
Others – particularly snowbirds and retirees who travel south for the warmer weather – make a regular trip to Algodones once or twice a year to maintain their dental health.
What Are Dental Implants Used for?
Losing teeth can be an upsetting experience, and can leave you feeling self-conscious and reluctant to smile. If you want to fill the gap in your teeth you will need to get either a bridge or dentures – neither of which may be suitable.
With dental implants, no-one will ever know that you have a false tooth. The implants look, function and act in exactly the same way as your own tooth, and as the implant is placed into the socket of the jawbone left by the missing tooth it provides a stable and firm base for the false tooth to be attached.
Over time, the bone in the jaw regenerates and fuses around the implant, making it very strong and secure.
Multiple dental implants can also be used to restore an entire arch of teeth; for instance, implant-supported mouth restorations often use four or six titanium implants onto which a custom-made prosthesis is eventually attached containing a whole row of replacement teeth (crowns).
Why Choose Los Algodones for Dental Implants?
Cost:
In Los Algodones, dental implant prices are a fraction of the cost you'd pay at home – with most people able to save in excess of 60%:
Cost of dental implants in the US: $3,900
Cost of dental implants in Canada: $5,000
Cost of dental implants in Los Algodones: $1,200 (US); $1,600 (CAN)
Convenience:
Los Algodones is the northernmost town in Mexico and located right on the Border at the Andrade, California crossing. Most people tend to drive south via Interstate 8, leaving their car in the parking lots on the US side before walking over.
Some dentists arrange transport to and from the Border, which is open from 6 am to 10 pm, giving you more than enough time to get any dental work done and get back.
If you live too far to drive, it's possible to fly into a number of airports including Yuma, San Diego, Palm Springs and even Mexicali or Tijuana in Mexico. From there, it's easy to hire a car or private transportation.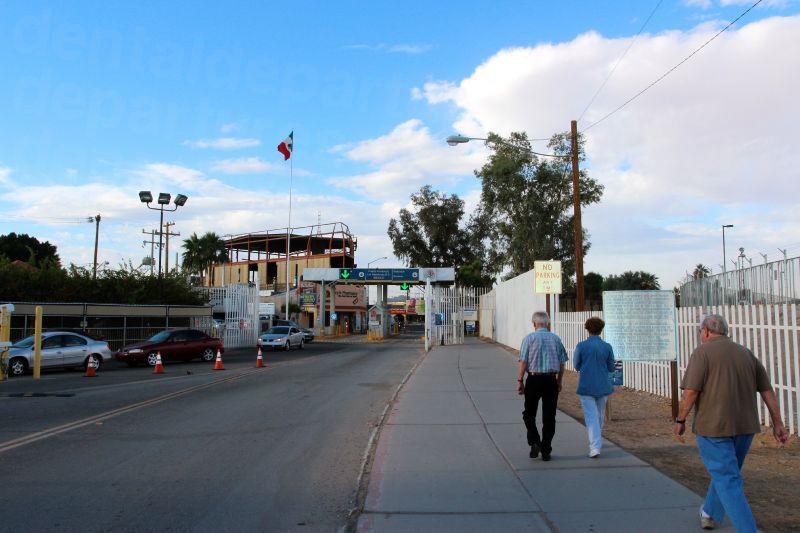 Dental Expertise:
Of course, you will be looking to book with the best dentist in Los Algodones to ensure your treatment goes without a hitch. Clinics such as Sani Dental Group are among the most popular in town with over 30 dentists offering general and specialist dentists; Castle Dental is another clinic that provides expertise in dental implants and associated procedures, like bone grafting.
Getting Started with Dental Departures
If you are seriously considering dental implants in Los Algodones then there are certainly plenty of good-quality dental clinics to choose from. But – do make sure you do some homework and get a feel for the clinics and dentists before you book by checking out reviews, qualifications, professional memberships and photos. It's your health – so do your best to look after it.
For more information or to make a booking, feel free to contact our Customer Care Team who are on standby 24 hours a day.
Sources:
How Much Do Dental Implants Cost in the US? Your Ultimate Guide. Dentaly.org. 1 July 2020. https://www.dentaly.org/us/teeth-implants-cost/
Dental implant surgery. Mayo Clinic. 29 January 2019. https://www.mayoclinic.org/tests-procedures/dental-implant-surgery/about/pac-20384622
Going to Mexico. Visit Yuma. Website accessed: 10 February 2021. https://www.visityuma.com/plan-your-trip/going-to-mexico/