Neglecting your dental health will only lead to more problems later down the line. Not only are you putting your teeth at risk, but you increase the likelihood of having to spend even more money when you finally do get the treatment you need.
Escape the NHS Dental Crisis and Get the Dental Care You Need Now
More and more people in Britain are becoming stuck on a waiting list to get an appointment for dental treatment through the National Health Service. In fact, according to a recent article in The Independent, more one million British patients are currently unable to get an NHS dentist . If you are one of these people then do not settle for delayed dental care, take matters into your own hands by visiting one of the many affordable Spanish dentists just a short flight away .
Quick and effective treatment of dental health issues is essential for maintaining strong teeth and healthy gums, so putting off important treatment like a root canal filling or crown can have serious consequences. A tooth with a damaged pulp can easily become infected, which can potentially lead to a painful and dangerous dental abscess and even more severe health complications.
Broken teeth that need a crown are often susceptible to further deterioration, and when left untreated could end up without enough natural tooth left to attach a crown to. In this case, a much more expensive dental implant would be needed to restore your tooth. These two examples illustrate how putting off dental care can cause even more problems, both physically and financially.
Comparing the Price of Dental Treatment in Spain to the United Kingdom
Every dental cost in Spain is cheaper than in the United Kingdom, and on some dental procedures, you can save in excess of 70%. Check out the price comparisons below to see the startling difference between what Spanish and British dentists charge.
Root canal treatment is a common dental procedure that costs the tidy sum of £1,500 at a British dental clinic. When you visit a Spanish dentist for the same type of dental care the price drops to a much more affordable £344. That is a saving of over £1,150, or less than a quarter of the cost in the UK.
A dental crown is often used to strengthen a tooth after root canal treatment, and can also be used to restore a broken or severely decayed tooth. At dental clinics in London, Cardiff, Edinburgh, and Belfast the average price for a crown is £900, whereas the usual price charged by dentists in Barcelona and Malaga is just £300. A trip to Spain will save you two thirds off the UK price for dental crowns, a total of £600 per crown.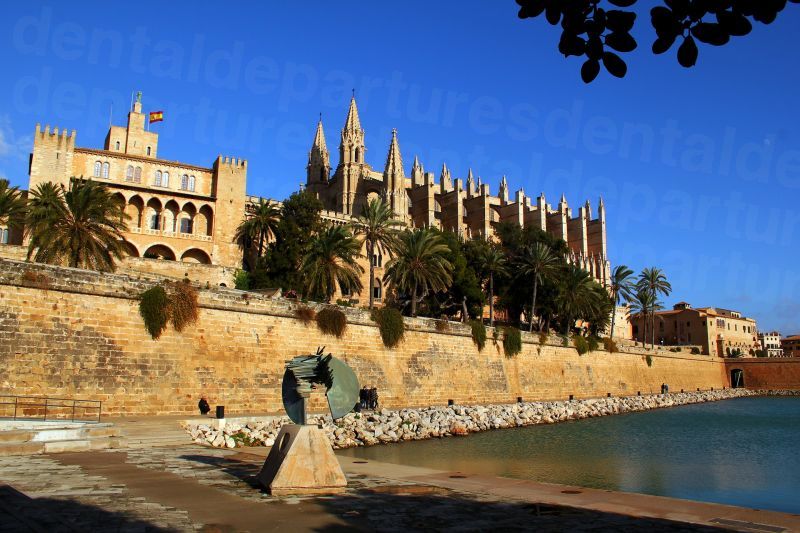 The most effective treatment for missing teeth are dental implants , but this type of dental surgery does not come cheap. British dentists charge on average £3,045 for a single complete implant, including an abutment and crown. The standard price for a dental implant at a Spanish dental clinic drops to £1,181, over £1,800 less expensive.
If you are unhappy with the appearance of your teeth and want to improve the aesthetics of your smile, veneers can help . This type of treatment falls firmly into the realm of cosmetic dentistry, and in the UK it has a high price. Expect to pay on average £1,461 for a single veneer across England, Wales, Scotland, and Northern Ireland. Luckily, in Spain the price for a veneer comes to only £326, over £1,100 cheaper. Cover your front eight teeth with veneers in Spain and you will be close to saving £10,000.
How to Find the Best Dental Clinic in Spain for You
Dental Departures is here to help when it comes to searching for the best dentist in Spain. Our aim is to match patients with the dental care they need at an affordable price, so we bring together all the information a dental tourist needs into one place. Resources like dental clinic price lists, before-and-after photos of treatment, and verified past patient reviews are all available here.
To help you get started on your search for a Spanish dentist to take care of your dental health, you will find four top Spanish dental clinics below, all located in tourist-friendly cities on the picturesque Mediterranean coast.
Barcelona - Clinica Dental Smalia
Starting from the top, our highest-rated dental clinic in Spain is Clinica Dental Smalia , in the Catalonian capital of Barcelona. This multidisciplinary clinic covers general, restorative, and cosmetic dentistry, along with endodontics, periodontics, orthodontics. The entire team of talented dentists working here speaks English, and you can read over 40 positive past patient reviews of their treatment.
Benidorm - MyDent Clinica Dental
Further south in Spain's Costa Blanca lies the popular resort of Benidorm, and MyDent Clinica Dental . This modern practice opened three years ago, complete with the latest dentistry equipment and technology. Everything from a simple filling to a complex All-on-4 is available, plus both the dentists and the support staff working here are able to communicate with you in English.
Almeria - Clinica Dental Alberto Fernandez & Ayora
Located in the Andalusian region of Spain, Almeria is a historic city with wonderful beaches and some excellent dental clinics too. Clinica Dental Alberto Fernandez & Ayora comes highly recommended by the past patients who have written reviews of their treatment. They have been treating British patients for over 30 years already, and have also passed our comprehensive four-part review to qualify as a Dental Departures Verified Clinic.
Malaga - Crooke & Laguna Malaga
The biggest city on the famed Costa del Sol, Malaga is where you will find the 5-star Crooke & Laguna Malaga dental clinic . Dr. Eduardo Crooke studied implantology at Gothenburg University in Sweden, and has been practicing dentistry for almost 20 years. His partner Dr. Rosa Laguna is a member of the Spanish Periodontics Society and specialises in aesthetic dentistry. The team of dental professionals working here also includes experienced endodontists, prosthodontists, and orthodontists.
Arranging Your Dentist Appointment in Spain is Simple with Dental Departures
Dental Departures makes setting up an appointment with a Spanish dentist quick and easy. When you use our online appointment scheduling tool all you need to provide is your preferred time and date to visit along with a way to contact you, your email address or a phone number is fine. Shortly afterward you will receive a confirmation with all the details of your planned consultation and treatment.
If you need to change the time or date of your dentist appointment in Spain, you can do so at no extra cost providing you give us 24 hours notice. Any dental treatment you book with us will also be covered by our Dental Departures Best Price Guarantee. Why struggle with high UK dental bills any longer, start taking care of your dental health for less in Spain.
Sources:
Matthews-King, Alex. More than 1 million patients unable to get NHS dentist amid rising tooth decay crisis. The Independent. 2 February 2018. https://www.independent.co.uk/news/health/nhs-dentist-appointments-tooth-decay-sugar-oral-health-a8759546.html" target="_blank
Mungo, Alex. Dental implants and how crucial replacing teeth really is. Oral Health Foundation. 8 June 2017. https://www.dentalhealth.org/Blog/dental-implants-and-how-crucial-replacing-teeth-really-is" target="_blank
Auger, Steve. How Do Veneers Work? Colgate Oral Care Center.
https://www.colgate.com/en-us/oral-health/cosmetic-dentistry/veneers/how-do-veneers-work-0515" target="_blank