Suffering from tooth decay and considering getting dental crowns as a solution? You're in the right place! For the majority of patients who are looking to get dental crowns, selecting a great dentist is often one of their toughest challenges. On top of that, there is a huge cost associated with the procedure. But luckily for you, you can get affordable and high quality dental crowns in Thailand! In fact, according to our dental crowns reviews in Phuket, the city abounds of excellent clinics and top-notch dentists with several years of experience and a high rate of patient satisfaction.
Select the Right Dentist Just for You
Picking the right dentist has a huge impact on how your dental crowns turn out, because your dentist plays a crucial role at every step of this experience. At Dental Departures, we work with the best, highest rated and most recommended dentists in Phuket. Through a series of consultations, your dentist will be able to advise you on the type of crowns that is right for you (specifically), and give you additional information that you may need on the procedure.
Examples of excellent dentists that we work with include Dr. Sermsakul Wongtiraporn and Dr. Palawat Laoharungpisit, both of whom work at the Sea Smile Dental Clinic - Phuket . They are both bilingual (English and Thai) and are both members of the Thai Dental Association.
Other great dentists that we work with include Dr. Kittichote Boonsri DDS., MSc and Dr. Narumol Pattaraporncharoen DDS from the Smile Signature - Phuket Branch clinic, and Dr. Achara Pandaeng who has 32 years of experience and works at the Promjai Dental Clinic Phuket (Patong Beach).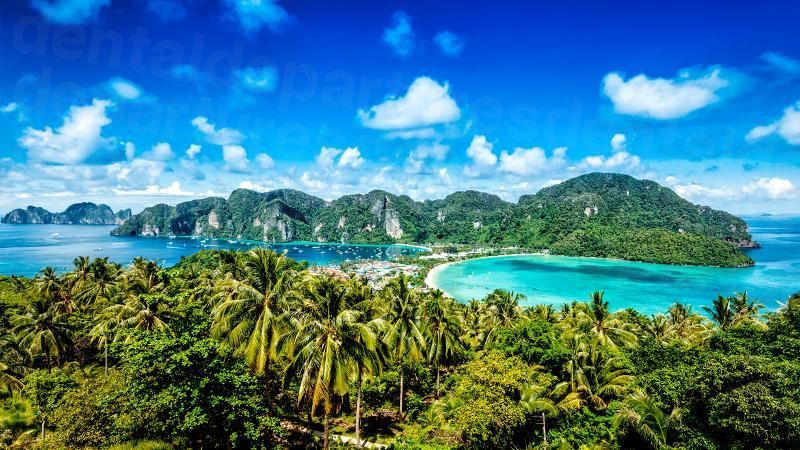 Take Advantage of Amazing Dental Crowns Prices
Phuket not only has amazing doctors and excellent clinics, but also offers competitive and affordable prices for your dental crowns. On average, by getting dental crowns in Phuket , you get to save around 66% on the total price that you'd otherwise pay for the same procedures in other countries.
For instance, the standard price for dental crowns in Australia and New Zealand is AUD 1,326 (NZD 1,422; USD 1,000; CAD 1,350; EUR 932; GBP 781). At the Phuket Dental Signature Clinic (one of the top in Phuket and winner of the Global Patients Choice Award, GPC), you only pay AUD 386 (NZD 414; USD 408; CAD 393; EUR 271; GBP 227). Another great Phuket dental clinic, the A.B. Dental Care Clinic (another GPC award-winning clinic) offers dental crowns at starting prices as low as AUD 374 (NZD 401; USD 282; CAD 381; EUR 263; GBP 220).
Imagine yourself traveling through the beautiful, mountainous island of the Andaman sea: whether you're relaxing at your seaside resort, shopping around the busy street markets on a Saturday morning or indulging in the sun during an afternoon at the beach: Phuket has just what you need for a perfect vacation destination. And on top of that, the city offers extremely affordable prices for your dental crowns.
So go for it! Trust our dental crowns reviews. In Phuket, there is a dental clinic, just for you .