Malo Clinic, Thailand - Providing Dental Excellence Since 2003
The Malo Clinic, Thailand is part of the global dental and medical phenomenon that is the Malo Group. With the rapid expansion of Thailand dental tourism, Malo Clinic are proud to offer the services of some of the very best dentists in Thailand at a price to suit any pocket.
Establishment of Malo Clinic
In 1995, Dr. Paulo Maló founded the Malo Clinic in Lisbon, Portugal and pioneered the All-on-4® treatment concept that has revolutionized the field of implant dentistry. As a result of his ground-breaking work, the Malo Clinic became the leading center for implantology and fixed oral rehabilitation in the world.
The growth of Malo Clinic's reputation coincided with the rapid expansion of dental tourism in Thailand, making the country an obvious choice to develop strategic partnerships with existing dental centers, as well as providing an ideal opportunity for opening up new facilities.
Bangkok Smile Dental Group
In 2003, Dr. Sermsakul "Bob" Wongtiraporn opened his first dental clinic, offering international patients the opportunity to combine exceptional dental care with the vacation of a lifetime.
The Ploenchit Branch became the first clinic in the Bangkok Smile Dental Group, and its success has seen the chain expand rapidly with further clinics opening up in:
A partnership between the two dental groups became inevitable, with both Dr. Bob and Dr. Malo sharing the same core objectives:
1. A commitment to setting the highest international standards of dental care possible
2. Improving patient's quality of life through innovative dentistry techniques and superior dental products
Every year, increasing numbers of overseas patients travel to the "Land of Smiles" to enjoy the dental holiday of a lifetime. Bangkok Smile Malo Clinic has established itself as the leading dental provider and authority in the field of dental implantology and fixed oral rehabilitation.
They are the only international dental center in Thailand that belong to the world's largest network of dental clinics, offering internationally-trained dentists and providing the highest quality dental products currently available in today's market.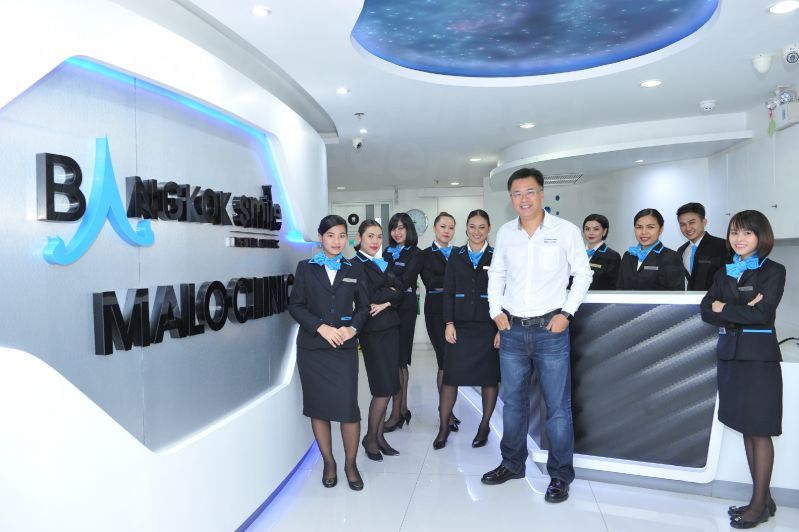 Worldwide Recognition and Reputation
The Bangkok Smile Malo Clinic has been delivering award-winning dental care since 2003. They have received numerous awards and recognitions from globally recognised companies and organizations. In fact, they are the only dental group to achieve ISO 9001:2008 Certification from the International Organization For Standardization (ISO) for both their dental laboratories and dental clinics.
Malo Clinic is now the largest dental network in the world, with clinics established across 5 continents, in 18 different countries, encompassing 50 cities globally. They take great pride and pay meticulous attention to detail in everything they do, ensuring that each patient has the ultimate cosmetic dentistry experience.
At Malo Clinic Thailand, dentist know-how and customer service go hand-in-hand to provide the ultimate dental healthcare experience. And what's more, you can enjoy an exotic vacation in one of the world's most popular tourist destinations whilst taking advantage of the superior treatments that Malo Clinic Thailand can deliver.
Getting Started
For more information, get in touch with our Customer Care Team via the toll-free number provided, or leave us your details and we'll call you back at a time that works for you.
Sources:
International Organization for Standardization. Website accessed: 11 February 2021. https://www.iso.org/home.html
All-on-4® treatment concept. Nobel Biocare. Website accessed: 11 February 2021. https://www.nobelbiocare.com/en-us/all-on-4-treatment-concept
About Prof Paulo Malo. Nobel Biocare. Website accessed: 11 February 2021. https://www.nobelbiocare.com/ca/en/education/our-speakers/m-o/paulo-malo.html