Why Get Laser Teeth Whitening in Quezon City?
● Laser teeth whitening is one of the quickest and most-effective ways enhancing your smile . The procedure brightens your smile by up to 14 shades, as well as providing a dramatic improvement when it comes to making that first impression.
● Whether you are on holiday or business in Quezon (or the wider Manila area), chances are you won't have a lot of free time on your hands; fortunately, this straightforward procedure only takes a couple of hours.
● The best Filipino dentists are just as skilled as dentists at home, and dental clinics catering to international patients are well-equipped with the latest technologies. Plus, English is spoken widely everywhere in the Philippines so you won't experience language problems.
● Quezon city is one of the 16 cities that make up the Metropolitan Manila area . It has a number of parks and gardens where you can get back to nature without leaving the city. There's a botanical garden at the Ninoy Aquino Parks & Wildlife Center, as well as horse-riding and ziplining at La Mesa Eco Park.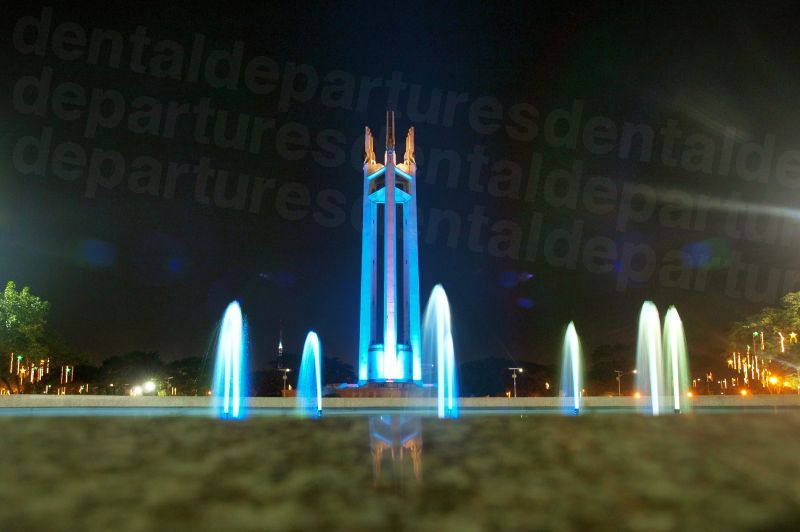 What's the Cost of Laser Teeth Whitening Price in Quezon City?
The Philippines is well-known for its affordable health and dental services, and getting laser teeth whitening in Quezon City is no exception. For an idea of how much you can save, check out the price comparison below:
| | | | | | | |
| --- | --- | --- | --- | --- | --- | --- |
| | AUS $ | NZ $ | UK £ | EUR € | US $ | CAN $ |
| Laser teeth Whitening Price – Home | 657 | 705 | 387 | 460 | 496 | 669 |
| Laser Teeth Whitening Price – Quezon City | 400 | 438 | 223 | 253 | 297 | 391 |
How do I Find a Reliable Dentist in Quezon City?
While dental services for international patients are generally good, it always pays to do a little research yourself. Not sure where to where to start? Then see our listing, which features clinics with confirmed dentist qualifications and professional memberships, as well as real patient reviews.
Take a look at some of the top-rated dental clinics in Quezon for your laser teeth whitening:
● Asian Sun Dental Clinic Manila
What is the Procedure for Laser Teeth Whitening?
Search for only a few minutes and you will inevitably find a number of different brands and systems that are used for laser teeth whitening, including BriteSmile® and Zoom!®. Truth be told, there is little (if any) difference in terms of the final results. Procedures may also differ slightly , although again, the basic the process is generally as follows:
1: The dentist thoroughly cleans your teeth and gives you protective goggles to wear over your eyes.
2: A rubber dam is placed around the teeth to protect the soft tissues of the mouth from the bleaching gel.
3: Whitening gel is applied to teeth and left for the recommended time according to the system being used by the dentist.
4: Laser is applied to activate the bleaching agents in the gel.
5: Gel is removed. (Steps 3-5 may be repeated several times).
6: After the final laser application, the dentist thoroughly cleans your teeth again.
What's Next?
With the low laser teeth whitening price in Quezon City, you can potentially save a few hundred dollars. So, if you've got time to kill next time you're in the Philippines, why not treat yourself? You can conveniently book an appointment directly through Dental Departures. Or if you have any further questions, please feel free to contact our Customer Care Center.
Sources:
Why Should I Whiten My Teeth? Colgate Oral Care Center. 11 November 2010. https://www.colgate.com/en-us/oral-health/cosmetic-dentistry/teeth-whitening/why-should-i-whiten-my-teeth" target="_blank
Michael Friedman, DDS. Teeth Whitening. WebMD. 25 January 2017. https://www.webmd.com/oral-health/teeth-whitening#1" target="_blank
Holden, Trent. Why Manila is fast becoming one of Asia's coolest cities. Lonely Planet. October 2014. https://www.lonelyplanet.com/philippines/manila/travel-tips-and-articles/why-manila-is-fast-becoming-one-of-asias-coolest-cities/40625c8c-8a11-5710-a052-1479d27663c8" target="_blank