If you are in the market for new dentures – but seeing the prices at home changed your mind – then maybe we can help. The price of dentures in Phuket is a lot less expensive than at home and the savings will be more than enough to pay for your holiday on Thailand's largest island.
Cost comparison of dentures in Phuket -v- at Home
The average prices of full dentures in Phuket are around a third of the price compared to your home country. Those savings are enough to pay for you (and a companion) to fly to Phuket along with some decent accommodations for a week or two.
| | | | | | | |
| --- | --- | --- | --- | --- | --- | --- |
| Dentures Prices | AUS $ | NZ $ | UK £ | EUR € | US $ | CAN $ |
| Full Dentures cost -Home | 2,386 | 2,560 | 1,405 | 1,678 | 1,800 | 2,430 |
| Full Dentures cost -Phuket | 771 | 828 | 454 | 543 | 582 | 786 |
How is the quality and the materials? Can I trust the dentists in Phuket?
Yes – the dentists in Phuket are well-established – many in response to the sheer volume of international patients that take advantage of the cheap prices while they are visiting, or those that have come on holiday specifically for a dental treatment.
Phuket is far from being a sleepy backwater from another era – and neither are its dental clinics, which are contemporary, with high-tech equipment and use the same world-renowned brands available at your local dentist's office.
It would be imprudent to suppose that every dentist is as good as the next, because, like anywhere else in the world, there may be one or two bad apples that give everyone else a bad reputation. Consequently, rather than stumble across the undesirables, why not book with a reputable clinic that has already been background-checked? If you search Dental Departures' site you will find approved clinics that detail the dentists qualifications and professional memberships, as well as prices, patient testimonials and clinic photos.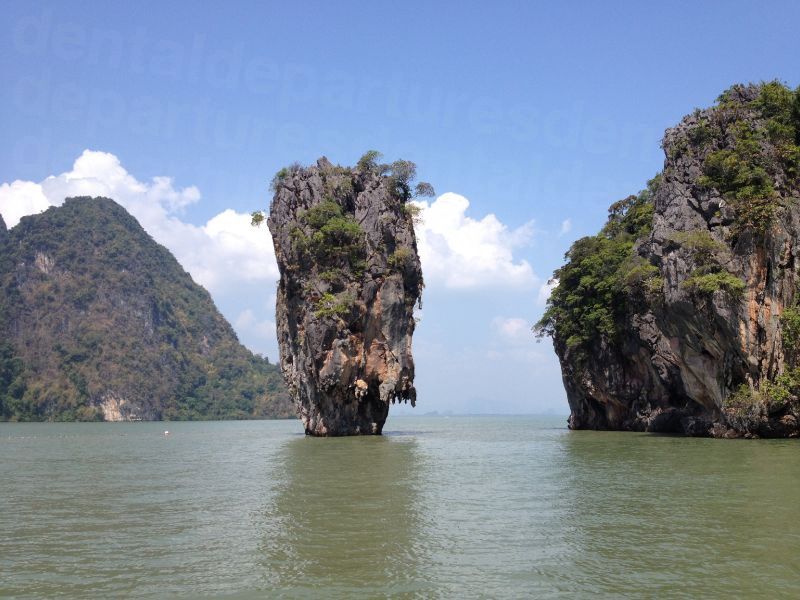 Review Phuket's highly acclaimed clinics for yourself:
Is Phuket a good option for a dental holiday?
Absolutely. The cost of living is less than at home, so your money will go a lot further. Given that you will need one or two trips to the dentist during your stay – one to be measured up for your dentures and the other to have the new ones fitted – you will have plenty of time to enjoy the island.
Renowned for its shimmering beaches, the amazingly turquoise Andaman Sea, surrounding islands like Phi Phi and the limestone cliffs of Phang Nga Bay it is one of the most picturesque places on the planet. However, there's far more to it than scenery. Phuket Town has an artsy vibe and is a fantastic place to potter about aimlessly, and there are tons of activities including rock climbing, kayaking, white water rafting, elephant rides, Thai cooking lessons and the spas. This well-established tourist destination provides so much for all aptitudes and interests that you'll never want to leave.
Ask our Customer Care Team for more information about dentures, prices, Phuket for dental tourists or anything else interrelated – they are always happy to assist and available around the clock.