Your missing teeth sometimes prevent you from showing your smile. It's even hard to chew your favorite food. Restore your teeth abroad with a low-cost All on Six. Phuket is a favorite destination for dental tourists with its beautiful scenery and high-quality dentistry so discover how we can help you regain your smile at a decent price.
What are the causes of tooth loss?
Some of the common causes of tooth loss include poor oral hygiene, cavities, gum disease, and mouth injury. Cavities can develop easily if you don't practice proper oral hygiene. If left untreated, this can lead to gum disease that can result in tooth loss. Mouth injury or bad habits like biting hard objects can also damage your pearly whites.
What is an All on 6?
The dentist can bring back your smile using an innovative procedure like All on Six. It involves the placement of 6 dental implants into the jaw with a bridge on top. All on Six is an option for people who lost their teeth due to gum disease, injury, and other reason and the procedure provides many benefits to the patients:
Eliminates the need for additional procedures, like a bone graft
Shortens treatment time
Reduces treatment cost
However, the treatment is not recommended for some patients with health issues. Consult a dental implant specialist to determine if you're a good candidate for the procedure. A comprehensive examination, as well as a review of your medical and dental health status, will be taken to check your suitability for the treatment.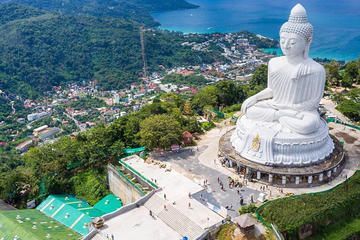 Where to get All on Six in Phuket?
Find a reputable clinic that offers All on Six in Phuket. Dental Departures can help you find a clinic offering implant procedures such as All on Six and other implant-based restorations in Phuket.
Sea Smile Phuket and Phuket Dental Signature are two leading clinics in Thailand that received the Global Patients' Choice Awards from Dental Departures for their outstanding service.
Sea Smile Phuket is certified by the International Organization for Standardization (ISO) and the Joint Commission International (JCI), which review the safety and quality of service of clinics and hospitals around the world. Sea Smile Phuket is a partner of Malo Clinic Global Network, a world-leader in implantology and dental aesthetics. This partnership allows patients to access partner clinics in their home countries for follow-ups and teeth cleaning. The clinic offers:
Complex full mouth reconstruction4
Dental implants and a full jaw fixed bridge in just 24 hours
ISO 9001 Certified in-house dental laboratory
Outpatient surgery
Phuket Dental Signature is an award-winning dental center that specializes in dental implants and cosmetic dentistry. It's a subsidiary of Dental Corporation, the holding company of Bangkok Dental Center (BIDC). BIDC received the following awards:
Thailand Prime Minister Award
Asia Pacific Entrepreneurship Award
Global Health and Travel Awards
The dental team of Phuket Dental Signature is comprised of internationally trained dentists. This includes a dental implant specialist who is a Diplomate of the American Board of Prosthodontics. Phuket Dental Signature offers:
Natural-looking teeth
On-site laboratories
State-of-the-art facilities
Getting Started
Restore your teeth from the Land of Smiles. Let Dental Departures help you book an appointment with the top clinic for your All on 6 in Phuket.
Connect with our Customer Care Team here.