Laser teeth whitening is still one of the quickest, simplest and most effective ways of transforming your smile –and if you go to a Hanoi dentist it's also one of the cheapest. Compare the prices of laser teeth whitening in Hanoi with the prices in your home country:
Cost of Laser Teeth Whitening in Hanoi
| | | | | | | |
| --- | --- | --- | --- | --- | --- | --- |
| | AUS $ | NZ $ | UK £ | EUR € | US $ | CAN $ |
| Laser teeth whitening Cost – Home | 650 | 700 | 387 | 460 | 500 | 670 |
| Laser teeth whitening – Hanoi | 250 | 277 | 152 | 182 | 195 | 260 |
Is it Worth Getting Laser Teeth Whitening in Hanoi While on Holiday?
Laser teeth whitening is a great dental treatment to get while you are on holiday in Hanoi because:
It's cheap—especially compared to western countries
It's quick—just a couple of hours is all it takes
The effects are dramatic—we're talking multiple shades brighter
There's no downtime and no risks involved
What Happens During the Laser Teeth Whitening Procedure?
The procedure may differ slightly depending on what laser teeth whitening system is used. However, the amount of time each takes is around the same–two hours. Some of the best-known systems include Zoom!® and Brite Smile®, both of which are available in Hanoi, along with other equally effective systems.
First, the dentist will cover the soft tissue in your mouth with a rubber dam to keep the gel confined to the teeth. After the bleaching gel has been applied a laser beam is used to activate the bleaching agents and then the gel removed. This process may be carried out several times. Once your dentist is satisfied with the degree of whitening, your mouth will be thoroughly cleaned. Finally, you'll be ready to show off your new smile!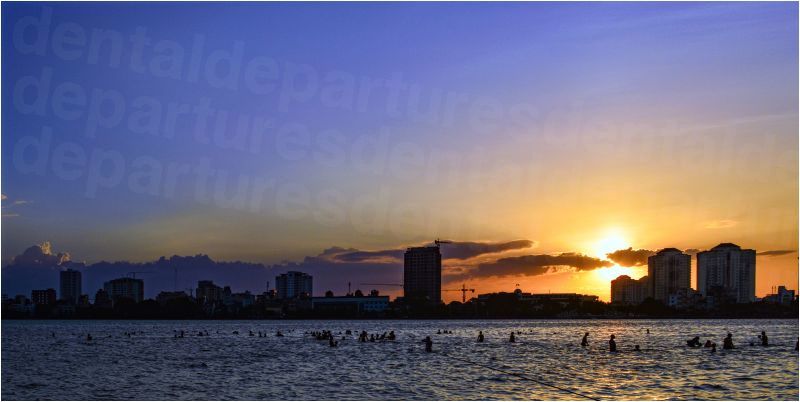 Are the Dentists in Hanoi Trustworthy?
Generally, yes–and particularly those who regularly treat international patients. Dentists in the best Vietnamese clinics are well-trained and qualified, the facilities are contemporary and modern and the materials available are the same well-known brands your dentist at home uses.
However, we always recommend doing a little research and not just plumping for the first clinic you stumble across. This can be achieved by browsing through our listings as all our dental clinics have already been researched by us. We've confirmed dentist qualifications, professional memberships and visited the clinics personally. You can check out clinic photos, virtual video tours, prices and former patient reviews on our listings.
Here are some of the top-rated clinics in Hanoi for laser teeth whitening:
● Serenity International Dental Clinic
What's Next?

If you want to brighten your smile with minimum effort then laser teeth whitening is the solution for you. To save a significant amount on this often costly procedure, review Hanoi's top-clinics, get a free quote, book online and get ready to return home with a dazzling smile. Or please feel free to contact our Customer Care Team with any questions or concerns. We're here to help!