Mexico and its value-for-money dental tourism scene has been on the up for a number of years, offering the same level of expertise as you'd find in the States coupled with prices that are often four or even five figures less.
So, if you're thinking about replacing an entire row of teeth (or both of them as part of a full smile reconstruction), take a look at these highly-recommended clinics in Mexico for All on 6 implants.
Note: We've selected three clinics in three of the top destinations in the country for affordable dental care: Los Algodones, Tijuana and Cancun.
Top All on Six Dentists in Mexico
Simply Dental
Located in the most frequented dental tourism destinations in Mexico at Los Algodones, near both Southern California and Arizona, Simply Dental clinic is a trusted option for North American dental patients seeking affordability and quality.
The operation is run by the respected dental surgeon, Dr. Enrique Lopez Gaspar, who has over 30-years in the dental industry. This is one of the most convenient Mexican All on Six treatment centers that specializes in all manner of implantology and mouth reconstruction procedures, including bone grafts. The clinic has a modern spa-like atmosphere that is less-clinical than most dentists, which creates a very positive and friendly atmosphere for your treatments.
Dr. Dalia Dental Care
Dr. Dalia Dental Care is located in Tijuana, under a 10-minute walk from the San Ysidro border entry at San Diego and a little further from the city's international airport. The clinic was initially opened to deal with the vast influx of American patients that border hop for affordable dental treatments.
This Tijuana All on Six clinic has been in operation since 1992 and has garnered a reputation for excellence among a diverse clientele. They have an expert team of specialists who are well versed in all aspects of implantology and being such a short distance from the border, offer one of the easiest and most convenient dental tourism locations for Californian residents looking for a bargain. You can save a vast fortune by visiting Mexico for your implant treatments, and with Dr. Dalia, you are in the hands of a true expert.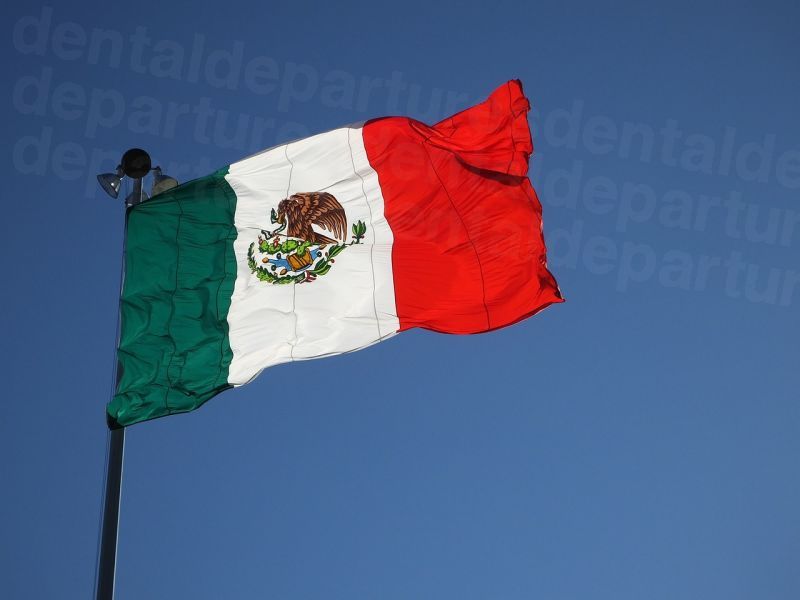 Sunset Dental Cancun
If you are looking to visit a vacation-style destination for treatment (and one that happens to have some great beaches), we can help you book in with one of our All on Six dentists on the Mexican coast, such as Cancun.
Among the reputable clinics here that we've partnered with, Sunset Dental Cancun is an impressive clinic that is adept at dealing with American and Canadian patients. They are a true international dental option with staff that speak English, Spanish and French, appealing to diverse international clientele from across Europe, as well as North America.
[Note: Our recommended All on 6 clinics listed above also offer a number of other implant-based teeth replacement options, such as implant-supported overdentures, as well as similar All on Four treatment.]
How Much Can I Save on My All on 6 in Mexico?
If you want to find the best possible prices for your All on Six, Mexico offers some of the best value in the world.
All on Four treatments in Mexico start at just USD $10,000 (CAN $12,696; UK £7,688; Euro €8,722; Aus $12,788; NZ $13,645)
This is compared to the prices in the US which average around USD $26,000 (CAN $33,431; UK £19,382; Euro €23,130; Aus $33,910; NZ $34,841)
[Please note that these are estimates at the time of writing.]
How Do I Get Started?
let Dental Departures help you restore your smile for less with All on Six implants in Mexico. Check out our listed clinics above or use our handy search function to narrow down your selection by destination or procedure.
You can then set up a free appointment directly via our clinic listing pages - or call our Customer Care Team who can guide you through the booking process, providing free, personalized quotes for any number of clinics in Mexico.
Sources:
Kurbonali, Manuchehr. All On 6 Dental Implants. Medium. 7 June 2017. https://medium.com/@manuchehr/all-on-6-dental-implants-5a4375fa651e
Siadat H, Rokn A, Beyabanaki E. Full Arch All-on-4 Fixed Implant-Supported Prostheses with 8.5 Years of Follow-Up: A Case Report. J Dent (Tehran). 2018;15(4):259-265. https://www.ncbi.nlm.nih.gov/pmc/articles/PMC6218463/
Karsten, Matthew. 30 Fun Things To Do In Cancun: Mexico's Gateway To The Yucatan. Expert Vagabond. 5 November 2019. https://expertvagabond.com/cancun-things-to-do/
San Diego International Airport. Website accessed: 28 November 2020. https://www.san.org/
Bone Graft For Dental Implants: Understanding The Possibility. Colgate. Website accessed: 28 November 2020. https://www.colgate.com/en-us/oral-health/implants/bone-graft-for-dental-implants-understanding-the-possibility