Looking for reliable clinics that offer teeth cleaning in Penang ? Dental Departures screen the facilities, verify the dentists' qualifications, and review professional memberships to ensure when you book through us, you are assured of a good experience in a clinic that meets good standards of care.
Wong Sim Dental Surgery offers preventive care such as teeth cleaning and specialized treatments such as aesthetic dentistry. The clinic complies with stringent sterilization processes to give safe and effective treatment. It provides minimally invasive procedures that preserve the tooth structure. Treatments covered in this clinic include teeth cleaning, fillings, crowns, bonding, veneers, laser teeth whitening, root canal therapy, gum care and other procedures. This clinic is equipped with cutting edge technology such as 3D Cone Beam Computed-Tomography (CBCT), panoramic x-ray, and cephalometric radiograph that provides clear images of the teeth, mouth, and jaw. The head dentist of this clinic is a specialist in restorative dentistry who is a member of the American Association of Implant Dentistry.

Neoh Dental Surgery provides general dentistry and specialized treatments in a comfortable environment. The clinic offers teeth cleaning, root canal therapy, fillings, crowns, dentures, gum care, veneers, and other procedures. It uses hi-tech equipment such as panoramic x-ray and CBCT in giving accurate treatment. The clinic is led by an oral surgeon who is a member of the American Dental Association (ADA).

Lim Nyu Dental Surgery offers various dental services such as oral exams, teeth cleaning, gum care, root canal treatment, dentures, crowns, fillings, extractions, and other treatments. It uses advanced treatment in maintaining patients' oral health.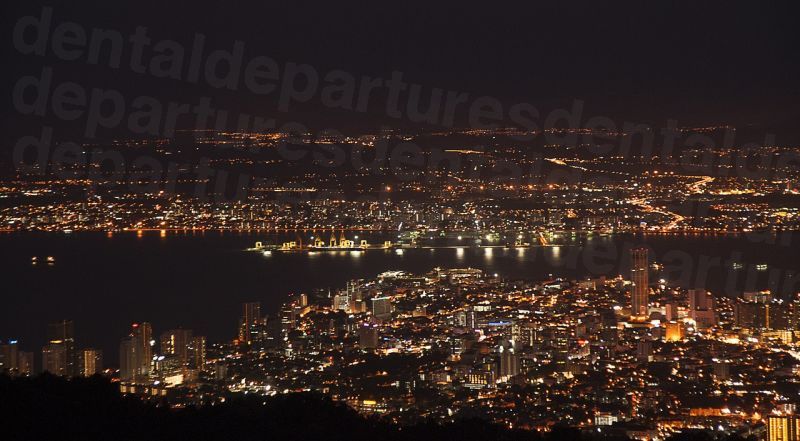 Get your teeth cleaned by a dentist in Penang. Teeth cleaning is a preventive care that removes plaque and tartar that causes oral health problems. A regular prophylaxis (teeth cleaning) is essential to your dental health. This will save you from discomfort and prevent you from complex procedure. Part of the preventive treatment is an oral examination that will check the status of your teeth, gums, and mouth. It allows your dentist to check signs of decay, gum problem, or cracked teeth. Your dentist will recommend treatment to maintain your teeth. The type of treatment will depend on the extent of damage. Your dentist in Penang will prepare a treatment plan based on your needs and budget.
The cost of teeth cleaning in Penang is affordable compared at home. The affordability of treatment in is due to the low operating cost paid by the clinics in Penang. Here's the table that shows the estimated price of teeth cleaning in Penang and other countries.
Teeth Cleaning Cost: Penang vs. other countries
| | | | | | |
| --- | --- | --- | --- | --- | --- |
| | USD | CAD | GBP | AUD | NZD |
| Cost in Penang | USD $34 | CAD $46 | GBP 27 | AUD $45 | NZD $48 |
| Other countries | USD $126 | CAD $170 | GBP 98 | AUD $167 | NZD $179 |
Maintain your oral health by visiting a clinic that offers teeth cleaning in Penang during your holiday. Find a clinic from our list and book an appointment with the help of our Customer Service team.