Losing all your teeth not only makes it difficult to eat and speak properly, but it also leaves you self-conscious about smiling and can have a seriously negative impact on your confidence.
Removable dentures have long been the default option for edentulous patients; however, dental implants provide a much more effective, rewarding long-term solution. More often than not, the biggest obstacle for British citizens who want implants is the high cost, but affordable dental implants are just a short flight away.
Turkey has been welcoming international dental patients for decades, and continually attracts new patients who want high-quality dental care for much less than what they would pay at home. For the All-on-4® treatment concept, Istanbul dental clinics can offer savings of up to 70% compared to UK dentists. This often amounts to over £10,000, so if you cannot afford an All-on-4 from your local dental clinic then you might consider a trip to this attractive Turkish city.
Understand Your Oral Health and Dental Implant Needs
Is this the best treatment option for you?
If you are missing more of your natural teeth than you have left on your mouth then the answer is most likely to be yes. An entire arch of false teeth is attached to four implants which, when completed on both your upper and lower jaw, will restore function to your mouth and give you a healthy-looking smile. Be aware that any remaining teeth in your mouth will have to be removed ahead of this full-arch restoration treatment.
The advantages of dental implants range from keeping your jaw bone healthy and strong to help you eat and speak properly again. However, before you can have implants placed in your jaw it is essential you have good oral health. This means a strict oral hygiene routine, plus you must also abstain from smoking and drinking alcohol during treatment. Speaking to a qualified and experienced dentist is the best way to gain knowledge about how to prepare for your surgery.
Find all the Information You Need About Turkish Dentists with Dental Departures
When it comes to low-cost dental clinics, Turkey is home to many, so international patients have plenty of choice when picking a dentist. Dental Departures helps you easily find the best dentist for your needs at a price you can afford.
All the clinics listed on the Dental Departures website provide a wealth of information about themselves, including a price list for all the dental treatments on offer and profiles of the dentists who work there.
You can also read verified reviews written by past patients who have already had dental treatment in Turkey. These are an informative insight into what it is like to visit a Turkish dentist and also reveal what real patients thought about the quality of the treatment they received. On each clinic page, you will also notice a star rating just below the name of the clinic, giving you a clear indication of patient satisfaction.
Two of the Top Dental Clinics in the Turkish Capital
These practices are not only two of the top dental clinics in Istanbul, but they are also where you will find some of the best dentists in Europe based on reviews. As if that was not enough, each practice is a Dental Departures Verified Clinic, which means their treatment rooms have been inspected, dental licenses verified, and reputations checked.
First, we have DentGroup International, a 5-star rated Istanbul dental clinic with branches across Europe, including in London and Rotterdam. Offering modern facilities, the latest in dental equipment, and a team of talented dental professionals who are able to solve any dental problem, DentGroup International is regarded as Istanbul's premier dental clinic. International patients are catered for very well here, with many of the staff able to speak fluent English.
Another excellent option for dental implants is Istanbul Dental Clinic; headed by Dr Tufan Tezcan, a highly-experienced implantologist and maxillofacial surgeon. Dr. Tezcan has been restoring the smiles of international patients for over 40 years, who come from as far as Canada for his expert care. He can explain everything about your implant treatment in English and is even happy to have a consultation with you on Skype before you travel to Turkey.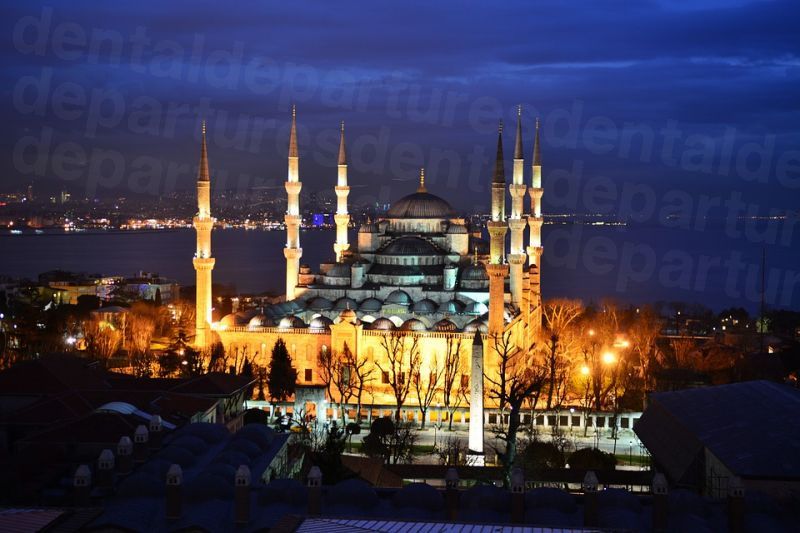 Arrange Your Appointment Online Right Now
The Dental Departures online appointment scheduler makes it quick and simple to set up an appointment at either of these two Istanbul dental clinics. Simply head to their listing page on our site and click on the orange 'schedule appointment' button. You will be asked for your preferred time and date, your contact details, and that is it!
We will do everything else for you, and send you a confirmation once your appointment is booked in. You are also covered by a cancellation policy that extends to 24 hours before your appointment, along with the Dental Departures Best Price Guarantee.
Sources:
Dentures (false teeth). NHS. 14 June 2018. https://www.nhs.uk/conditions/dentures/
Hodges, John A, DDS, FICIO. When is All-on-4 the best option? 5 factors to consider when creating your dental treatment plan. Dentistry IQ. 1 November 2017. https://www.dentistryiq.com/articles/2017/11/when-is-all-on-4-the-best-option-5-factors-to-consider-when-creating-your-dental-treatment-plan.html
Friedman, Michael. What are the advantages of dental implants? WebMD. 24 January 2017. https://www.webmd.com/oral-health/qa/what-are-the-advantages-of-dental-implants
Dacio, Rossel. Here Are The Best Dentists in Europe Based on Reviews 2018. Healthy Vain. 22 August 2018. https://www.healthyvain.com/best-dentists-in-europe-based-on-reviews-2018/