Thinking of traveling to Europe for dental care? We've got you covered! Poland, a highly historical and revered country, is also a great destination for dental care. Check out our root canal reviews in Poland in this article.
Why Should you do your Root Canal in Poland
Poland has always been a country of interesting history and respectable culture. However, a lot of people don't know (yet) how great a destination it is for dental care. On average, Dental Departures patients who travel to Poland for either a root canal, or dental implants, teeth cleaning or oral surgery, save a minimum of 50% on the total price of their procedure, when compared to the prices in other European countries. Moreover, the majority of our clinics provide assistance with accommodation, which helps to further reduce your cost! In addition, there are a lot of touristic activities that you can do while in Poland, especially if you are a nature enthusiast, if you love hiking or enjoy historical tales.
Root Canal Clinics in Poland
Dental Departures recommends some specific dental clinics depending on where you are planning to travel in Poland.
For instance, if you're going to Szczecin, then we think you'd like Implant-Art and Dentus II clinic for your root canal. Dentus II is historically known as the first ever dental surgery clinic in Szczecin. Today, the clinic is 59 years old and has grown to specialize into a wide variety of dental fields, including general and pediatric dentistry, orthodontics, prosthetics, dental implants, just to name a few.
Dental Art is located in the heart of the city, and is surrounded by spas, hotels, restaurants, and avenues for relaxation and even nightlife. For the adventurous and enthusiastic tourist, there will be no time for you to get bored! The 22 years old clinic is a leader in dental care in the area, and is staffed by board-certified, Polish-trained dentists who have years of experience. Root canal prices at this clinic start at EUR 123 (GBP 103; USD 132; CAD 178; AUD 175; NZD 188) compared to EUR 1,107 (GBP 927; USD 1,187; CAD 1,602; AUD 1,573; NZD 1,688) which are the prices you'd have otherwise paid in other European countries.

Are you staying in the capital, Warsaw, instead? Then FABDENT - Designing your FABulous smile! Is "the" clinic to go to! Modern, welcoming, and tech-oriented, the Fabdent clinic is a favorite among Dental Departures patients traveling to Warsaw for dental care. The clinic has been existent for 9 years, and is led by qualified and highly experienced Polish dental providers. For root canals, the prices at this clinic are as low as EUR 56 (GBP 47; USD 60; CAD 97; AUD 80; NZD 85) for root canals on the anterior teeth.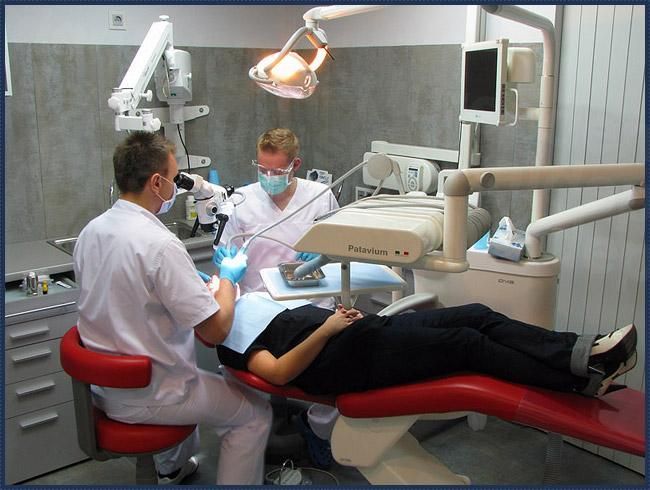 Working with Dental Departures
Dental Departures helps you get the best deals from our dental clinics in Poland. For your root canal, you will get the opportunity to work with top-rated, experienced dentists. Find your clinic in Poland for a root canal by searching our listings, or speak to our Customer Care team.