Dental Tourism in Croatia at Top Prices: Implants in Rovinj Are Substantially Cheaper than Your Home Country
Latest statistics from Croatia show that local dentists' revenues have increased substantially. Much of their practice is based on foreign clients, particularly those of the UK that have a lack of access to NHS treatments back home. The main attraction is affordability. For almost a decade now, Croatian dental clinics have been promoting premier dental work at the top prices. Implants in Rovinj, for instance, show that the top local prices are astonishingly low for British dental tourists.
Dental Tourism in Croatia
The dental tourism scene in Rovinj is part of the wider complex that Croatia has built in the last decade or so. Particularly since 2013 (when the country became part of the EU), dental tourism has seen a surge in Croatia, with Rovinj playing an active role in this growing trend. Today, the industry has become so huge that the ten largest clinics have reported a revenue of 330 million Kunas this year, which amounts to £39,973,753. Total dental tourism revenue was more than 120 million Kunas.
H-Dent Dental Clinic
The top clinic for dental implants in Rovinj is H-Dent Dental Clinic . Like all successful clinics Croatia, this excellent dental facility banks on delivering high quality yet affordable dental services along with tourism. So you are essentially getting the same level of dental treatment in Rovinj as you get back home, but at fraction of your country's prices.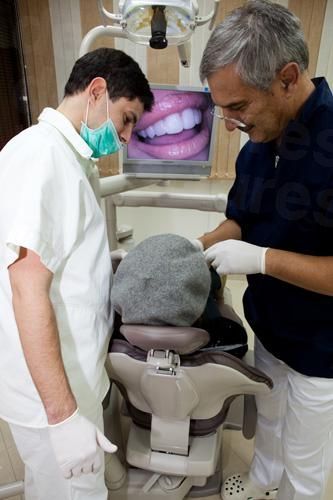 This clinic has all the latest equipment and amenities needed for safe and reliable dental procedures like implant surgery. The dental practitioners working here are also highly-qualified and experienced and their training is in no way inferior to that of their British counterparts.
Once inside the clinic, you will not be able to tell which country you are in because you have all the latest facilities of the highest quality. Thousands of patients have been successfully treated at this clinic, many coming for subsequent dental trips and also recommending it to friends and family. In fact, clinics in Croatia thrive on recommendations of foreign patients.
What Can You Expect to Pay for Dental Implants in Rovinj
Prices for dental implants vary from clinic to clinic, but you can get a standard crown with abutment for as low as £300, which costs around £3000 in the UK. Even on a titanium implant, you can expect to save £1500-2000 as compared to British prices.
These discounts continue to attract thousands of dental tourists fly to Croatia every year for dental work and vacation. In fact, local dentists claim that the price difference for UK tourists is so great that they can get their procedure, pay for a hotel room, and go sightseeing in Rovinj for the price they are paying for dental implants in their home country.
You can gather quotes at Dental Departures and find the top prices. Implants in Rovinj dental clinics are safe, convenient, and affordable.