One of the concerns of people seeking oral care in an Asian country like Vietnam is safe-dentistry. Hanoi has an array of dental facilities offering safe and effective treatment for tourists. Take a look at the leading dental clinics in Hanoi that provides superior oral care:
1. Serenity International Dental Clinic
Serenity International Dental Clinic has a team of dentists with a combined experience of 30 years. They are trained in Vietnam, South Korea, the US, and Australia. The dentists specialize in Prosthodontics (teeth replacement), Orthodontics, and Oral and Maxillofacial surgery. They provide Restorative Dentistry, General Dentistry, Orthodontics, Cosmetic Dentistry, and Implants with a guarantee on their dental work
The clinic uses state-of-the-art technology that provides comfortable, efficient, and effective treatment. It is equipped with digital intraoral radiography, digital OPG, Cone Beam Computed Tomography, Ultrasonic surgery machine, lasers, sterilization equipment, and other tools. The dental team follows the procedures recommended by US Occupational Health and Safety Administration, Environment Protection Agency, and Centers for Disease Control and Prevention.
2. Australian Dental Clinic
Australian Dental Clinic offers a complete range of general and specialized treatments such as Orthodontics (braces and Invisalign clear aligners), Dental Implants, Restorative, and Aesthetic Dentistry. The dentists are members of the International Congress of Oral Implantologists (ICOI), the World Federation of Orthodontists, and the International Team for Implantology (ITI). This means that they comply with global standards. The clinic has a modern facility complete with Free Wi-Fi and complimentary drinks. It also offers first-time visitors a free initial consultation.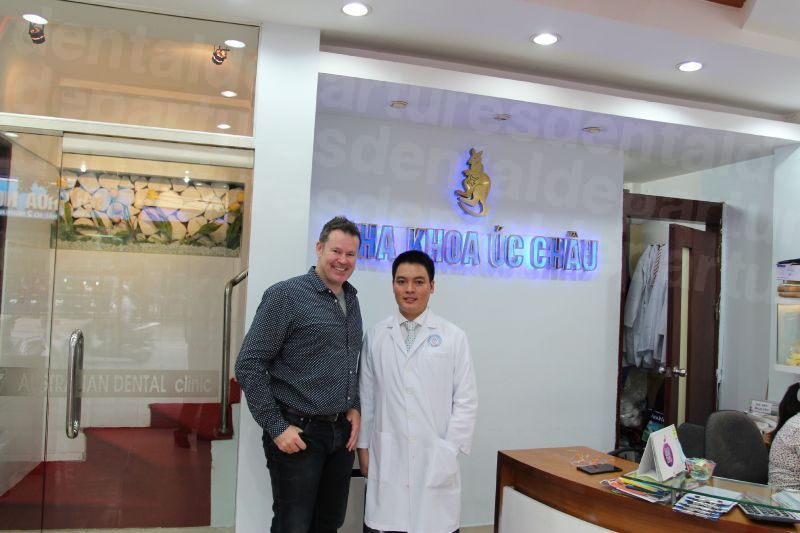 3. Minh Thu Dental Clinic - Hoang Ngan Branch
Minh Thu Dental Clinic - Hoang Ngan Branch offers General Dentistry and specialized treatment such as Orthodontics for the whole family. Over the past 25 years, the clinic's specialists in Orthodontics have treated more than 20,000 patients (pretty impressive!). The specialists are members of the World Federation of Orthodontists.
4. Pro Dental Clinic
Pro Dental Clinic offers superb dental care at an affordable price. The clinic specializes in esthetic and dental implants such as the All-on-4® treatment concept by Nobel Biocare, All-on-6 implants, bone graft, and sinus lift. It also provides root canal treatment, gum care, extractions, crowns, bridges, and veneers. The dentists are well experienced in cosmetic and dental implants. They are members of ICOI.
5. Westcoast International Dental Clinic (West Lake)
Westcoast International Dental Clinic (West Lake) is an established clinic in Vietnam offering high-quality services such as Dental Implants, Cosmetic Dentistry, and Orthodontics. The clinic also provides General Dentistry, Kid's Dental Care, and Dental Care during Pregnancy. It has an in-house laboratory equipped with a 3D imaging system, Computer-aided design/Computer-aided manufacturing system (CAD/CAM) technology, and other equipment. The clinic complies with the American Dental Association (ADA) Guidelines for Infection Control. This clinic is also affiliated with various organizations such as the Australian Dental Association, Academy of General Dentistry, Canadian Dental Association, and ICOI. The dental team is comprised of specialists in dental implants, Periodontics (gums), Endodontics (root canals), and orthodontics.
If you're looking for safe dentistry, Hanoi has a list of top clinics providing superior oral care at affordable prices. Book an appointment with the help of Dental Departures at one of our Hanoi dental clinics online, or talk to our helpful Customer Care Team.