If you're looking for a destination in Mexico that offers safe dentistry, Mexicali would be one of your best options, especially if you're located close to the US-Mexico border. the spot.
Here are the top reasons why Mexicali is a great place to receive more affordable dental care away from home.
1. Verified Clinics
Choosing to book with Dental Departures will bring you to the right oral care provider in Mexicali. We have a roster of clinics that are verified to ensure patients' safety. Our background checks include:
On-site visits
Validation of professional memberships
Verification of dentists' qualifications
License reviews
The clinics included in our list are Clinica de Ortodoncia & Estetica Dental, RamLanz Dental, Chapa Dental Center, O'Dent, and Dental Brush - Mexicali. These clinics provide dental tourism services whereby they are able to assist patients with treatment and travel.
2. Wide Selection of Dental Services
Our partner dental clinics in Mexicali offer a wide range of treatments such as general dentistry, orthodontics, oral surgery, endodontics (root canals), and restorative treatments.
General dentistry includes oral exams, fillings, and teeth cleanings.
Oral surgery such as extractions, wisdom tooth removal, gingivectomy, and dental implant procedures are carried out in Mexicali clinics.
Endodontics (or root canal treatment) repairs badly decayed teeth.
Restorative treatments include inlay/onlays, veneers, crowns, dentures, and dental implants.
3. Modern Facilities
Clinics in Mexicali are equipped with the latest technology. For example, Clinica de Ortodoncia & Estetica Dental uses periapical, panoramic, and cephalometric radiography to deliver accurate diagnoses.
RamLanz Dental is equipped with intraoral cameras, ultrasonic devices, lasers and an autoclave machine that complies with the requirements of the American Dental Association (ADA) and the Mexican Dental Association. It also has an in-house laboratory that processes fast and well-fitted restorations such as crowns and dental implants.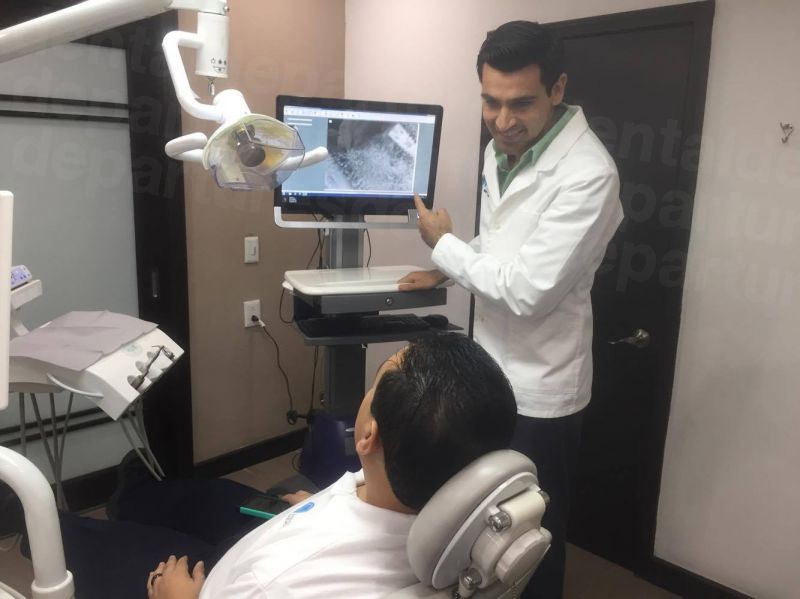 4. Experienced Dentists
Dental professionals in Mexicali are well experienced in various procedures. They provide solutions to different dental issues such as tooth decay, gum problems, and damaged teeth. The dentists specialize in:
Prosthodontics (teeth replacement)
Orthodontics (braces)
Oral surgery
Dental implants, and other fields.
They help patients achieve optimum oral health and are able to speak both English and Spanish, putting their patients at ease during each procedure.
5. Affordable Prices
Prices of dental treatments in Mexicali are affordable compared to the US and Canada - but this isn't a reflection of any lack of quality. Instead, prices across Mexico are kept generally low thanks to lower operating costs, lower living costs and stiff competition between dental clinics who are vying for international patients.
Here's a price comparison of treatments in Mexicali:
Type of Treatment

Price in

Mexicali

Price in

the US

Price in

Canada

Dental Crowns

USD $179

USD $1,164

CAD $1,483

Dental Fillings

USD $37

USD $155

CAD $199

Dental Implants

USD $896

USD $3,913

CAD $5,026

Dental Veneers

USD $344

USD $1,245

CAD $1,599

Dentures

USD $219

USD $1,826

CAD $2,344

Root Canals

USD $212

USD $1,275

CAD $1,636

Teeth Whitening

USD $149

USD $668

CAD $858
[Please note that these are estimated prices at the time of writing. See our individual clinic listings for latest prices.]
The Bottom Line
If you're looking for clinics offering safe dentistry, Mexicali clinics provide outstanding dental services. Find a clinic with the help of Dental Departures and get in touch with our Customer Care Team to arrange a free appointment.
Sources:
Robert Elsenpeter. Bringing the dental lab in-house. Dental Products Report. Website accessed: 10 November 2020. https://www.dentalproductsreport.com/view/bringing-dental-lab-house
American Dental Association. Website accessed: 10 November 2020. https://www.ada.org/en
Slide Show: Root Canal Treatment. Mayo Clinic. Website accessed: 10 November 2020. https://www.mayoclinic.org/diseases-conditions/tooth-abscess/multimedia/root-canal/sls-20076717