For many people suffering with the stigma of multiple missing teeth, dentures present the only affordable solution. However, by visiting a reputable dental clinic in Bali, you can transform your smile with the innovative All-on-6 dental implant technique, the long-term solution to replacing your complete upper or lower arch of teeth.
By undergoing the treatment in Bali, not only can you save thousands of dollars on the cost of the procedure, you also get to enjoy the splendours of a truly beautiful, tropical island paradise at the same time. Bali's spectacular coastlines and lush, green landscapes provide the ideal setting in which to relax and recuperate after the stresses of your dental surgery.
What are All-On-6 Dental Implants?
First, here's a short background, dental implants are replacement tooth roots placed in the jawbone to hold a crown or bridge. All-on-4 implants involve the placement of four implants to support the entire upper or lower arch of your teeth.
As the name suggests, the technique involves the placement of 6 dental implants into the jawbone that provide a solid foundation onto which a complete bridge of replacement teeth can be securely fitted. These new teeth will be indistinguishable from your natural teeth, looking and performing in exactly the same way, giving you the freedom to eat whatever you want and, more importantly, return that winning smile!
What Does an All-On-6 Procedure Entail?
You will usually be required to undertake 3 visits to your dental surgeon, with the final visit taking place several weeks after your initial surgery:
At your first visit, the dentist will perform a thorough oral examination to ascertain the overall condition and suitability of your mouth. This will involve taking scans and x-rays to assess whether there is any bone loss present and to evaluate the anatomical structure of your mouth. The dentist will also take impressions of your mouth at this stage, which will be sent to a dental laboratory for the fabrication of your new teeth.
Before your surgery commences, you will be given either a local anaesthetic to numb your mouth, or you can be sedated intravenously. If you require any extractions, these will be carried out first before the implants are fitted. This entails your dentist drilling six holes directly into your jawbone, four at the front vertically and two in the rear at an angle. He will then insert metal posts, usually fabricated from titanium, into these holes to act as artificial roots for your new teeth. Temporary dentures are then fitted to allow time for the implants to fuse securely with your jawbone through a process known as osseointegration.
After a few months, you will return to your dentist to have your permanent teeth attached. Your dentist will make a series of small incisions in your gum to expose the implants, allowing him to securely screw in the abutments and affix your complete bridge of new teeth.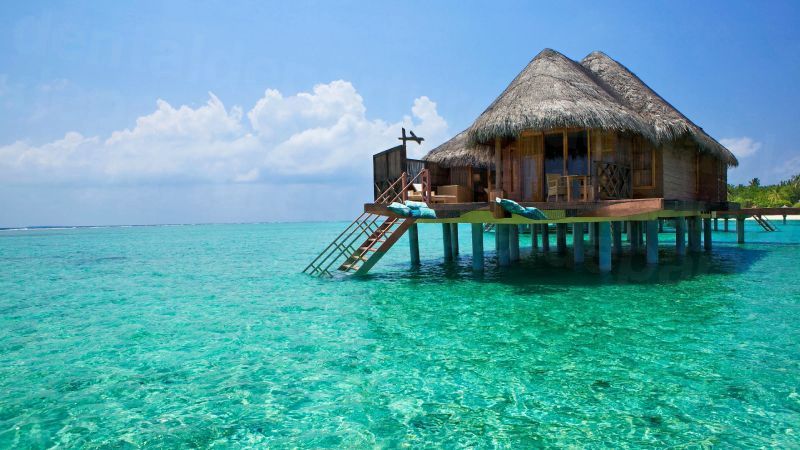 What are the Advantages of All-On-6's?
An all-on-six procedure will provide many benefits over the fitting of traditional braces, such as:
They look, feel and behave just like your natural teeth
They can help you to talk and eat comfortably
They can prevent bone deterioration
They can improve your oral health
They can make your facial appearance more aesthetically pleasing
How Much do All-On-6's Cost in Bali?
Dentists in Bali are significantly cheaper than their western counterparts in countries such as Australia, New Zealand, the United States and Europe. Average prices for All-On-6's in these countries cost in the region of AUD $38,000 (NZD $41,000, USD $29,000; CAD $37,000; GBP £22,000; EUR €25,000).
By undergoing the same procedure in Bali, however, you can save around 65% off your treatment costs, with prices of AUD $11,000 (NZD $11,960, USD $8,603; CAD $10,750; GBP £6,440; EUR €7,314) being readily available - equating to literally thousands of your hard-earned dollars!
What are the Facilities and Dentists Like in Bali, Indonesia?
You will receive the same high standard of dental treatment in Bali that you would expect from a domestic dentist. This is due largely to the fact that many of the dentists here have studied and trained abroad at some of the world's most prestigious institutes, gaining the same experiences and qualifications as their western counterparts.
Dental tourism is a lucrative contributor to the Indonesian economy, a fact that the government have been quick to pick up on. As a result, huge financial investments have been made in the country's medical infrastructure, with custom-built dental hospitals equipped with the latest technologies springing up all over the place to offer unrivalled care and comfort to their international patients, many of which are recognized by global organizations such as the International Organization for Standardization.
Where can I Find a Reputable Dentist for All-On-6's in Bali?
At Dental Departures, we understand how daunting it can be to find a reputable and trustworthy dentist abroad. That is why we've taken the time to vet all of our dental partners in Bali, ensuring that success and satisfaction are guaranteed.
We've performed a range of background checks that include verifying the legitimacy of dentist qualifications and professional memberships, as well as checking legal and criminal records. We've also conducted onsite visits to assess equipment and facilities, posting photographs and real patient reviews on our website so that you can see the quality for yourself.
What do I do Next?
Dental Departures are here to help you plan and execute the perfect dental vacation in Bali for your all-on-6 procedure. We can ensure that you get a great deal through our exclusive best price guarantee , and can even get you preferential rates on additional dental insurance through a number of independent insurance providers.
If you'd like to find out more about All-on-6's in Bali, contact a member of our Customer Care Team now and start planning your trip to the "Island of the Gods" today!