Looking to save at least 60% off dental implants in Cancun? Combine a luxury stay with high-quality dental care with Dental Departures. Find and book a quality-checked dentist with us and start planning your dream vacation.
What Makes Cancun a Dental Tourism Hub for Dental Implants?
Cancun has established itself as both a popular coastal resort and a major hub for dental treatment. Welcoming more than six million visitors in 2018, Cancun also offers a wealth of dental clinics that have built an impeccable reputation for delivering first-class care, including intricate work such as dental implants and cosmetic dentistry.
Dental Departures can assist you in finding the ideal dentist in Cancun at a low-cost. One of our most popular venues is the All-on-4® treatment concept by Nobel Biocare. Ultra-hygienic, modern decor and instrumentation to match any clinic in North America, it is no surprise many patients are traveling overseas to fix their choppers.
Highly-trained dentists provide in-depth knowledge to meet the highest demands from patients. Thanks to superior service and high dental standards throughout, all our listed clinics go the extra mile to ensure the lowest prices.
Due to its proximity to North America, Cancun has an enviable position for those seeking significantly lower-priced dental care. What better way to recover from your dental implants than to enjoy a relaxing holiday, whilst savoring Cancun's spectacular seascapes and vistas.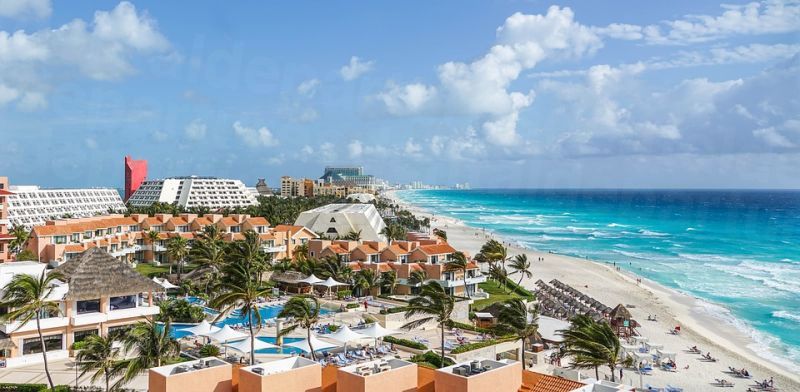 Cancun's Best Clinics?
For your Cancun dental specialists, why not research before booking one of our fully accredited clinics. Browse our virtual clinic tours, read our trusted reviews or compare prices for the best dental care at low rates. Check out our most popular clinics including Sunset Dental Cancun or Ocean Dental, an official member of the American Dental Association.
How Much Can I Save on Dental Treatments in Cancun?
Expect savings of around 60% compared to the US and Canada. Prices can be found below;
Full-arch procedure at a US clinic: $26,000
At a Canadian clinic: 33,431 CAD
Average price in Cancun: $10,000


Dental implant treatment in the US: $3913
Dental implant treatment in Canada: 5026
Average price in Cancun: $1250
Planning a Stay in Cancun?
Situated in the state of Quintana Roo on the northeast coast of the Yucatan Peninsula, Cancun is the gateway to the Riviera Maya—Mexico's Caribbean coast. With flights taking between two-five hours, it is easily accessible for patients from the US and Canada. Texans will find Cancun of special interest, as non-stop flights from Dallas or Houston will get you there in less than two and a half hours.
The stunning turquoise waters of Cancun and nearby Playa del Carmen await sun worshippers, while visitors can experience the diving spots of Cozumel and Akumal. Immerse yourself in Mayan culture or visit the impressive array of historical sites including the ruins of Tulum and Chichen Itza.
Tourists and dental vacationers alike can enjoy world-class water sports facilities including snorkeling and diving. Enjoy some retail therapy in Cancun's many ritzy shopping malls and boutiques, experience its colorful nightlife or discover fascinating bird species at Isla Contoy.
Staying in Cancun
Accommodation in Cancun is plentiful, offering an extensive selection of lodgings to suit all budgets. From beachfront resorts to luxury five-star hotels, condos and even Airbnb, travellers will find their favorite place to relax and recuperate after dental treatment.
How to Book
With exclusive discounts, trusted patient reviews and our best price guarantee, choose the right dentist for your dental implants in Cancun with Dental Departures. There are several ways of getting in touch: call us for free, e-mail or talk to us via our online chat.
Sources:
All-on-4® Treatment Concept. Nobel Biocare. Website accessed: 25 April 2021. https://www.nobelbiocare.com/dk/en/home/products-and-solutions/treatment-concepts/all-on-4.html
Why Go to Cancun? US News. Website accessed: 15 April 2021. https://travel.usnews.com/Cancun_Mexico/