Spotlight on: Costa Rica All on Four
Costa Rica all on four are one of the more popular clinics to visit if you are in need of teeth replacement. If you have dentures and are not happy with them because they are ill fitting or you don't like having to remove them. Or you don't like not being able to talk well. Or you simply wish that you had your normal teeth back, then you should consider getting dental implants like all on four. These offer a relatively permanent and cost effective solution to dentures, are healthier and look and feel like normal teeth.
Costa Rica All on Four – complete teeth replacement
For a single tooth replacement, a dental implant is a better bet as you don't have to remove the tooth. However, if you lose more teeth, then an all on four is a great option particularly if you already have
● Lost a number of adjacent teeth
● Have multiple cavities and your teeth cannot be saved
● Find difficulty chewing with your current teeth or dentures
● Don't want to waste time getting multiple procedures done
● Want a full set of teeth quickly
Costa Rica all on 4 is a great solution to these dental problems and will enable you to have a full set of teeth.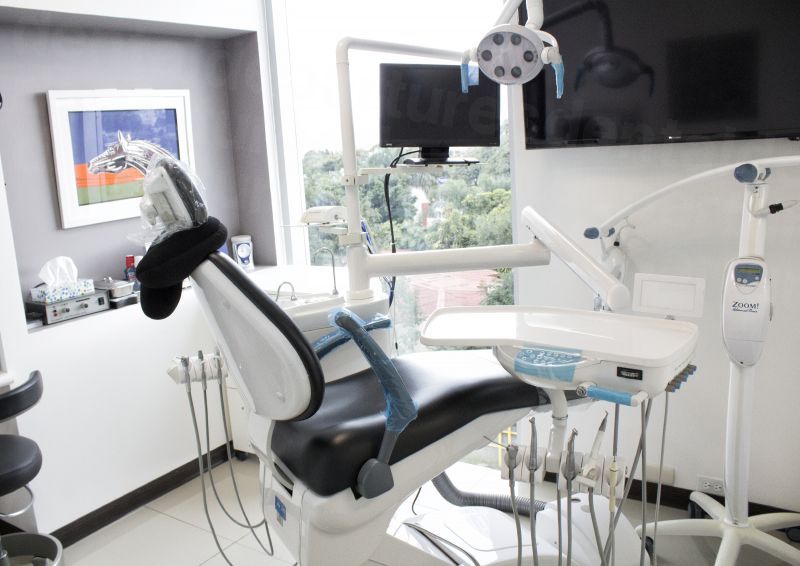 What is All on Four?
All on four is a new method of teeth replacement. Four titanium implants are inserted into the gums and these can support an entire arch of teeth. These implants require minor surgery for insertion, but the procedure is pain free as you are under anesthesia.
Once the titanium posts are inserted, temporary crowns are put on so that they function as replacement teeth. After a few months, when the bone has grown over the titanium posts, the crowns are replaced with those that are permanent and match the color of your teeth.
The time gap is important as the bone growth results in permanent anchoring and natural feeling teeth. The normal bone growth also results in a natural looking jaw line and the implants also prevent further bone loss that can occur with dentures.
All on 4 Costa Rica can help you by applying a bridge of between 12 and 14 teeth. It is possible to get this done for the lower jaw or the upper jaw or even both, depending on your requirements and your dental health.
Benefits of All on Four
If you have lost a number of teeth, then all on 4 is better than a single dental implant. In any case it is not possible and unnecessary to have a mouthful of titanium posts inserted one after the other into your gums, when only four will do to support the entire arch of teeth. Among the benefits of all on four are:
● Shorter treatment time
● Fewer incisions
● Shorter healing time
● Cost effectiveness
● Reduces risk on bone atrophy
● Relatively permanent or long lasting
● Mouthful of teeth in one day
● Teeth feel natural
● Teeth can be taken care of in the normal way (brushing and flossing)
● Ability to eat all kinds of foods
All these advantages make all on four a treatment of choice for teeth replacement, more so when compared to dentures.
Psychological and physical improvement
A mouthful of teeth always makes you feel better. Wrinkles around your lips and any caved in sections of your jaws can be eliminated with all on four. When you can smile better, you look more attractive, your confidence increases and you look younger as well.
If you have cavities or use dentures, it always makes you feel older. With all on four you get a natural looking and feeling arch of teeth and this immediately makes you feel younger. It also eliminates other problems associated with dentures like not being able to talk clearly.
Costa Rica for a dental holiday
When you go to Costa Rica – and there are many holiday spots in this country that offer excellent dental care – you can have a great time. The country has the Caribbean Sea on one side and the Pacific Ocean on the other, so has miles of beaches. The volcanoes in the area have made the soil rich and fertile and so the country has among the largest percentage of green cover in the world. It is known for its biodiversity, the exotic flora and fauna that is found there, the rivers, forests, waterfalls and beaches.
It offers a varied range of activities and you can choose where to go to for your dental vacation depending on your interests. You may be interested in wildlife and natural beauty, adventure activities or prefer a relaxing time near a beach. You can find all this and more in Costa Rica.
Dentists in Costa Rica are well trained, qualified and experienced. They have often done all or part of the advanced training in western countries and may have affiliations to international organizations like the International Organization for Oral Implantologists or the American Dental Association.

What's more a holiday in this Latin American country will not break the bank as hotels and food are relatively inexpensive. As for the dental procedures, they cost a fraction of the price they would back home.
What is the price difference for Costa Rica All on Four?
While the price can vary somewhat and depend on the clinic, the location and also the brand of the prostheses, on an average there is a large difference in prices prevalent in Costa Rica and other advanced countries.
To give you a rough idea, all on four in America will cost US$26,000 (CAD33,431, £19,382, €23,130, AU$33,910, NZD34,841). In Costa Rica this will cost an average of US$10,500 (CAD14,104, £8,427, €9,850, AU$13,885, NZD15,044).
As the cost of the dental work is so low, even if you factor in the cost of travel and stay, food, shopping and entertainment, you still save significantly. More importantly you will be taking better care of your mouth health.
Additionally when you book via Dental Departures we give you a free quote, the best price guarantee and you can book without any apprehensions at one of our quality checked clinics for Costa Rica all on four
.