Lim Dental Surgery is a reputable clinic in Johor Bahru, Malaysia with over 40 years of experience in dentistry. The dental professionals' vast experience and global exposure gives patients confidence that their oral care is in good hands.
Best dentist in Malaysia
Lim Dental Surgery was established in 1975 by Dr. Roland Lim who is well-experienced dentist. He's one of the earliest dentists who opened a dental clinic in Johor. For 45 years, he has been providing top quality service to local and international patients. He completed Bachelor of Dental Surgery in Singapore and became a Fellow of Academy of Dentistry USA. He speaks English, Chinese, and Malay. Dr. Lim partners with specialists who are trained not only in Malaysia, but also from respected universities abroad.
Dr. Lai Saye Leong obtained the degree in Bachelor in Dental Surgery in Sydney, Australia
Dr. Yang Wun Swee completed his Bachelor in Dental Surgery in New Zealand. He finished his Master of Science in Orthodontics and Diploma in Orthodontics from the Royal College of Surgeons, UK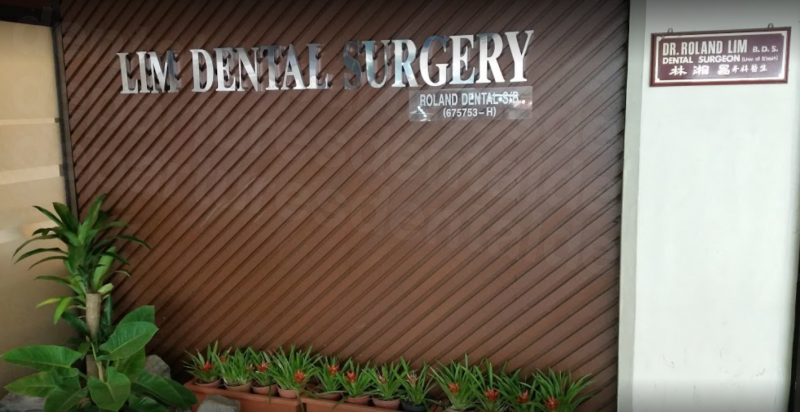 The dental professionals work together in giving the best patient care. They perform a comprehensive examination, discuss the options, and recommend the best treatment to the patients. The dentists clearly explain the details about the treatment to help patients in making informed decision. Feel free to ask questions. A personalized treatment plan can be created to suit your needs and budget.
Dental Services
Lim Dental Surgery offers various dental services that include General Dentistry, Oral Surgery, and Orthodontics
·General Dentistry covers treatments designed to maintain patients' oral health. Tourists in Malaysia can get preventive care such as oral examination, teeth cleaning, and dental fillings at a lower price compared to Australia, New Zealand, and UK.
With the use of digital x-rays, that produce clear images of the mouth and teeth, the dentists provide accurate diagnoses necessary in preparing the right treatment for the patient. Oral surgery like extractions and wisdom tooth removal are carried out in the clinic using a convenient approach. Night guards are also offered to patients who need protection from mouth injury.
Gum Treatment includes deep cleaning, scaling, and root planing. Advanced techniques in gum treatment are used to help patients achieve optimal health.
Root Canal Treatment is carried out to repair and save infected or badly decayed teeth.
Restorative Treatments such as laser teeth whitening, veneers, crowns, dentures, inlays, and onlays are used to improve smiles. The dentist recommends laser teeth whitening to patients with discolored or stained teeth. Take-home kit whitening is also given to patients. Veneers improve teeth shape, size, and color of your pearly whites. Depending on your needs, the dentist restores your teeth with crowns or dentures. Top-quality materials are used to improve patients' smiles. The dentist will help you determine which material is best for you. Veneers are made from composite, porcelain, or zirconia. You can opt for porcelain fused to metal, full porcelain/ceramic, or zirconia crowns. Dentures come in acrylic, metal, or flexible material.
Orthodontics corrects bite problems and straightens using braces and other devices.
Treatment Price
Lim Dental Surgery offers outstanding dental service at a reasonable price. Here's a price comparison of some of the most common treatments in Johor Bahru.
Cost of Dental Implants in Johor Bahru: AUD $2,816
In New Zealand: NZD $3,036; in UK: £1,698
Compared to Dental implants in Australia: AUD $5,184
New Zealand: NZD $5,591; UK: UK £3,126
Cost of Laser Teeth Whitening in Johor Bahru: AUD $547
In New Zealand: NZD $587; in UK: £322
Compared to Laser Teeth Whitening in Australia: AUD $657
In New Zealand: NZD $705; in UK: £387
Cost of Porcelain Veneers in Johor Bahru: AUD $413
In New Zealand: NZD $446; in UK: £249
Compared to Porcelain Veneers in Australia: AUD $1,462
In New Zealand: NZD $1,577; in UK: £882
Cost of Dental Crowns in Johor Bahru: AUD $607
In New Zealand: NZD $651; in UK: £358
Compared to Dental Crowns in Australia: AUD $1,591
In NZD: $1,707; in UK: £937
Cost of Dentures in Johor Bahru: AUD $365
In New Zealand: NZD $391; in UK: £256
Compared to Dentures in Australia: AUD $1,856
In New Zealand: NZD $1,991; in UK: £1,305
Cost of Root Canal Treatment in Johor Bahru: AUD $317
In New Zealand: NZD $340; in UK: £187
Compared to Root Canal Treatment in Australia: AUD $1,591
In New Zealand: NZD $1,707; in UK: £937
Treatment prices in Johor Bahru are indeed lower than Australia, New Zealand, and UK. No wonder many Aussies and Kiwis visit Malaysia for affordable treatments.
Clinic Location
Strategically located in Johor Bahru, Lim Dental Surgery is accessible to hotels, shopping malls, and restaurants convenient for tourists seeking oral care.
Clinic Hours
The clinic serves patients from Monday to Saturday from 9:30 AM to 5:00 PM. Patients can access their free Wi-Fi while relaxing at their clinic.
Dental Tourism
Lim Dental Surgery offers dental tourism where they assist patients from overseas not only with treatment, but also with travel. English-speaking dental staff attends to the needs of international patients.
Getting oral care in Malaysia allows you to shape up your smile at a reasonable price. Best of all, spend a holiday in this Asian country where you can explore various activities, learn a different culture, and taste their local dish.
Dental Departures added Lim Dental Surgery to its roster of top clinics because of its quality service, highly experienced dentists, and affordable treatment price. It has positive reviews from international patients. The top clinics from our site are vetted based on their facilities, dentists' qualifications, accreditations, as well as reviews from patients.
Browse Dental Departures' website for the best dentist in Malaysia . Book an appointment with our customer service by phone, email, or online chat. Avail of exclusive discounts and low-priced treatments and our guaranteed best prices.