Prisma Dental Clinic in San Jose, Costa Rica, is a full-service dental clinic, established in 1984. It is staffed by a team of competent dentists and offers a range of dental services in well-appointed facilities.
Why do people travel out of the country for dental work?
If you have medical insurance–and large numbers of people simply don't–dental work is not usually covered by insurance. Even if you have insurance provided by your employer, you probably don't have any dental coverage.
Since dental work is something you have to pay for, you may simply not get it done. While this may be an option where cosmetic procedures are concerned, it is really not possible if you need dental care like fillings, root canals, dentures or any necessary procedure. You may even avoid routine visits to the dentist for a yearly check-up.
While you may save money by not going to a dentist, you are compromising on your dental health. And since oral health affects your overall physical health, it can have a negative effect in the long run. When good quality dental care is available at cheap prices in other countries, it makes sense to go there. That is why dental tourism is a booming industry.
A Medical Tourism Survey shows that people travel for good quality medical care at low-cost prices. As travel time also plays an important role in this, large numbers of people don't mind a few hours of travel time. The fact that they can have a holiday at the same time is an added bonus.
Why Prisma Dental Clinic?
Costa Rica is a popular dental tourism destination. It has top-quality dental clinics like Prisma Dental that is located in San Jose, a busy tourist spot.
You can get all kinds of dental work done at this clinic including
Routine check-up

Teeth cleaning

Veneers

Root canals

Laser bleaching

Gum disease treatment

Mercury-free dentistry

Resin fillings

Mouth restorations

Crowns

Dentures

Braces

Invisalign

All-on-6
These procedures are done at state of the art facilities, using modern equipment and the latest technology. The clinic has an onsite lab so that restoration time is reduced. It also has its own equipment like cone beam computerized tomography (CBCT), digital x-rays and the latest surgical equipment to help the dentist make the right decisions regarding the course of treatment. It has eight treatment rooms to reduce waiting time.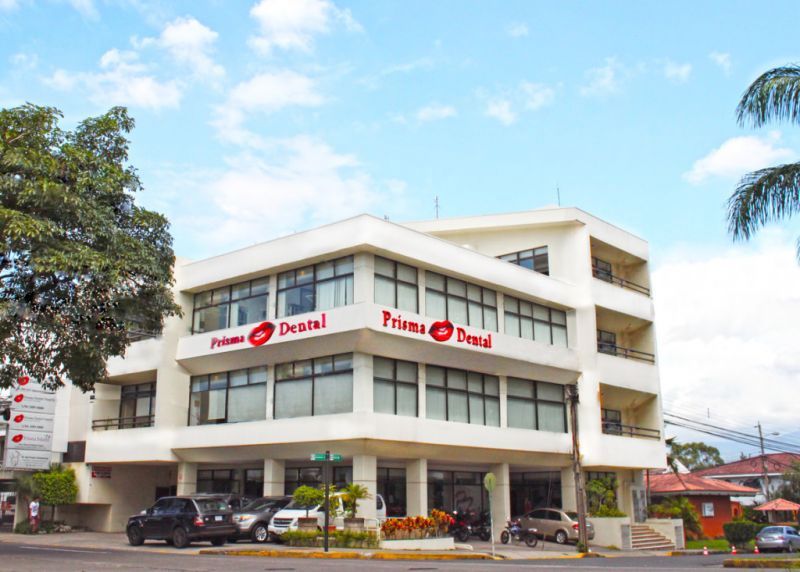 Dentists at Prisma Dental
The dentists at this clinic are highly qualified and experienced. The clinic was founded by Dr. Telma Rubinstein and Dr. Josef Cordero Pinczanski. After completing her dentistry training in Costa Rica, Dr. Telma Rubinstein went on to do advanced training in cosmetic dentistry in Switzerland, implant dentistry in Montreal, Costa Rica, and at the University of Miami. She is a member of the Prosthodontic Section of the Collegium Internationale of Oral Implantologists and also of the International Congress of Oral Implantologists.
Dr. Josef Cordero Pinczanski also completed his basic dentistry in Costa Rica and then did advanced training in cosmetic dentistry in Switzerland, advanced training in implant dentistry in Montreal, Costa Rica, and at the University of Miami. He is a member of the Prosthodontic Section of the Collegium Internationale of Oral Implantologists and also of the International Congress of Oral Implantologists. Additionally, he is an Advanced Laboratory Technician Supervisor.
Other experienced doctors at the clinic include Dr. Carolina Nunez, an expert at cosmetic and esthetic dentistry, Dr. Roberto Hernandez, endodontics specialist and Dr. Diana Fishman, pediatric dentist, Dr. Jose Franco, periodontics specialist. They are aided by trained and experienced staff members.
Prices of different dental procedures at Prisma Dental
When you are lured by reduced prices of dental work by dentists in Costa Rica, you should have an idea of the price variation for different procedures.
The average price for implant-supported removable overdenture with four implants in the U.S. is around US$12,300 (CAD16,493, £9,866, €11,554 AU$16,302, NZD17,644). At Prisma Dental the same procedure will cost as little as an average of US$4,650 (CAD6,238, £3,729, €4,368, AU$6,163 NZD6,670), which is a significant price difference.
In the U.S. a root canal that will cost you an average of US$ 1,275 (CAD1,829, £1,022, €1,197, AU$1,690, NZ$1,829) will cost you only US$350 (CAD469, £280, €328, AU$463, NZ$502) at the hands of one of the best dentists in Costa Rica.
Dental porcelain crowns in America that cost US$1,200 (CAD1,609, £962, €1,127, AU$1,590, NZ$1,721) will cost only US$350 (CAD469, £280, €328,AU$463, NZ$502). For more expensive procedures like dental implants, the savings are even more significant.
Similar fractional prices in Costa Rica, when compared to prices in advanced countries, apply to other procedures. These are considerable savings by any yardstick.
What else can you do in Costa Rica?
If you are going to Costa Rica for a dental holiday, it makes sense to get in some activities and check out the three UNESCO World Heritage Sites, La Amistad National Park, Cocos Island National Park and Area de Conservacion Guanacaste in Costa Rica. You can also visit the many beaches, volcanoes, mountains, waterfalls, cloud forests, forest reserves and other attractions that make the country a hotspot for naturalists, thanks to the biodiversity that you cannot see anywhere else. You can go for day trips or take tours as preferable.
If you would like to explore the city, then San Jose has much to offer. It has museums like The Gold Museum that has pre-Colombian gold works and artifacts, the Jade Museum with items made of jade, the museum of insects and many others. You also go for golf or go on a coffee estate tour.
San Jose has a vibrant nightlife and you can go to bars, nightclubs, dance bars, drink artisanal beers and party the night away. With so many activities, you are never at a loss for things to do.
Combining a memorable holiday with low priced dental work at Prisma Clinic in San Jose Costa Rica will refresh you and improve your oral health as well.