The longer you leave your lost teeth untreated, the worse the effect on your overall dental health. Gaps in your dental structure allow your teeth to shift position and even become loose. Your remaining teeth are under more pressure when you bite and chew, so they will be more susceptible to damage. Also, missing teeth can ruin an otherwise perfectly good smile.
If you are missing more teeth than you have left in your mouth, the All-on-4® treatment concept might be the best option for you. This dental treatment requires that your remaining teeth be extracted so that a full arch of new replacement teeth can be permanently attached to your jaw with implants. A full arch restoration like this will restore function to your mouth, bring back your smile, and is an altogether more effective alternative to removable dentures.
What You Can Expect to Pay for Dental Implants at a Budapest Dental Clinic
Dental costs in Budapest are cheaper than in the UK, with many British dental patients saving in the region of 50% to 70% off their dental bill. To give you an idea of just how many thousands of pounds you could keep hold of by travelling to Budapest for dental treatment, check out these quick comparisons.
A single implant, complete with an abutment and crown, has an average price of £3,045 at dental clinics across England, Wales, Scotland, and Northern Ireland. In the Hungarian capital, the total treatment cost for a dental implant drops all the way down to £773, almost a quarter of the average UK price. Having just three dental implants in Budapest instead of Britain would save you close to £7,000.
The All-on-4® treatment concept offers an even bigger saving. With the current price for this procedure from a British dentist hovering around the £16,000 mark, it is one of the most expensive dental treatments in the UK.
Choose to have your treatment in Budapest and you will pay just £4,960. That is over £10,000 cheaper, and if you choose to have both arches of teeth replaced for a complete mouth restoration that saving doubles to more than £20,000.
With Dental Departures You Can Find the Right Dentist at the Right Price
Find the best dental clinic in Budapest for your needs in no time with the help of Dental Departures. Every one of the Budapest dental clinics listed on our site is rated from one to five stars: one indicator of patient satisfaction. Past patient reviews also reveal much about the quality of care that a dental clinic provides, and you can find those here at Dental Departures as well.
Once you have a shortlist of trusted clinics staffed by experienced dentists, you can then quickly narrow down your shortlist according to the cost of treatment. Every dental clinic page published at Dental Departures features a full price list of all treatments available, so it is easy to compare prices for dental implants at different Budapest dental clinics.
Once you have found a clinic and dentist you have confidence in, which can also provide the treatment you want at a price you can afford, you are almost there! The entire booking process takes just a few minutes. Toward that, check out a few top Budapest dental clinics that come highly recommended by us and many of their past patients.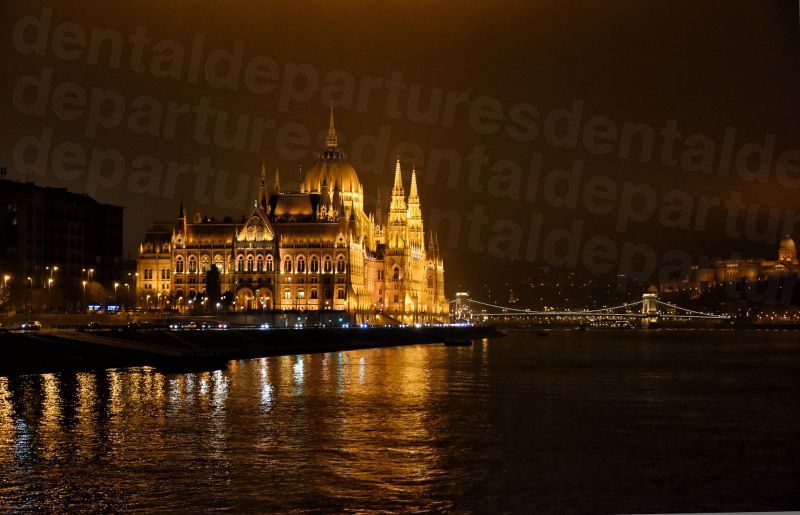 Three of the Best Dental Clinics in Budapest
The Dentium Implant Center does an excellent job of catering for international patients and has been doing so for almost twenty years. Dr. Ali Dehghani is the head dentist here, a talented implantologist who has experience working with a wide range of different dental prostheses. This clinic is five-star rated for patient satisfaction, and it has also passed our four-part review process to qualify as a Dental Departures Verified Clinic.
Evergreen Dental is a leading Hungarian-American dental clinic staffed with highly-skilled dentists who speak a variety of languages, including English, French, German, and Russian. This clinic is ISO 9001:2015 certified, and also equipped with the latest CAD/CAM dentistry machinery and materials for creating flawless dental restorations. When you book an appointment here, you can also reserve one of their luxury apartment suites right next door to the clinic.
Budapest's top dental clinic is MDental Hungary, conveniently located close to the capital's Western Railway Station (Nyugati pályaudvar). Some 150 past patients have written positive reviews about the treatment they received here, and the clinic also received an award from Superbrands. Many of the talented dentists working at this clinic trained at the prestigious Semmelweis University and all are fluent in English.
Make All Your Budapest Dental Trip Arrangements at Dental Departures
It takes just a few short minutes to get your Budapest dentist appointment set up. The Dental Departures online appointment scheduler can be used any time, day or night. Just pick the clinic you want to have treatment at, choose a date and time that suits you, and leave us your email address or phone number. It will not be long before we are back in touch with you to confirm your appointment.
If you need to change the details of your appointment, or even cancel it altogether, you can do this at no extra cost as long as you provide us with 24 hours notice. You can also rest assured that when you book with Dental Departures you are getting the best price available, and if you are not completely satisfied check the coverage of our Best Price Guarantee.
Perhaps you have some questions to ask before you book, or would just prefer to speak with someone over the phone to make your Budapest dental trip arrangements. Call our Customer Care Team using the freephone number at the top right corner of this page. A member of the team will be able to answer any queries you have, offer advice on Budapest dental care, and assist you through the booking process.
Sources:
Dental implants. NHS. 28 August 2018. https://www.nhs.uk/live-well/healthy-body/dental-treatments/#dental-implants
Hodges, John A, DDS, FICIO. When is All-on-4 the best option? 5 factors to consider when creating your dental treatment plan. Dentistry IQ. 1 November 2017. https://www.dentistryiq.com/articles/2017/11/when-is-all-on-4-the-best-option-5-factors-to-consider-when-creating-your-dental-treatment-plan.html
Which Dental Prosthesis Is Right For You? Colgate Oral Care Center. https://www.colgate.com/en-us/oral-health/life-stages/adult-oral-care/which-dental-prosthesis-is-right-for-you
Li, Raymond, BDS. Ceramic dental biomaterials and CAD/CAM technology: State of the art. Journal of Prosthodontic Research. 22 September 2014. https://www.sciencedirect.com/science/article/pii/S1883195814000899