The soaring cost of dental care in the US and Canada compels many people to look for an alternative outside their home country. However, Americans and Canadians are also concerned with the quality of dental care abroad. Costa Rica fits the bill because it has a number of clinics offering world-class service at a reasonable price.
What is the All-on-4® treatment concept?
Offered exclusively by Nobel Biocare, implants replace the whole arch of teeth with just four implants. The implants are placed at an angle, which provides maximum support. A dental bridge or denture is attached on top. The new teeth look, feel, and function like your own pearly whites. This treatment is an option for people who lost their teeth due to gum disease, injury or other reasons.
This technique offers many benefits: it cuts down your dental expenses, shortens treatment time, and saves you from discomfort. Since the treatment may eliminate the need for additional procedures like bone graft, it reduces the cost of your dental expenses and shortens the treatment time.
What is the cost in Costa Rica?
Surprisingly, the cost of oral care in Costa Rica is lower compared to the US, Canada, and other countries. Prices of dental treatment vary, depending on the type of material you choose, the number of teeth involved, and other factors. To give you an idea, here's the estimated price in Costa Rica compared to other countries:
All-on-4® treatment concept in Costa Rica: USD $8,500 (CAD $11,473; UK £6,637; Eur €7,925; AUD $11,267; NZD $12,088)
Compared to other countries: USD $26,000 (CAD $35,094; UK £20,301; Eur €24,241; AUD $34,465; NZD $ 36,976)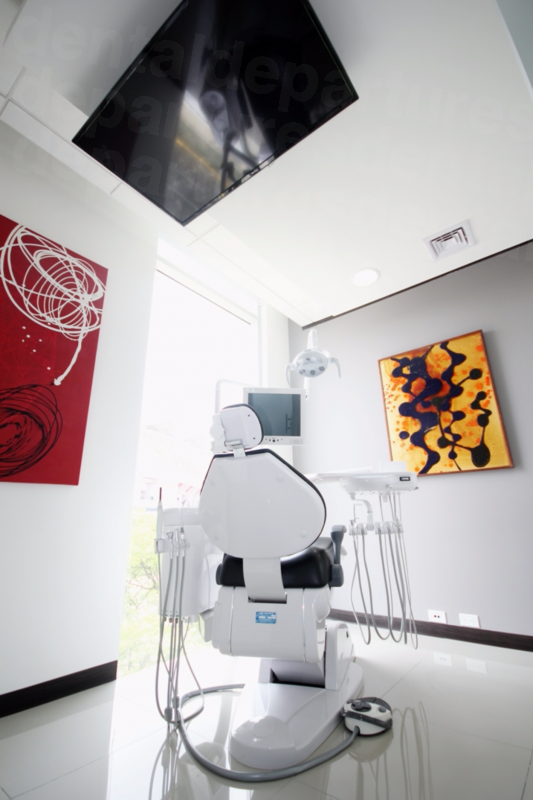 How's the quality of dental care in Costa Rica?
The quality of the care provided by dentists in Costa Rica is comparable with your home country. Dental facilities like Prisma Dental and Clinica Mario Garita provide modern facilities with well-trained dental professionals performing exceptional service. The dentists in Costa Rica including the facilities and equipment are screened by Dental
Departures to ensure the quality of service.
Prisma Dental Clinic offers high-quality, affordable dental services. The clinic specializes in Cosmetic Dentistry and Dental Implants. The team is comprised of specialists who are certified by the American Dental Association, the American Academy of Cosmetic Dentistry, and the International Congress of Oral Implantologists, which means that they adhere to global standards.
Clinica Mario Garita has been in the industry for 25 years. The head dentist specializes in Implant Dentistry and full mouth reconstruction. He completed his studies from well-known universities in Costa Rica and the US. This international exposure helps him to deal effectively with patients from overseas.
Costa Rica clinics can help you reduce your dental expense without compromising the quality. Browse Dental Departures' list of dentists in Costa Rica. Contact our customer service team today to book an appointment.