If you're a frequent visitor to Johor Bahru, Malaysia, you might want to think about getting teeth cleaning done while you're there. A cleaning in Johor Bahru really gives you something to smile about; you'll leave the dentist's office with those pearly whites to show off having potentially saved over a hundred dollars in the process.
The price of regular teeth cleaning in Australia, for example, is AUD $167, and NZD $179 in New Zealand. Below we've covered the prices for cleaning at the top clinics in Johor Bahru:
So, you can see the amazing cleaning price Johor Bahru has to offer. While it doesn't make sense to fly out to Malaysia especially for teeth cleaning, it is something well worth doing if you're already in the city. So whether you're traveling to Johor Bahru for work, planning a holiday or going there for a major medical or dental procedure, think about getting cheap cleaning in Johor Bahru.
You don't have to compromise on the quality of your teeth cleaning in Malaysia, provided that you find the right clinic. There are many names to consider, but to save time we strongly recommend the three dental clinics linked above. These offer the ideal combination of affordability and quality, and have all gone through Dental Departures' strict verification process.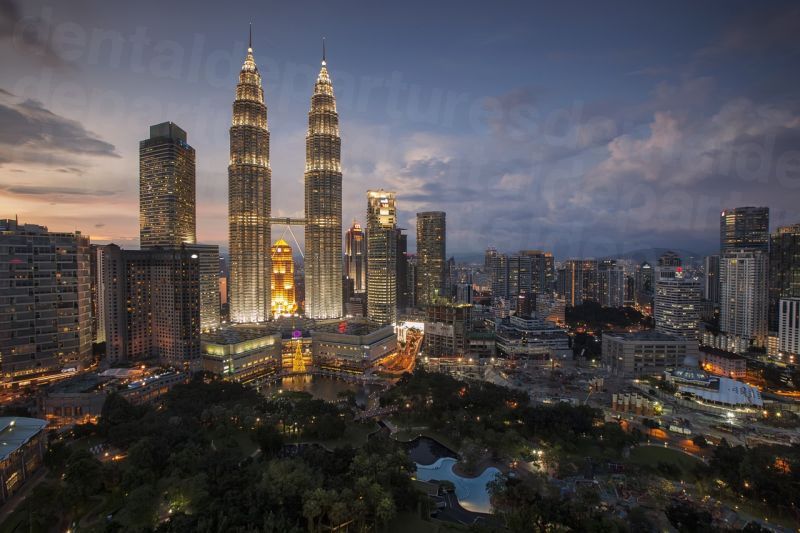 Just as it is important for you to stay clear of some sub-standard clinics abroad, it's crucial that you don't fall prey to some myths about teeth cleaning . Here are three popular misconceptions related to teeth cleaning that you should be aware of:
"I brush regularly so I don't need teeth cleaning" -
The reality is that even if you brush your teeth regularly, it's best that you get a professional cleaning every six months.
"My teeth look fine so I don't need cleaning" -
Your teeth might seem OK to the naked eye, but they may not be healthy. Regular checkups and a thorough examination by a dentist may reveal that you need teeth cleaning even if everything "appears" to be alright.
Your teeth's color is not the sole indication of their good health . It is possible for off-white teeth to be healthier than pearly whites. Of course, you shouldn't be satisfied by off-white; aim for white and healthy.
There are also some misconceptions about dental tourism. The biggest one is that you have to compromise on quality when visiting a clinic overseas since they charge significantly less. In fact, the main reason why the prices are low is it costs much less to run a dental clinic in developing countries, such as Malaysia, than it does in Australia and New Zealand. Moreover, the lower living expenses and high competition among the Malaysian clinics help keep prices in check.
Getting Started
Getting your teeth cleaned in Johor Bahru is made straightforward and safe with our three listed clinics above. You can read more about the clinics, or book your free appointment via Dental Departures today.
Sources:
Lim, Clara. Cheap Guide to Johor Bahru – Where to Go & Best Things to Do in JB. Money Smart.07 December 2018.
https://blog.moneysmart.sg/travel/johor-bahru-things-to-do-in-jb/" target="_blank
Seven surprising oral health myths busted. Bupa Dental. 13 May 2017.
https://www.bupadental.com.au/blog/article/7-surprising-oral-health-myths-busted" target="_blank
Rashid, Abdul. 10 Common Dental Misconceptions. Practo. 03 July 2016.
https://www.practo.com/healthfeed/10-common-dental-misconceptions-19103/post" target="_blank