Searching for high-quality, inexpensive, world-class dental care in Thailand? Save more than 40% on our All-on-Six dentists in Thailand with Dental Departures.
Combine a dental tourism trip to the "Land of the Smiles" and enjoy majestic scenery, diverse landscape, lush terrain and ancient monuments. Receive top-notch care from a quality-checked dentist at a fraction of the price, compared to home.
Benefit from leading facilities and rigorously-trained dentists, whilst visiting one of the world's most popular tourism destinations. Thailand's inexpensive cost of living combined with first-rate dental facilities make it an irresistible choice every year for hundreds of thousands overseas patients.
Why Choose Thailand For Dental Care?
Thailand has established itself as a world leader of top-quality, cost-effective dental care. Despite a long flight, patients are assured of the highest clinical standards as our Thai dentists are fully-registered and regulated by the Thai Dental Council and Thailand Ministry of Public Health.
Our top dentists undertake extensive training in the US, the UK or Australia, ensuring patients receive the same safe, precise clinical treatment you would expect to receive at home. Facilities at our fully-approved Thai clinics are second to none: English-speaking staff, panoramic x-ray, CT scanning equipment and 3D CAD/CAM instrumentation.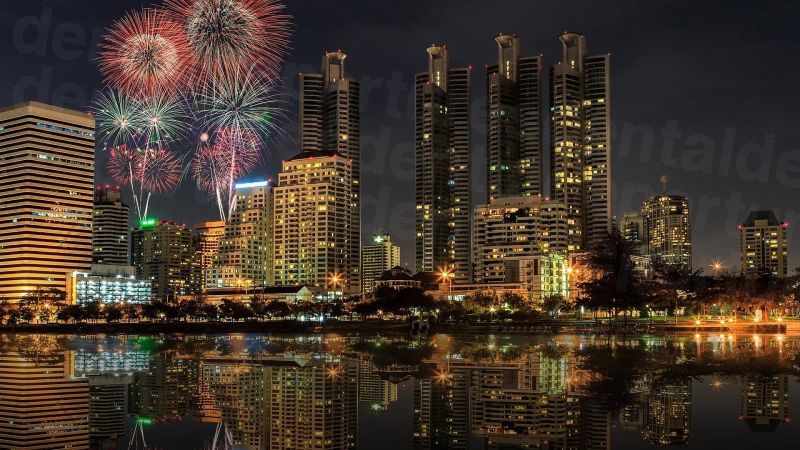 Clinics in Thailand—Overview
We make the decision-making process of finding a Thai dentist hassle-free. Dental Departures background-checks every clinic for quality, hygiene, dental qualifications and memberships, putting the patient first.
Cross-border and overseas patients have been visiting Thailand for many years, with a well-established reputation for delivering top-quality, inexpensive treatments. With a long history of catering to overseas patients, its service culture and leading clinical quality make this idyllic destination extremely appealing.
Two of our clinics, Bangkok International Dental Center in Bangkok and Sea Smile Dental Clinic in Phuket have already achieved notable JCI accreditation , offering 60-plus treatment rooms, on-site dental implant labs and patient amenities including complimentary WIFI, satellite TV and private consultation rooms. Another notable Bangkok clinic, Bangkok Smile Malo Clinic welcomes hundreds of international patients every year.
From complexdentures to implants, Thailand is a world leader in the dental tourism industry, constantly revolutionising the marketplace and bringing smiles to thousands of patients annually. Check out our extensive All-on-6 clinic listings, view maps, virtual clinics tours and verified patient testimonials.
What is the Price of Dental Care Compared to Australia and New Zealand?
Save more than 40% on the All-on-Six cost in Thailand , compared to home;
All-on-6 price in Australia: $44,513 AUD

All-on-6 price in New Zealand: $48,978 NZD

Average All-on-6 price in Thailand: $17,000 USD
Why Choose Thailand?
Thailand is popular with dental tourism travellers looking to relax and recover in a world-class destination with low-cost, first-rate dental care. Convenience, affordable prices and quality play an integral role with many international flights providing non-stop routes toBangkok, Phuket, Koh Samui, Chiang Mai and Pattaya .
Thailand's healthcare infrastructure is one of Asia's finest, home to the world's largest international hospital, Bumrungrad International, serving more than 400,0000 patients from nearly 200 countries annually.
Home to limestone cliffs, silvery waterfalls, miles of sandy beaches and street-food markets, Thailand is a rich melting pot of culture and religion. Savour authentic Thai cuisine, take in Thai boxing, or an array of activities from trekking to horse-riding.
Discover Chiang Mai's hidden village, the bustling metropolis that is Bangkok and glorious beaches in upmarket Ao Bang Thao and Hat Surin. Experience traditional festivals such as Songkran (the Thai New Year) and the Festival of Lights, which takes place in November or early December.
Staying in Thailand
Varied accommodation choices await dental patients in Thailand ranging from stylish five-star hotels to dozens of budget-friendly options.
Thanks to Bangkok's traffic build-up, patients should book lodging within easy access of their chosen clinic. Our Customer Care team can assist you in finding suitable accommodation nearby with some clinics providing additional services such as hotel-to-clinic shuttles.
How Do I Book?

Search our listings to find a quality-checked dentist in Thailand
, compare prices, and select a dentist matching your specific condition and destination. When you are ready to book, contact our dedicated
if you'd like to know more about superior, affordable dental care in Thailand.