FUll-arch implant restorations, such as the All-on-4® treatment concept offered only by Nobel Biocare, are an option for people who have lost their teeth due to gum problems, injury, or other conditions. It replaces the whole arch of teeth in the lower or upper jaw with just four implants. The rear implants are placed at a 45-degree angle, which increases contact by using the support of your bone.
This technique eliminates the need for bone surgery. The implants serve as substitute tooth roots to which are attached the replacement teeth (crowns or bridge).
This innovative technique has many benefits. It shortens treatment time (compared to traditional, single, implants), reduces cost, and improves your quality of life (no slipping dentures or gummy smile).
If you want to know whether this treatment is right for you, consult a dental specialist. The dentist will take a comprehensive examination and review your oral and medical condition. Upon verification you are a suitable candidate, the dentist will plan and place the implants in the jawbone using hi-tech equipment. Temporary teeth will be attached to the implants.
After the healing period, the dentist will remove the temporaries and replace them with permanent teeth. The dentist will give you instructions on how to maintain your mouth with full-mouth implants.
Learn more about full arch rehabilitation techniques here.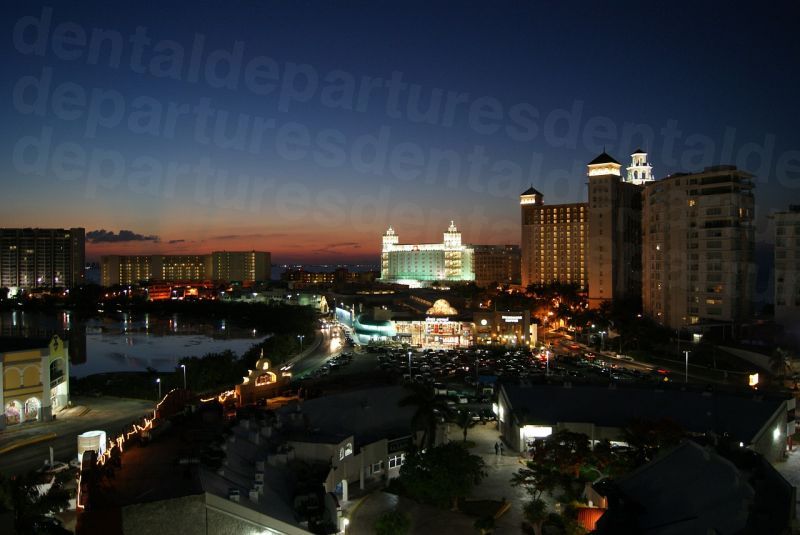 Dental Clinics for Full-Arch Implants
Plan your trip to Cancun by finding the best clinic that specializes in full-arch fix implants and other full-mouth procedures. Take a look at Cancun's verified dental clinics listed by Dental Departures:
Cancun Dental Specialists is dedicated to providing high-quality treatment such as Dental Implants, Cosmetic Dentistry, Full Mouth Restorations, Oral Surgery, Root Canal Treatment, and Orthodontics. It is equipped with state-of-the-art technology such as 3D Guided Surgery for Dental Implants, 3D Cone Beam Computed Tomography (CBCT), and a Computer-aided design/computer-aided manufacturing system (CAD/CAM). Stringent sterilization processes are observed in this facility. The dentists handling the procedures specialize in Restorative Dentistry and Oral Surgery. The head dentist is a U.S. Board Certified Dentist, who is a member of the American Dental Association (ADA).
Cancun Dental Design offers innovative and effective treatments such as Dental Implants, Periodontics (gum treatment), Cosmetic Dentistry, Orthodontics, Endodontics (root canal therapy), and General Dentistry. Well-experienced dentists use advanced treatment to improve patients' smiles. The clinic has an in-house laboratory that produces well-fitted crowns and other dental restorations.
The ballpark estimate of the All-on-4® treatment concept in Cancun is USD $10,800 (CAD $14,577; GBP 8,433; AUD $14,316; NZD $15,359), which is lower than the US USD $20,533 (CAD $27,715; GBP16,033; AUD $27,218; NZD $29,201).
What's Next?
Browse the clinic profiles and read our verified patient reviews, then book an appointment in Cancun with the help of Dental Departures.
Sources:
All-on-4® treatment concept. Nobel Biocare. Website accessed: 4 May 2021. https://www.nobelbiocare.com/en-no/all-on-4-treatment-concept
Full Mouth Reconstruction. Your Dentistry Guide. Website accessed: 4 Ma 2021. https://www.yourdentistryguide.com/fmr/
Singhal MK, Pandey B, Agarwal A, et al. Customized Implant Full-Mouth Rehabilitation: A Biomechanical Depiction. Contemp Clin Dent. 2018;9(3):488-493. doi:10.4103/ccd.ccd_121_18. https://www.ncbi.nlm.nih.gov/pmc/articles/PMC6104362/