With such a choice of excellent dental clinics in Bangkok how do you choose? The Malo Clinic should be on your shortlist. You'll be in good hands as it's one of the leading clinics in Thailand and its founder, Paulo Malo, the pioneer of the All-on-4 dental implants system.
Why Malo?
The Malo Clinic is truly international, with facilities in 43 locations across five continents across the world. Established in 1995, they have achieved global recognition in the fields of Implantology and dental aesthetics. The All-on-4 implants are considered to be one of the key advancements in dentistry over the last 40 years, enabling people with missing teeth to have a complete arch of fixed teeth placed in just one visit.
The technique, where 4 dental implants are placed into the jaw, can also be used on patients with bone loss without having to resort to bone graft surgery, as the placement of the rear implants at an angle can often provide the required support needed. A quick and minimally invasive procedure, it is now used by dentists all over the globe.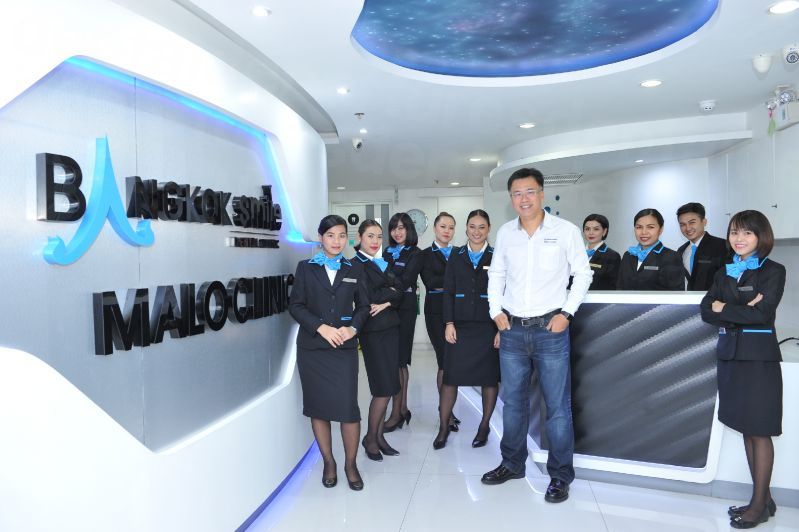 On your first visit to a Malo Clinic, you will receive a thorough evaluation from one of the dentists, including examination and diagnostic imaging, such as 3D CT scanning. This will guide the dentists in preparing your treatment plan, which is always made to the exact requirements of each patient, and which will ensure that each patient leaves the clinic with the best oral condition, from functional, cosmetic and health perspectives.
Patients can have follow-up care at any Malo International clinic – which may be an important consideration for international patients.
Malo Bangkok
The specialist dentists at Malo offer expertise, satisfaction and professionalism in comfortable surroundings.
Clinics are located in popular, easily-accessible areas that are particularly convenient for international patients, as well as local patients. There are several clinics across Bangkok – the Bangkok Smile Sukhumvit 21 Branch , and the Bangkok Smile Sukhumvit 5 Branch are both on the Sukhumvit Road; the Bangkok Smile Ploenchit Branch is opposite the British Embassy and the Bangkok Smile Silom Branch in the city's cosmopolitan financial district.
Whatever clinic you decide to visit, you will find the same excellent standards at each one. The clinics are contemporary with a modern décor that provides a light and airy ambience for your treatment, and each has its own in-house laboratory. The clinics are Joint Commission International (JCI) accredited and also have ISO 9001:2008 certification, both for the dental clinic and the labs.
Malo Clinics have expertise particularly in cosmetic and aesthetic dentistry, but they also offer a full range of dental services, including General Dentistry, Preventive Dentistry, Endodontics (root canals), Periodontics (gum treatments), Pediatric Dentistry (children's dentistry), Geriatric Dentistry (Older adult dentistry), Prosthodontics (false teeth), Tempero-mandibular Joint Pain (TMJ) and Oral and Maxillofacial Surgery.
If you are looking for top-quality care, high-standards and affordability then check out the Malo Clinic's Bangkok facilities – you won't be disappointed.