In the USA, an all on 4 procedure can really sting your bank account. But did you know, in Mexico, you can save yourself thousands on the cost of dental care? It's true. And tons of people are taking advantage of it every year. In Tijuana, you can get the dental treatments you need, all while kicking back on the beach, enjoying the ocean breeze in your hair, and the sand between your toes. Considering an all on 4? Tijuana is the place for you. Keep reading to learn more about all on 4 procedures, considerations, and clinics.
What is an all on 4?
An all on 4 is an operation in which a dentist will insert two implants into the upper jaw, and two more implants into the lower jaw, both supporting the arches in the mouth and acting as an anchor point for the installation of a new set of teeth. All on 4's are recommended for patients suffering from significant tooth loss, decay, facial trauma, or underlying medical condition affecting the functionality of the teeth.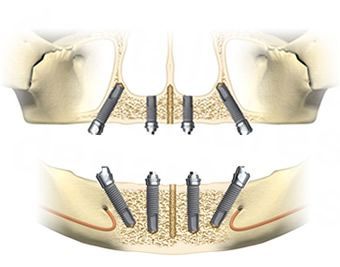 What is the procedure?
The first step in an all on 4 procedure is consultation with a dentist. After a thorough examination, the dentist will determine if the treatment would be beneficial to you, as well as exactly which treatment to perform (all on 4, all on 6, all on 8). Once approved, you and your dentist will set a date for the procedure to be carried out. On the day of the surgery, you will be given a general anesthetic to keep you comfortable and sedated throughout the operation. Generally, the dentist will install a set of temporary teeth that will allow your mouth to function until a permanent set can be installed once the mouth is fully healed.
Will I need time to recover?
Recovery time depends on the patient and the extent of damage to the mouth. For most patients, the recovery time is 3-6 months. Once this period has passed, you will return to your dentist, where he/she will install a set of permanent teeth to the anchor points of the dental implants. While the recovery time can take a while, what better place to enjoy the downtime than beautiful sunny Tijuana? You can spend your days relaxing at the beach, enjoying a refreshing cocktail, soaking up the sun, or simply enjoying all of the delicious foods and rich culture that Tijuana has to offer.
How can I receive consultation?
There are many great dental clinics to choose from in the Tijuana area. Visit our website, and check out Dr. Dalia Dental Care , Harmony Dental Studio , Advanced Smiles Dentistry , or DAS Dental Group . They offer everything from tooth whitening and cleaning, to full mouth restorations and all on 4. Tijuana boasts prices that are about 70% cheaper than what you would pay in the USA, Canada, or the UK, so ask yourself, "What do you really have to lose?" Give us a call, or visit our website today for more information.