A complete mouth makeover is a complicated and time-consuming process, and as such, it can be expensive. In your local dental clinic, this process is probably unaffordable, but in Turkey, with its inexpensive dental treatments, it could be more within your price range. Turkey's dental clinics are popular with celebrities for a reason; you can find out more here.
Is Traveling for Dentistry More Expensive?
In short, when you combine the costs of travel and treatment, a dental tourism visit to Turkey for a treatment such as a full mouth makeover is much cheaper than staying home. By going to Turkey, you will save nearly 75%.
What is a Complete Mouth Makeover
A complete mouth makeover is a procedure that recreates your smile whilst restoring your dental health.it can include a range of treatments, from a simple tooth cleaning to much more complicated procedures such as an All-on-4 dental implants. Procedures included differ from one patient to the next, so standard times and average prices are difficult to provide. Your dentist will make an assessment and recommend the procedures needed to deliver the required result for you.
Turkey is an Unforgettable Tourism Destination
Turkey is a low-cost holiday destination that offers lots to see and experience. You will discover the archaeological ruins of old Greek colonizers, the shores of the Black Sea, the monasteries in Sumela, cities both modern and ancient, or you could just swim and sunbathe in one of the many Mediterranean beaches. Accommodation is in plentiful supply, and we recommend you book through Dental Departures to ensure a smooth and secure transaction and good links to your chosen dentist.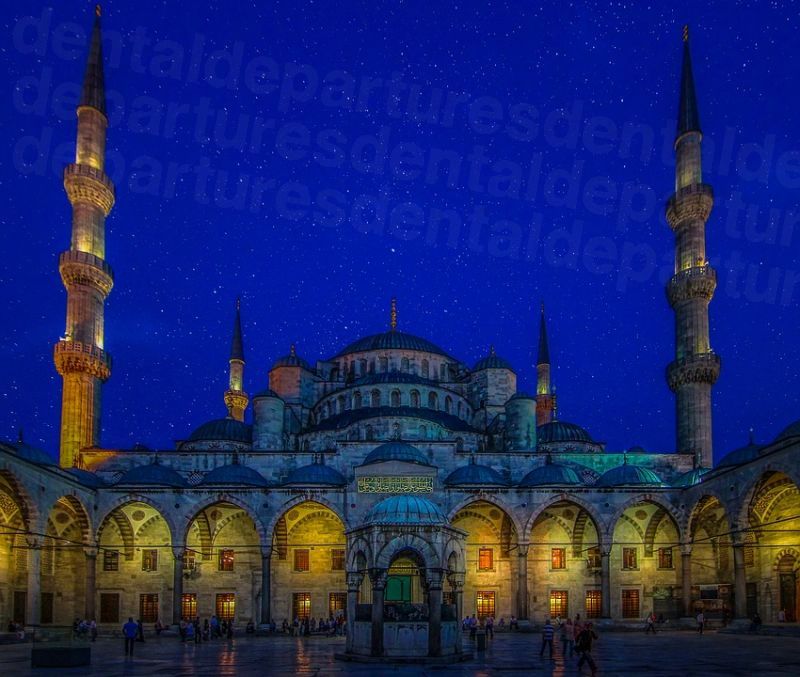 The Quality of Dentistry in Turkey
Dental Departures lists only the best and highest-quality clinics. As such, all the clinics listed are checked and verified and undergo a site visit from one of our staff members to ensure they are as good as they say. The clinics below are good examples of Turkey's finest dental facilities which have been recommended by some of our complete mouth makeover patients:
You can see for yourself the results of mouth makeovers by looking at some before and after photos, or you can read all about it in the complete mouth makeover reviews.
How Much is a Complete Mouth Makeover in Turkey
The cost of complete mouth makeover is much cheaper in Turkey with prices averaging approximately a quarter of the price you would pay at home, and as the costs can be into the tens of thousands this can be a substantial saving. Even with the additional expenses of travel and accommodations, the procedure will still seem a bargain in comparison. Have a look at the table below to see how the prices differ at Turkey's dental clinics :
PROCEDURE

USD$

EURO

UK

COMPARISON

ALL ON 4

$20,533.00

€ 17,687.00

£ 15,640.00

INTERNATIONAL

$ 5,470.00

€ 4,712.00

£ 4,167.00

TURKEY

Dental Crowns

$ 1,600.00

€ 1,378.00

£ 1,219.00

INTERNATIONAL

$ 354.00

€ 305.00

£ 270.00

TURKEY

Dental Fillings

$ 201.00

€ 173.00

£ 153.00

INTERNATIONAL

$ 54.00

€ 46.00

£ 41.00

TURKEY

Dental Implants

$ 3,850.00

€ 3,316.00

£ 2,933.00

INTERNATIONAL

$ 708.00

€ 610.00

£ 539.00

TURKEY

Porcelain Veneers

$ 1,871.00

€ 1,611.00

£ 1,425.00

INTERNATIONAL

$ 426.00

€ 367.00

£ 325.00

TURKEY

Root Canal Molar

$ 1,350.00

€ 1,163.00

£ 1,028.00

INTERNATIONAL

$ 158.00

€ 136.00

£ 120.00

TURKEY

Teeth Whitening

$ 496.00

€ 427.00

£ 378.00

INTERNATIONAL

$ 420.00

€ 362.00

£ 320.00

TURKEY

TOTAL AVERAGE COST

$29,901.00

€ 25,755.00

£ 22,776.00

INTERNATIONAL

$7,590.00

€ 6,538.00

£ 5,782.00

TURKEY
How Do I Get Started?
A complete mouth makeover is a complex and expensive procedure, but Turkey combines the quality of dentistry, the range of treatments and low prices that make it affordable for you. Contact Dental Departures to talk through your options and get a treatment plan and price for your unique needs.
Sources:
Karasin, Ekin and Waheed, Jabeen. Katie Price leaves same Turkish dental clinic as Love Island's Mike Thalassitis following Chris Hughes drama... after POSTPONING her one-woman tour amid kidnap threats to son Harvey. Daily Mail. 1 November 2017. https://www.dailymail.co.uk/tvshowbiz/article-5037619/Katie-Price-postpones-rest-tour-2018.html" target="_blank
Make Over Your Mouth. WebMD www.webmd.com https://www.webmd.com/oral-health/features/make-over-your-mouth#1" target="_blank
Turkey. Lonely Planet https://www.lonelyplanet.com/turkey" target="_blank