Need affordable dental crown treatment? Let Dental Departures find the best specialist at low rates, saving more than 75%.
Tijuana is a diverse and cosmopolitan area with the additional advantage of providing high-quality, low-cost dental care. One of the fastest-growing cities in Mexico, Tijuana has an enviable position on the US-Mexican border, making it highly attractive for US and Canadian citizens seeking affordable dental care.
Patients are flocking to Tijuana for dental crown bookings due to its increasing affordability, trusted dentists and first-rate travel and accommodations services.
Why Choose Tijuana for Crowns?
Tijuana's best dental clinics are in high demand, mostly by patients from the US and Canada. Patients can choose from modern facilities, where dentists have undergone the same rigorous training as their American and Canadian counterparts.
Tijuana is ideally placed for international travelers with Aeropuerto Internacional Abelardo L Rodríguez and San Diego Airport less than 35 minutes away by car. Modern clinics, accessible facilities, low costs and high standards of dentistry makes Tijuana one of the go-to destinations for dental crown work.
The procedure itself usually lasts no more than four days, with your dentist first preparing the tooth for a crown. After cleaning and shaping are carried out, teeth impressions are made and sent to the lab, where the crown is produced to fit perfectly.
A host of dental crown options is available to you, featuring all the same recognizable brands and materials, including zirconia ceramic crowns, full porcelain crowns, and full gold crowns. Normally, dental crowns should last between five and fifteen years depending on several factors (such as materials used, proper tooth care, and tooth grinding).
For more detailed information, check out: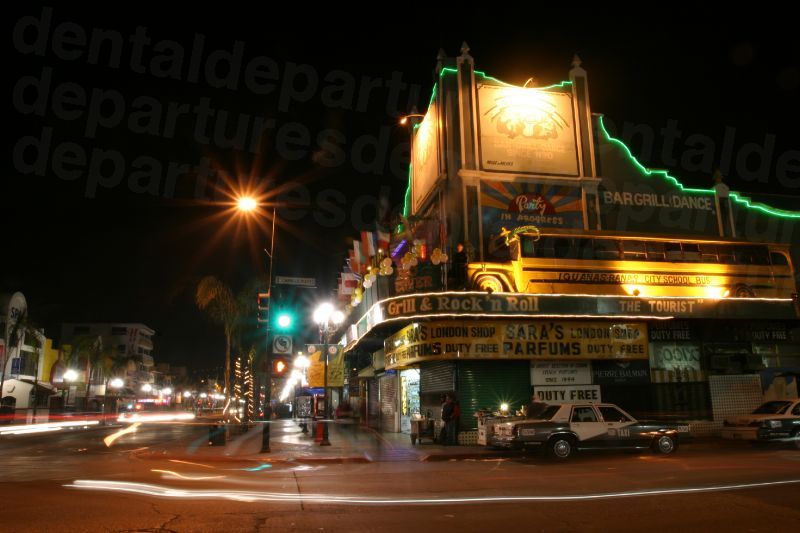 Where Are the Best Clinics in Tijuana?
Be sure to thoroughly research before your stay in Tijuana. Dental Departures can make your job easier, as we have vetted several impressive clinics of the hundreds throughout the city. Some of our most popular, reliable facilities:
Dalia Dental Care (member of the American Dental Association for more than 25 years).
How Much Do Crowns Cost in Tijuana?
The crowns cost in Tijuana works out approximately $1164 USD and 1183 CAD respectively. This price differs significantly in both the US and Canada and is heavily reliant on the material used. In Tijuana, dental crowns start from around $295, which is a huge cost-saving (and a big motivation for the more than 500,000 North Americans who travel to Mexico each year for dental work).
Why Holiday in Tijuana?
Known as the most heavily crossed border on the planet, Tijuana offers a rich melting pot of vibrant nightlife, hip cultures and a revolutionary art and dining scene. Located in Northwestern Mexico, in Baja California, Tijuana is within touching distance of San Diego, California.
Traverse the many passages and streets that make this city so diverse and eclectic. Explore the historical center close to the iconic Avenue Revolucion, including Passage Rodríguez and Gómez.
Travelers can also enjoy the impressive avant-garde style architecture or head to the beach resorts of Rosarito or Ensenada. Immerse yourself in surfing, horse-riding and fishing, an ideal way to rest and recuperate from dental crown treatment.
Where to Stay in Tijuana
Experience a wide variety of hotels in Tijuana with styles and accommodation to suit all manner of budgets. Whether you choose a hostel, inn, condominium, luxury hotel or specialty lodging, you will find many options available.
How to Arrange Your Dental Crowns Treatment in Tijuana
Why wait to benefit from the best prices? Book your appointment with us today, and let Dental Departures take care of your dental crown treatment every step of the way. Book online or call our toll-free number today.
Sources:
Best Hotels in Tijuana. U.S. News Today. 2021. https://travel.usnews.com/Hotels/Tijuana_Mexico/
Indiana Jo. How To Visit Tijuana from San Diego – Complete Guide. 9 April 2021. https://indianajo.com/visiting-tijuana-from-san-diego.html
Dental Crowns. WebMD. 9 March 2019. https://www.webmd.com/oral-health/guide/dental-crowns