If you want to restore your teeth with full-arch dental implants, Cancun clinics offer high-quality treatment at a reasonable price. To make the most of your dental vacation in this Mexican town, take note of these tips:
1. Search the web for the best clinic in Cancun
In just a click away, you can run a web search for "the best clinic in Cancun." However, you're not sure if the source of your information is trustworthy. To help you find a reliable clinic, browse Dental Departures' website where you can find a list of quality-clinics that are screened to ensure patients' safety. Signing up with a trusted website like ours will lead you to clinics that are verified based on their facilities, dentists' qualifications, professional memberships, as well as reviews of international patients.
2. Find out if the clinic offers the All-on-4® treatment concept.
Cancun is not only known for its stunning beaches and scenic attractions, but also for dental clinics offering world-class service. Some clinics in Cancun offer full mouth restorations, such as the All-on-4® treatment concept.
Top clinics like Sunset Dental and Cancun Dental Specialists invest in cutting-edge technology such as in-house laboratory, CAD/CAM system, and CBCT scan (cone beam computed tomography) that are essential in dental restoration. Choose the one with hi-tech facilities that can give you safe, fast, and effective treatment.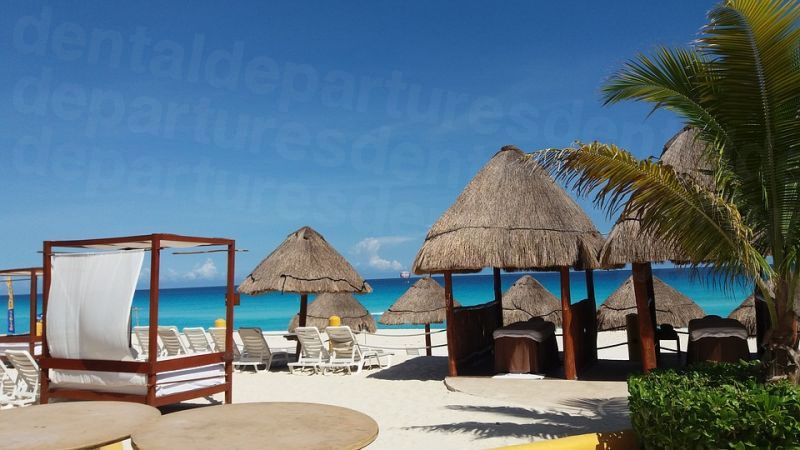 3. Look for a qualified implantology specialist
The dentist plays an important role in achieving successful treatment outcomes. Look for a specialist who is well experienced and skilled in full mouth restoration.
Check out Cancun Dental Specialists, which has a team of highly trained and internationally certified dentists. The Restorative Specialist is a U.S. Board Certified Dentist and an active member of the American Dental Association (ADA).
The Oral Surgeon is affiliated with the International Congress of Oral Implantologists (ICOI) and the International Association of Oral and Maxillofacial Surgeons (IAOMS).
4. Ask if they offer Sedation Dentistry
If you feel uneasy to undergo a delicate, complex procedure, ask the dentist about Sedation Dentistry. Your dentist will make you feel relaxed during the procedure allowing him to work on your teeth. Clinics in Cancun also provide a relaxing environment with a panoramic view that can calm patients.
5. Compare the price
Compare the price of full-arch dental implants in Cancun with the US, Canada, and other countries. You'll be surprised to know that it's lower compared with your home country. The procedure in Cancun costs around USD $4,000 (CAD $5,331; UK £3,198). In the US, it's USD $12,300 (CAD $16,393; UK £9,835). You'll save on your dental expense at the same time spend a holiday in Cancun.
The Bottom Line
Cancun is a great place to restore your teeth – superb service, affordable treatment, and spectacular beaches. For an appointment with a specialist, get in touch with our Customer Care Team by phone, email, or online chat.
Sources:
American Dental Association. Website accessed: 28 April 2021. https://www.ada.org/en
All-on-4® treatment concept. Nobel Biocare. Website accessed: 28 April 2021. https://www.nobelbiocare.com/en-no/all-on-4-treatment-concept
Implant-supported Full Arch Restorations. Consumer Guide to Dentistry. Website accessed: 28 April 2021. https://www.yourdentistryguide.com/implants-full-arch/