The beaches of Pattaya draw many visitors who want to relax in this tropical area. Aside from the attractions, tourists can get oral care from dental clinics that provide Orthodontics and other specialized treatments. Find out more about the top dental clinics in Pattaya offering world-class service.
Top Orthodontics: Pattaya
Dental clinics in Pattaya provide outstanding service comparable with their western counterparts. They are equipped with modern technology and advanced treatment handled by internationally trained dentists. The top clinics listed by Dental Departures are:
The Dental Design Center specializes in Orthodontics, Cosmetic Dentistry, Implants, and complex restorative treatments. The clinic is led by specialists in Prosthodontics and Orthodontics who completed their studies in the US, Canada, Australia, and France. The specialist in Orthodontics is certified by the American Association of Orthodontics.
It is fully equipped with ultramodern technology such as Computed-tomography (CT scan), Computerized Axial Tomography (CAT), and portable digital x-ray that deliver accurate and effective treatment.
The clinic utilizes a Class B autoclave machine that meets and exceeds European Union requirements. It also uses advanced orthodontic treatment like clear aligners (Invisalign) that are removable. The specialists in this clinic also manage the OrthoSmile Dental Clinic , which strives to provide the highest level of care using the latest technology in dentistry.
Dente Smile Clinic helps patients improve teeth and enhance smiles using specialized treatments such as Orthodontics (braces), Gum Treatment, Oral Surgery, and Restorative Dentistry. It uses modern equipment such as intraoral camera and lasers in improving the teeth.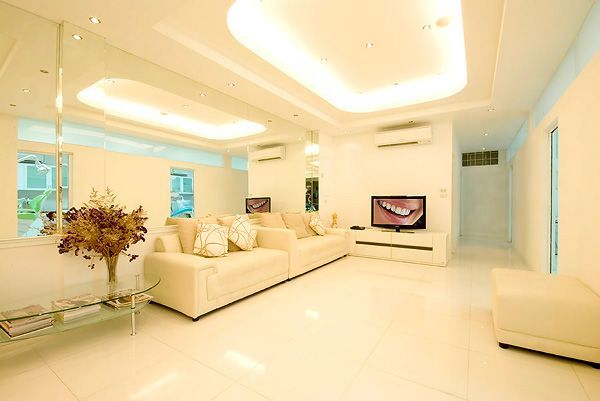 Pattaya International Dental Center
Pattaya International Dental Center provides holistic and comprehensive oral care such as Gum Care, Restorative Treatments, including Oral Surgery. It has a team of specialists in Prosthodontics (teeth replacement) and Oral Surgery who are trained in the Thailand, USA, and France. With the use of cutting-edge technology such as dental Computed-Tomography (CT scan), the dentists provide accurate diagnosis and recommend the best option. They use the latest techniques in dentistry to achieve healthy, beautiful teeth.
Samitivej Sriracha Hospital (Dental)
Samitivej Sriracha Hospital (Dental) offers exceptional care to international patients using ultramodern equipment. The dental center is part of Samitivej Sriracha Hospital that is certified by the Joint Commission International (JCI) and the International Organization for Standardization (ISO).
It provides complete disease prevention, diagnosis, and treatment for the whole family. The dental center has a team of highly trained specialists in Orthodontics and other fields. It has modern facility such as panoramic x-ray complete with dental operatory suites that helps patients relaxed during the procedure. The dental centre adheres to international sterilization standards to give safe and effective treatment. Patients can request a dentist who can speak English, German, or Japanese.
Top Orthodontics: Pattaya
Clinics in Pattaya provide specialists in Orthodontics and other preventive treatments that help patients achieve well-aligned teeth. Find an orthodontic clinic in Pattaya with the help of Dental Departures. Contact our Customer Service Team by phone, email, or online chat for further information, or to book an appointment.