Turkey is a mesmerising country where Eastern and Western influences collide to create a colourful, vibrant destination that attracts tens-of-millions of international visitors every year.
Many, of course, simply come for the beaches along the "Turkish Riviera"; some are drawn to the ancient metropolises dotted around the Aegean region, and others are charmed by the culture and historical sites of Istanbul and Ankara, the capital.
Now, a new reason to visit Turkey is to take advantage of the country's affordable dental care, with prices on full mouth restorations using innovative implants systems costing up to 80% less than back home.
One of the most popular ways to replace a whole row of missing teeth is with the All-on-4® treatment concept, and we have partnered with some of the best clinics in the country that offer this implant-based teeth replacement technique.
Read more about what this treatment involves here or check out three of our top All-on-4® treatment concept providers in Turkey below.
Clinique Dent Beaute
If you are looking to combine quality with cost-effective treatment, Clinique Dent Beaute is a very convenient option. Located in Istanbul and open for over a decade, this clinic has a reputation for its quality general dentistry and reconstructive dental treatments, such as implantology. If you need top dental restoration treatment, this clinic comes highly-recommended by international patients and local clientele.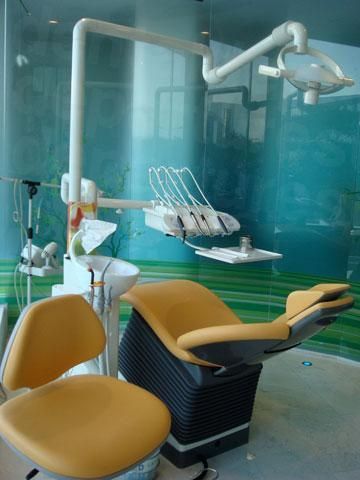 Teras Dental Clinic
The Teras Dental Clinic was founded in 2006 and is situated in Alsancak, Izmir. They are experts in oral surgery, implantology, orthodontics, endodontics, maxillofacial surgery and periodontal treatments. They have some of the top surgeons in Turkey and appeal to a wide choice of patients from across the United Kingdom, Ireland, France and Germany. With plenty of English-speaking staff, innovative treatments, the latest in dental equipment and more, this is a dental clinic that ranks highly for dental implant treatment in Turkey.
All on Dental Clinic Istanbul Turkey
True to its name, All on Dental Clinic Istanbul Turkey is located in Turkey's capital of culture and most-visited city, Istanbul. Offering a wide range of treatments that include the All-on-4® treatment concept and other implant-supported teeth replacement systems, the team here is composed of general dentists, prosthodontists, orthodontists, implantologists and cosmetic dentists, as well as dental hygienists who work together to improve your health and restore your smile.
How Much Can I Save on the All-on-4® treatment concept in Turkey?
The table below shows the average prices for this treatment compared to other countries:
| | | | | |
| --- | --- | --- | --- | --- |
| | UK £ | EUR € | US $ | AUS $ |
| Cost – at home | 16,000 | 19,000 | 20,000 | 27,000 |
| Cost – Turkey | 5,000 | 6,500 | 7,000 | 9,200 |
[Please note that these are estimates at the time of writing. Click through to our Turkey clinic listings to see up-to-date prices.]
How Do I Book?
Dental Departures is here to ensure you have all the information at your fingertips to make the correct choices that meet not only your budget but also your requirements.
Book an appointment online, or contact our Customer Care Team if you'd like to know more about dental care in Turkey.
Sources:
10 Best Places to Visit in Turkey. Touropia. 1 October 2020. https://www.touropia.com/best-places-to-visit-in-turkey/
All-on-4® Treatment Concept. Nobel Biocare. Website accessed: 15 February 2021. https://www.nobelbiocare.com/en-us/all-on-4-treatment-concept
Which Dental Prosthesis Is Right For You? Colgate. Website accessed: 15 February 2021. https://www.colgate.com/en-us/oral-health/life-stages/adult-oral-care/which-dental-prosthesis-is-right-for-you