Ho Chi Minh is a travel destination visited by many tourists from Australia, New Zealand, and other countries. It has a number of dental clinics that provide world-class service at lower price. Take a look at the clinics offering top dental work in Ho Chi Minh City.
Worldwide Beauty and Dental Hospital
Worldwide Beauty and Dental Hospital a full dental service that ranges from General Dentistry to Cosmetic Dentistry. It has team of highly-trained specialists in Oral Surgery, Prosthodontics, Orthodontics, and other fields.
The clinic was founded by Dr. Do Dinh Hung who completed his postgraduate studies in Dental Implants and Cosmetic Dentistry at Texas University, USA. He is a member of various organizations such as the American Academy of Implant Dentistry, the International Congress of Oral Implantologists, International Society for Maxillofacial Rehabiltation, and Academy of Dentistry International. This means that he complies with global standards. The clinic has an executive structure like a dental hospital with the following departments:
Imaging Diagnosis Department (complete with CT Cone Beam and other hi-tech equipment)
Implantology and Oral Surgery Department
Orthodontics Department
TMJ and Snoring Treatment Department
General Dentistry and Pediatrics Dentistry Department
Infection Control Department that complies with FDA standards
In-house Dental Laboratory
Furthermore, the clinic offers pain-free dentistry and a warranty service to satisfy the needs of international patients as well as practicing a strict sterilization process to give safe and effective treatments.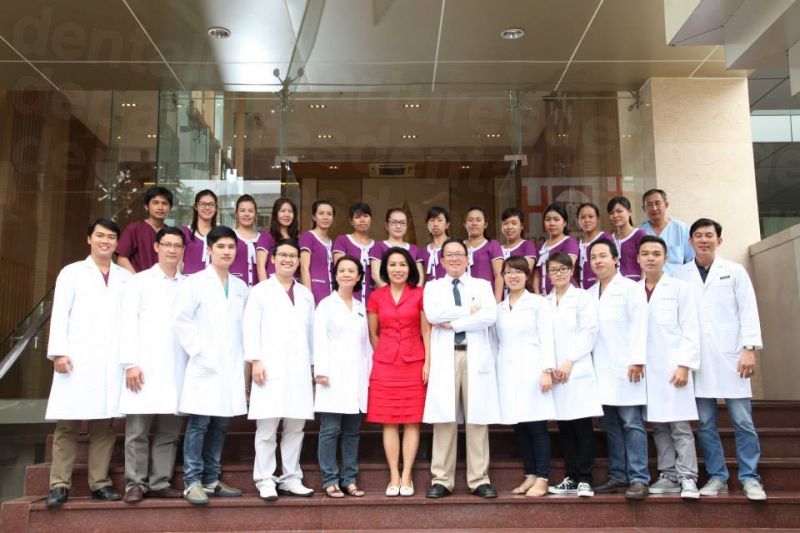 Serenity International Dental Clinic Ho Chi Minh City Branch
Serenity International Dental Clinic Ho Chi Minh City Branch is one of the leading facilities in the region that offer advanced dental treatments such as Orthodontics, Restorative Treatments, and Cosmetic Dentistry (laser teeth whitening, veneers, crowns, dentures.) It is equipped with modern technology such as 3D CT scan, panoramic x-rays, and other equipment. The clinic complies with the infection control procedures of the US Center for Disease and Prevention. The dentists performing the procedures are graduates of well-known universities in the US, France, and Vietnam. They include members of the American Dental Association (ADA) and the International Congress of Oral Implantologists.
Vinh An Dental Clinic, Elite Dental Vietnam , and Rose Dental Clinic in Ho Chi Minh City also provide superior dental services, and completed their studies in Vietnam, France, and other overseas universities. As members of organizations like the International Congress of Oral Implantologists, they comply with international standards. The dentists conduct a complete examination and offer top procedures options (all on 4, dental implant, crowns, root canal, veneers, fillings).
Cost of Treatment
The cost dental treatments in Vietnam is affordable for tourists. Below is an estimated cost of treatment in Vietnam compared to Australia.
| | | |
| --- | --- | --- |
| Treatment | Price in Australia | Price in Vietnam |
| All-on-4 | AUD $4,000 | AUD $33,910 |
| Dental Crowns | AUD $59 | AUD $1,505 |
| Dental Fillings | AUD $5 | AUD $202 |
| Dental Implants | AUD $500 | AUD $5,098 |
| Dental Veneers | AUD $230 | AUD $1623 |
| Dentures | AUD $120 | AUD $2378 |
| Root Canals | AUD $15 | AUD $1,660 |
| Teeth Whitening | AUD $50 | AUD $87 |
Find a clinic that offers top dental work in Ho Chi Minh City Contact Dental Departures for an appointment