Did you know that it's affordable to get an oral care in Juarez? Ciudad Juarez, or simply called Juarez, is the biggest city of Chihuahua, Mexico. It's located on Rio Grande in the southern part of El Paso, Texas. This Mexican city has many clinics offering low-priced dental treatments. Read on to know more about the top dental work in Juarez.
What are the types of dental treatments available in Juarez?
The dental clinics in Juarez offer the same services as their US counterparts. They provide a wide range of treatments such as General Dentistry, Orthodontics, Restorative Treatments, and Oral Surgery. They maintain patients' oral health by means of oral exams, teeth cleaning, fillings, and other preventive treatment. The clinics offer Orthodontics where they straighten teeth using braces and other devices.
They also perform Restorative Treatments and Cosmetic Dentistry that includes laser teeth whitening, crowns, dentures, dental implants, and veneers. Laser teeth whitening treatment removes stains and discoloration. Depending on the extent of damage, the dentist will recommend crowns, dentures, implants, and veneers. They also perform oral surgery like extractions, wisdom tooth removal, bone graft, and sinus lift.
Where is the best place to get oral care in Juarez?
The list of clinics in Juarez that are verified by Dental Departures include Smile Inn and Dental Solutions Juarez . The facilities, dentists' qualifications, and professional affiliations of these clinics are screened.
Smile Inn offers high quality treatments at a lower price. It has a modern and friendly atmosphere that relaxes patients. The clinic also provides free oral exam and free x-ray to patients. It also offers free transportation to/from the airport and clinic.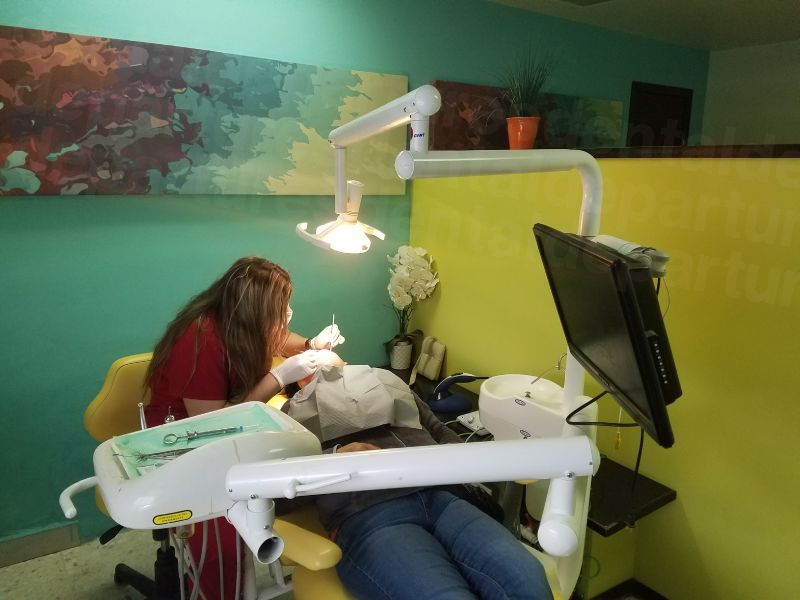 Dental Solutions Juarez helps many Americans and Canadians achieve healthy, beautiful smiles using advanced treatment. Patients can get free parking, free Wi-Fi, and free complimentary water.
The dental professionals performing the procedures are well trained. They speak English and explain the treatment process. They conduct a complete examination and recommend top procedures options (dental restorations, dental implant, crowns, root canal, veneers, fillings) that suits patients' needs.
How much is the cost of dental treatments in Juarez?
The cost of dental treatments in Juarez is lower compared to the US and Canada. Prices of treatment vary depending on the number of teeth involved, type of dental material, and other factors. Below is the estimated cost of dental work in Juarez.
| | | | |
| --- | --- | --- | --- |
| Type of Treatment | Price in Juarez | Price in the US | Price in Canada |
| All-on-4® treatment concept | USD $5,000 | USD $26,000 | CAD $33,431 |
| Dental Crowns | USD $179 | USD $1,164 | CAD $1,483 |
| Dental Fillings | USD $37 | USD $155 | CAD $199 |
| Dental Implants | USD $896 | USD $3,913 | CAD $5,026 |
| Dental Veneers | USD $344 | USD $1,245 | CAD $1,599 |
| Dentures | USD $219 | USD $1,826 | CAD $2,344 |
| Root Canals | USD $212 | USD $1,275 | CAD $1,636 |
| Teeth Whitening | USD $149 | USD $668 | CAD $858 |
Oral care in Juarez is indeed affordable compared to the US. Consult a dentist and get top dental work in Juarez. Book an appointment with Dental Departures.
Call, email, or use our online chat with our Customer Care Team.