Whether you're in the market for your first set of dentures or need existing ones replaced—as they should be done every five to eight years—it's possible to save approximately $1,000 by driving to the Mexican border and getting treated in Los Algodones.
As one of the most popular teeth replacement options, thousands of Americans are now realizing just how good the quality of care is in "Molar City", with our partner dentists here using the same brands and techniques when taking measurements of your mouth and processing the new dentures.
Below, we've listed three of our top clinics in Los Algodones for dentures.
Sani Dental Group
This dental group has over 20 dentists across three locations, with the main clinic boasting 22 dental chairs. A dedicated team of well-trained and seasoned dentists work at Sani Dental Group, making it one of the best clinics in Los Algodones for dentures. The staff speaks English as well as Spanish so you need not worry about any language barrier. The clinic believes communication to be a crucial element of quality dental care. They complement this belief with state-of-the-art dental equipment.
Sani Dental Group Platinum
This is a super-modern clinic, with a very convenient location of just a few minutes form the US-Mexico border. Sani Dental Group Platinum clinic is designed to be minimalistic and is equipped with the latest dental tools and technology. The highly-trained team has 25+ years of experience and the staff speaks fluent English.
Supreme Dental Clinic
Supreme Dental Clinic defines its mission as to deliver affordable yet top-notch dental care in a hygienic and pleasing environment. They accomplish this mission by maintaining a well-equipped dental facility and a highly-trained, English-speaking staff. The clinic is led by Sigi Inzunza (DDS) and is one of the most trusted places to get dentures in Los Algodones.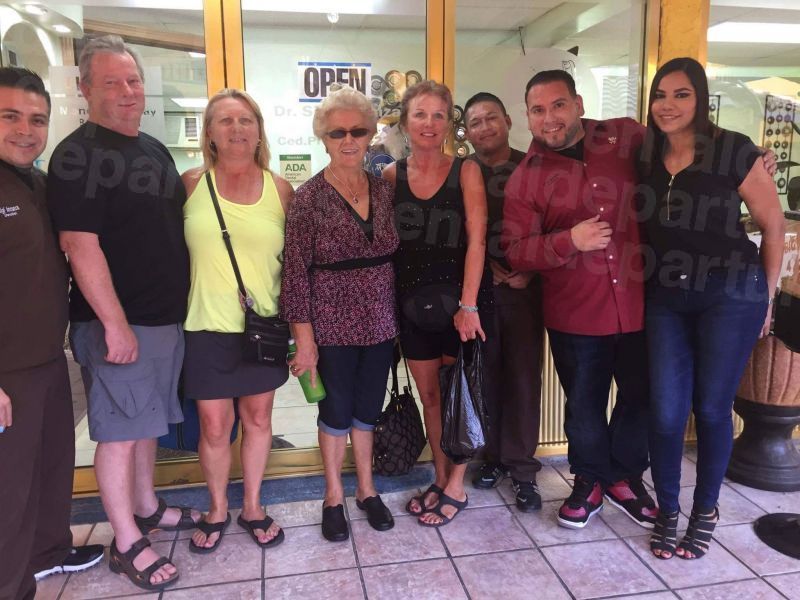 How Much Can I Save on Dentures in Algodones?
The biggest reason why people travel to Mexico for dental or other medical services is, of course, to save money. Here's a comparison of the prices of dentures in the US and Canada against Los Algodones:
Price of dentures in the US: USD $1826
Price of dentures in Canada: CAD $2344
Price of dentures in Los Algodones: USD $669 and CAD $852
This means you're saving an average of 63% (based on calculations at the time of writing) by getting your dentures in Mexico instead of back home.
But why are the prices so low?
There are three main reasons for the lower cost of dental care in Los Algodones and throughout the rest of Mexico:
It costs much less to run a dental clinic in Mexico than it does in the US or Canada
The overall cost of living is much lower in Mexico than it is in the US or Canada
There is strong competition among the clinics in Mexico
How Do I Get Started with Dental Departures?
Browse our recommended clinics listed above, compare prices and learn more about getting new dentures in Algodones here.
For bookings, use our site to arrange an appointment or connect with the Dental Departures Customer Care Team today, at no charge to you.
Sources:
3 Teeth Replacement Options: What's Right For You? Colgate. Website accessed: 20 January 2021. https://www.colgate.com/en-us/oral-health/dentures/3-teeth-replacement-options-whats-right-for-you
How long do dentures usually last? Share Care. Website accessed: 20 January 2021. https://www.sharecare.com/health/dental-oral-health-teeth/how-long-do-dentures-usually-last
Stanton, John. BuzzFeed News. Dental Work Is So Expensive In The US That Thousands Of Americans Are Going To Mexico To Get It Done. 15 June 2017. https://www.buzzfeednews.com/article/johnstanton/americans-going-to-dentists-in-molar-city-mexico