If you're planning a trip to Mexico, combine your vacation with oral care in Puerto Vallarta. This popular beach resort is surrounded with clinics offering top quality dentistry. Puerto Vallarta, also known as PV, is a great place to relax while on a dental holiday. Clinics in PV offer exceptional oral care at a reasonable price. Read on and know more about excellent dentistry practices in Puerto Vallarta.
What are the types of dental services available in Puerto Vallarta?
The dental services offered in the US are also available in Puerto Vallarta. Clinics in PV provide General Dentistry to specialized treatments such as Endodontics, Children's Dentistry, Periodontics, Orthodontics, Oral Surgery, Restorative Dentistry, and Cosmetic Dentistry.
General dentistry keeps your oral health in tiptop shape using preventive treatments such as teeth cleaning and fillings. Endodontics, also known as Root Canal Treatment, repairs decayed teeth. Children's dentistry maintains kids and teenagers teeth with sealants, fluoride, and other anti-cavity treatments. Periodontics focuses on the diagnoses, prevention, and treatment of gum diseases.
The dental clinics provide Orthodontic treatment such as braces, clear aligners (Invisalign), and retainers. They also offer treatment for temporomandibular joint disorder (TMJ or TMD). Oral surgery such as extractions, surgical removable of impacted teeth, dental implants, and bone graft are carried out in PV clinics. They also improve your teeth with Restorative Treatments such as crowns, bridges, dentures, veneers, inlays, onlays, laser teeth whitening, and dental implants.
How much is the cost of treatment in Puerto Vallarta?
The cost of treatment in Puerto Vallarta is lower compared to your home country. Take a look at the price comparison below.
Price in

Puerto Vallarta

US

Canada

UKAll-on-4® treatment concept



All-on-4® treatment concept

USD $5,000

USD $26,000

CAD$ 33,431

£19,382

Dental Crowns

USD $179

USD $1,164

CAD$1,483

£863

Dental Fillings

USD $37

USD $155

CAD$199

£116

Dental Implants

USD $896

USD $3,913

CAD$5,026

£2,928

Dental Veneers

USD $344

USD $1,245

CAD$1,599

£932

Dentures

USD $219

USD $1,826

CAD$2,344

£1,366

Root Canals

USD $212

USD $1,275

CAD$1,636

£954

Teeth Whitening

USD $149

USD $668

CAD$858

£500
Where's the best place to get an oral care in Puerto Vallarta?
The top dental clinics in Puerto Vallarta listed by Dental Departures are the following:
Odontoklinik is a full service dental clinic that has a built-in laboratory that process restorations such as veneers, crowns, and bridges. Highly qualified dentists provide Oral Surgery, Root Canals, Gum Treatment, Cosmetic Dentistry, and other treatments.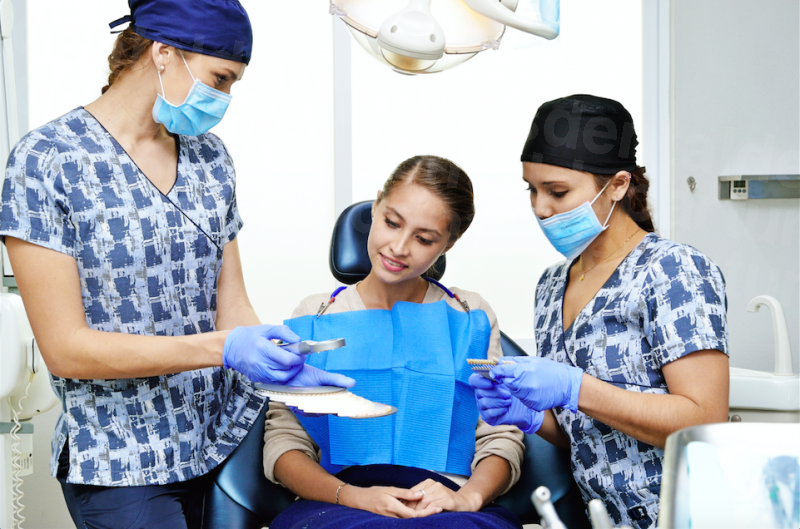 If you need top quality dentistry, Puerto Vallarta dental clinics can restore your smile at an affordable price. Book an appointment with Dental Departures.