Dental Departures makes finding a reputable dentist in Los Algodones easy. Follow these quick tips to stay safe, get the best price online and ensure your dental vacation is as hassle-free as possible.
#1 Ensure Your Safety
Most people who visit Mexico for dental care are conscious about their safety and security as the country has, in the past, received bad press due to various reasons. However, most of what you see on TV is exaggerated, and Mexico is, by and large, a safe place for dental tourists.
When things do go wrong, it's normally when a patient visits a clinic without the necessary licenses, or their procedure is botched by a dental surgeon who simply should not be practicing.
Booking with Dental Departures ensures your safety as we only list clinics that have passed our stringent background checks, which include:
Carrying out on-site visits
Checking malpractice records
Researching criminal/legal records
Verifying dentist qualifications
Confirming dental association memberships
Collecting and publishing authentic, unedited patient reviews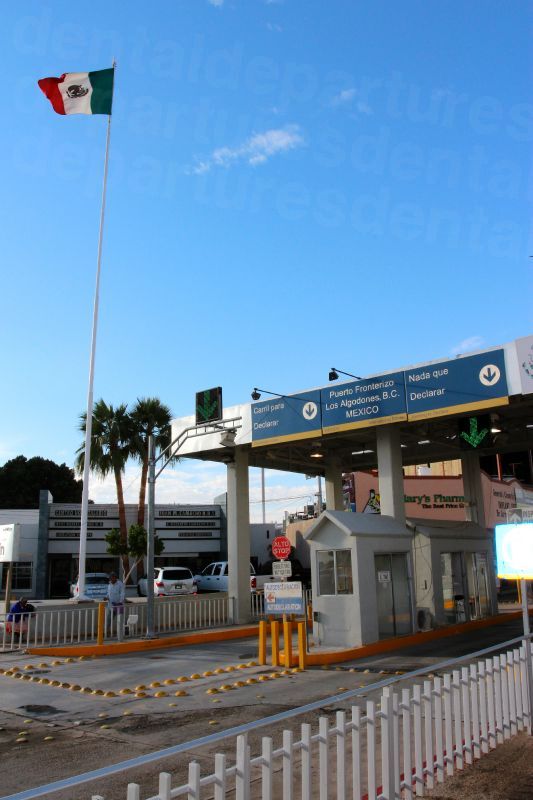 #2 Look at the Prices
The next tip is to compare prices for your treatment in Los Algodones.
Again, using our site makes this whole process easier as we list price comparison tables that are completely free to access. This is something that most clinics do not actually do, leaving prospective patients guessing as to how much their treatment in Mexico will cost.
Our Customer Care Team can also give you a free, no-obligation quote over the phone or via email - giving you multiple prices at different clinics in Los Algodones.
#3 Check If the Dentist Speaks English
The next step in finding a good dentist in Los Algodones is to find one that speaks English. This is not to suggest that dentists who are not bilingual are not good. However, you should be able to discuss your condition, diagnosis, and treatment with your dentist more easily in English.
Thankfully, all top dentists in Mexico speak English and they also have a bilingual staff to assist foreign patients and make them feel more welcomed.
Our Los Algodones listing pages contain a wealth of information about the dentists working at each one; you can also ask one of our representatives for more information about certain specialists, such as whether they speak English, where they have previously practiced and what qualifications they hold.
#4 Look Out for Deals and Freebies
Many of the top clinics in Los Algodones offer special services designed to make your trip go as smoothly as possible. This can include free consultations and diagnostic tests, shuttle services to and from the border, warranties, hotel discounts and more.
Some of the most highly-rated Algodones dentists known for their warm hospitality include:
#5 Book with Dental Departures
Booking with Dental Departures ensures you pay the best prices online, with no upfront charges or hidden costs. We can also help with:
What's Next?
For bookings, get in touch with our Customer Care Team via the toll-free number provided. You can also leave us your contact details and we'll get back in touch at a time that suits you. This service is completely free, with no up-front costs.
Sources:
Rose, Elizabeth. The Mexican Medical Border Town of Algodones. Trip Savvy. 1 June 2020. https://www.tripsavvy.com/visiting-algodones-mexico-1652900
Los Algodones. Expedia. 2020. https://www.expedia.com/Los-Algodones.dx6158212
American Dental Association. Website accessed: 29 December 2020. https://www.ada.org/en