Planning to save money by transforming your smile in Los Algodones? Here are some tips on how to restore your smile with the All-on-4® treatment concept, which replaces an entire arch of missing teeth using just four implants per jaw.
1. Find a Reputable Clinic in Los Algodones with Dental Departures
The first thing to do is to find a reputable clinic in Los Algodones; one that has the correct licenses, has received great feedback from past patients and works with experienced, qualified dentists.
A simple way to do this is by searching the Dental Departures site for quality-checked clinics. We perform a range of background checks, such as on-site visits, verification of dentists' qualifications and legal investigations, all of which helps international patients find trusted oral care providers in Molar City.
Our full list of Los Algodones dentists for the All-on-4® treatment concept can be found here.
2. Ensure Your Treatment Is Carried Out by a Specialist in the All-on-4® treatment concept
While not considered a "major" surgical procedure, the All-on-4® treatment concept requires considerable planning to ensure the precise placement of the dental implants that will eventually hold a custom-made prosthesis. As such, it's essential that you book in with a specialist in implantology who is experienced in carrying out this treatment.
Top clinics like Sani Dental and Simply Dental are comprised of well-trained and experienced dentists specializing in different fields such as oral surgery and dental implants. They have also completed their education at well-known universities in Mexico and the US.
For example, the head dentist at Simply Dental is a member of the American Dental Association (ADA), which ensures compliance with globally-accepted standards.
Other top facilities in Los Algodones that work with implant experts include: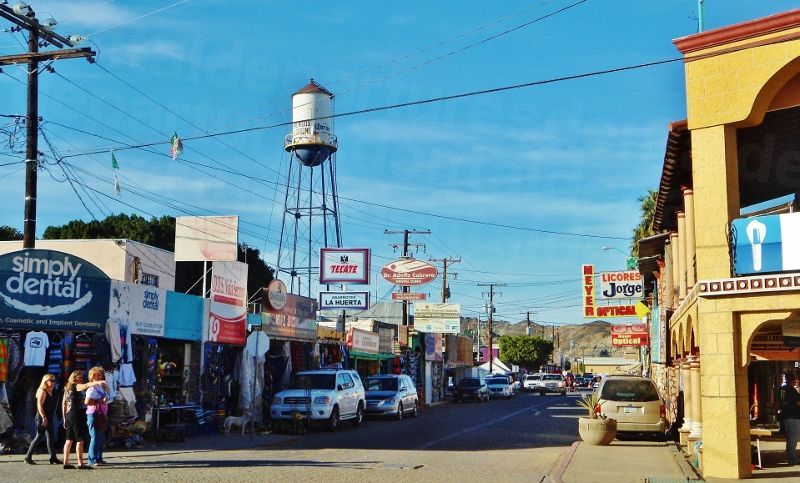 3. Check the Facilities
As well as dentist profiles, our clinic listing pages contain information about the facilities, which helps prospective patients determine whether they have the right equipment to carry out advanced procedures, like dental restorations.
Sani Dental, for instance, has a policy of using the very latest in dental technology, such as CT scanning, digital panoramic x-rays, and computer-aided/computer-manufacturing (CAD/CAM), allowing their team to deliver a safe, efficient and accurate service.
Patients can also relax in their comfortable waiting room that has Internet access, phone, and TV.
4. Check to See If Your Clinic Offers Dental Tourism Services
Feel free to ask our Customer Care Team about additional services that'll make your dental trip to Los Algodones as hassle-free as possible.
This can include anything from free transport from the border (or airport at Yuma, Arizona), hotel discounts and free consultations.
5. Make Sure You Get the Best Prices Online
Booking with Dental Departures ensures you always get the best prices online; if you find a lower price for the same treatment at the same clinic, we'll match it.
As to how much you can expect to save in Mexico, prices for the All-on-4® treatment concept in Los Algodones average around USD $8,500 (CAD $11,473; UK £6,637) compared to USD $26,000 (CAD $35,094; UK £20,301) in the US - saving you around 70%.
6. Choose a Hotel Near the Clinic
While each stage of the All-on-4® treatment concept can be carried out in one day, many patients tend to stay overnight close to the US-Mexico border before traveling back the next day.
It should be noted that accommodation options are limited in Los Algodones; instead, pick a quality hotel in or around the Yuma area, which is just 30 minutes away from the border. What's more, some clinics actually offer shuttle services to/from your hotel on the US side.
Getting Started
First, learn more about the All-on-4® treatment concept in Los Algodones here.
Book an appointment with the help of Dental Departures online or contact our Customer Care Team by phone, email, or social media.
Sources:
Yuma Hotels. Booking.com. Website accessed: 28 December 2020. https://www.booking.com/pool/city/us/yuma.html
Siadat H, Rokn A, Beyabanaki E. Full Arch All-on-4 Fixed Implant-Supported Prostheses with 8.5 Years of Follow-Up: A Case Report. J Dent (Tehran). 2018;15(4):259-265. https://www.ncbi.nlm.nih.gov/pmc/articles/PMC6218463/
American Dental Association. Website accessed: 28 December 2020. https://www.ada.org/en
All-on-4® treatment concept. Nobel Biocare. Website accessed: 28 December 2020. https://www.nobelbiocare.com/en-no/all-on-4-treatment-concept