One of the simplest and most effective ways of fixing a smile is with veneers. However, as they are expensive at home you may want to take a look at some of the top veneers dentists in Malaysia who offer prices that are a fraction of the cost. You can also take a holiday too.
Why Should I get Dental Veneers?
If you have a chipped, cracked, misshapen or discoloured tooth; a veneer can fix it—or at least, disguise it. These slivers of hardwearing material are colour-matched to your teeth and provide the perfect façade once adhered to the front of the offending tooth. Even for people who have a row of crooked teeth, veneers can be placed in a row of 2, 4, 6 or even 8 to create a perfect, even smile.
Why should I get Dental Veneers in Malaysia?
Malaysia is a great destination for dental tourists, both in terms of the quality of dental care and in terms of an attractive country to visit.
Unlike neighbouring countries, Malaysia has been a little slow in coming to the dental tourism table. Now it is becoming a suitable alternative for those looking for reliable dentistry at a value-for-money. Dentists are well-trained, speak English (Malaysia was a former British colony so English is spoken everywhere) and the clinics are contemporary. Plus you will find top-quality clinics all over the country, as below: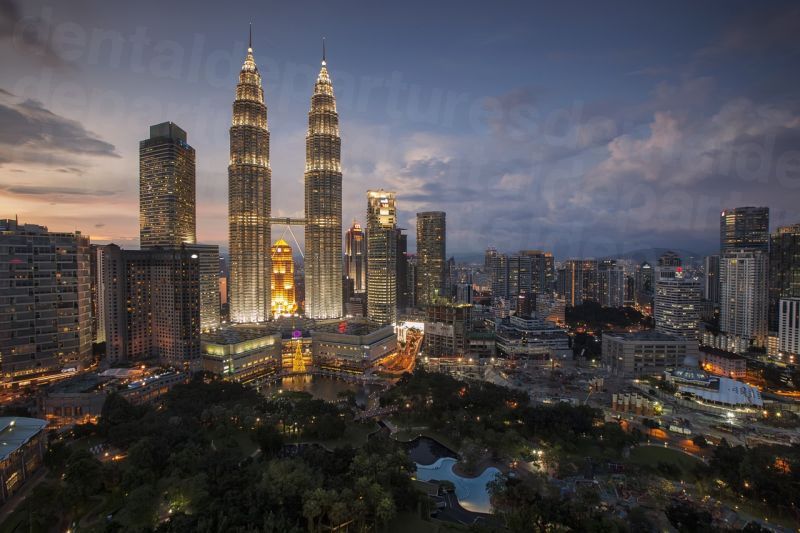 Procare Bangsar , Kuala Lumpur
Klinik Pergigian Dr Matthew Hong , Johor Bahru
Tiew Partners Dental Clinic , Johor Bahru
Wong and Sim Dental Surgery , George Town
Neoh Dental Surgery , George Town
As a holiday destination, Malaysia is a lovely country with a lot going for it. It is one of only 17 megadiverse countries in the world and has unique and varied flora and fauna seen nowhere else. It can compete with anywhere in the world in terms of beautiful landscapes and beaches and its influences include Malay, Indian, Chinese and European providing a distinctive culture.
Most people know the Petronas Towers, the tallest twin towers in the world, which are a feature of the skyline of Kuala Lumpur, the capital. The city is modern, with high-rise glass and steel tower blocks, but it is also packed with minarets, domes, colourful markets, banyan trees and street-food stalls. A great city to explore, the capital is certainly worthy of a visit if you make your way here.
If city life is your thing you may want to head down to Johor Bahru. This city is becoming a major medical and dental tourism centre, partly because Singapore is a 10 minute train ride away and many Singaporeans make their way for cheaper healthcare.
Otherwise, if you are a beach lover, Penang may be the place for you, although the capital George Town, is another interesting city and UNESCO World Heritage Site.
What is the cost Dental Veneers in Malaysia?
For great prices on dental veneers, review Malaysia's dental clinics with Dental Departures. Below is the average cost you can expect, compared to at home:
| | | | | | | |
| --- | --- | --- | --- | --- | --- | --- |
| | AUS $ | NZ $ | UK £ | EUR € | US $ | CAN $ |
| Veneers price – home | 2,500 | 2,600 | 1,400 | 1,700 | 1,800 | 2,500 |
| Veneers price – Malaysia | 600 | 647 | 355 | 424 | 455 | 600 |
The Bottom Line
Our top veneers dentists in Malaysia will help you obtain a beautiful smile for the minimum cost. Book an appointment online, or speak to our Customer Care Team if you would like to learn more.