Let Dental Departures find and book a quality-approved dentist at the lowest rates in one of the world's most dynamic and popular global destinations.
A major dental tourism hub, Thailand's capital is fast becoming the ultimate location for top-notch dental and medical care. Last year nearly two million international travelers visited Thailand in search of low-cost healthcare services. Find out why.
Why Visit Bangkok for Dental Work?
Dentistry tourism in Bangkok is massive. Its reputation and clinical quality is second to none. Thanks to ultra-modern dental clinics, top-rated specialists and cutting-edge equipment, it is no surprise many patients visit for high-end care at affordable rates.
With so many Bangkok dental dentists to choose from, Dental Departures can be your guide. We are delighted to work in conjunction with some of the finest dentists in Bangkok , ensuring the very best in dental treatment.
Clinics in Bangkok–Overview
We offer an extensive selection of fully-accredited dental clinics in Bangkok. With modern facilities, state-of-the-art technology and English-speaking staff, Dental Departures can find the ideal venue for your specific procedure. Browse before you book. Check out our virtual clinic tours, read our trusted reviews and contact us below to find out more.
World-class dental facilities await such as the purpose-built, internationally-accredited Bangkok International Dental Center (BIDC) ,featuring dedicated on-site laboratories and an exclusive boutique hotel to take care of every patient's needs.
Bangkok dental clinics also offer additional facilities you would not find at home, such as the Bangkok Smile Dental Clinic and Spa . Providing a variety of spa facilities, what better way to relax, pre- or post-treatment. Together with savings up to 70%, Bangkok is fast becoming the global leader in medical and dental tourism.
Bangkok Smile Malo Clinic in one of Bangkok's most affluent shopping, dining and entertainment centers, is also popular with our past patients.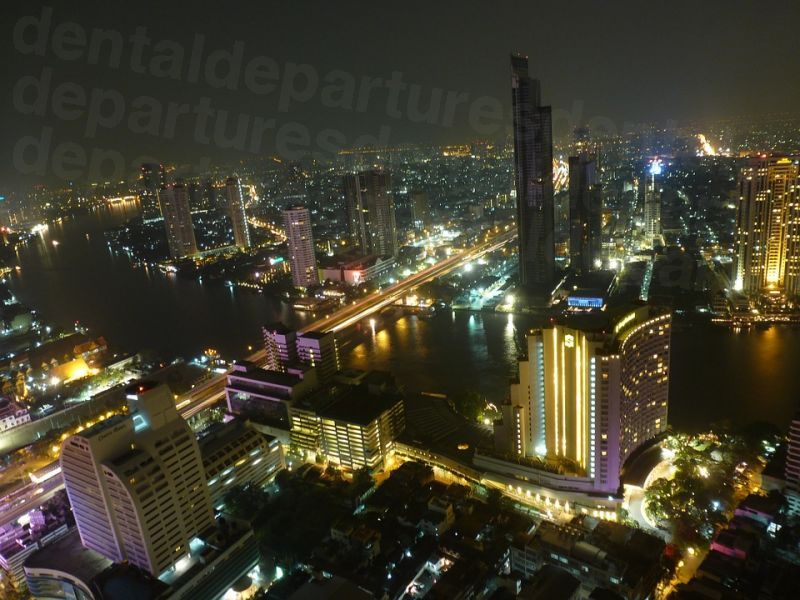 How Much Can You Expect to Save Compared to Treatment in the US and Canada?
Affordable prices are every bit as good as the quality of care you will receive.
Examples of savings are shown below:
• Average. cost of a single dental crown in the United States/Canada $1,164 USD / $1,483 CAD
At a dentist in Bangkok: $400 USD (66% saving)
Average cost of dental implant and crown treatment in the UnitedStates/Canada: $3,913 USD / $5,026 CAD
• At a dentist in Bangkok: $1,900 USD (51% saving)
Planning to Stay in Bangkok?
Choose from a wide selection of accommodation in Bangkok . A popular location with an array of lodgings to suit any budget is in the Sukhumvit area. Named after the iconic Sukhumvit Road, traversing the city, the area is easily accessible on foot or by Sky Train (Bangkok's safe and efficient public metro) to numerous amenities, restaurants and shops.
Bangkok is renowned for traffic build-up. Therefore, you will want to reserve lodging close to your chosen dental location. Several of our clinics offer discounted rates on partner hotels; our Customer Care Team will be happy to assist with any travel arrangements.
Why Holiday in Bangkok?
Situated on the banks of the Chao Phraya River, Bangkok is home to around 12 million people. This awe-inspiring city is not just a dental tourism mecca for international travellers but a rich cauldron of culture, history and modernity.
Discover thriving markets packed with enticing, inexpensive street food stalls or experience five-star dining in one of Bangkok's high-rise restaurants. Cruise down the river, visit the popular floating market or make a beeline for the Grand Palace. The night market at Patpong will captivate your senses, and for daytime shoppers there's no shortage of glitzy shopping malls.
Get lost in Chinatown or take the Skytrain to Nana station where you will find a vibrant nightlife scene. Add in a traditional Thai massage, Lady Boy show or Thai cookery class and you will see precisely why Bangkok is one of the world's most popular tourism destinations.
Patients will find many airlines fly regularly from Australia, New Zealand, North and South Asia, Europe and the US into Bangkok's new Suvarnabhumi International Airport.
What's Next?

Find your Bangkok dentist and book online
with Dental Departures. Our best price guarantee
ensures top-notch dental care at extremely affordable prices. For more details about dental treatment in Bangkok, contact us via online chat, e-mail or call our toll-free phone number.