If you are looking to renovate your smile with low-cost dental implants, the All-on-4® treatment concept in Los Algodones may be the solution.
At just a fraction of the price you'd pay in the US and Canada, a trip south to this border town famous for dental care can save you well over $10,000.
Read on to find out more with Dental Departures.
What Is the All-on-4® treatment concept?
This full-arch restoration is a patented technique provided by Nobel Biocare that uses four dental implants (per jaw) to support a full arch of replacement teeth.
Once the implants have been surgically inserted, you'll head back home in order to allow them to fuse with the jawbone (a process called osseointegration). During this time, you will be giving a lightweight denture to wear - but this is only the first step of the treatment.
After around four to six months, you'll return to the dentist in Los Algodones for the "restoration phases". Now securely integrated with the bone, each dental implant acts as a tooth root, providing a stable base to support a custom-made, permanently-fixed dental prosthesis holding a whole row of replacement teeth (crowns).
The two rear implants tend to be longer than traditional implants, and are inserted into the jaw at 45-degree angles, thus negating the need for bone-grafting. This technique is a suitable solution for patients who previously could not have implants due to bone loss.
Why Travel to Los Algodones?
This Mexican town is a dentistry Mecca, attracting patients from all over North America. In fact, there is a dentist, or even two or three, on almost every corner.
The town is walking distance of the US-Mexico border crossing at Andrade, meaning you can drive south, leave your car at one of the secure parking lots on the US side and then walk into Mexico for your appointment.
The quality of care in Los Algodones is also of an excellent standard. Many of our partner dentists have been trained in the US and are members of the American Dental Association or accredited by one of the leading US accreditation agencies.
Check out our full list of All-on-4® treatment concept providers in Algodones here.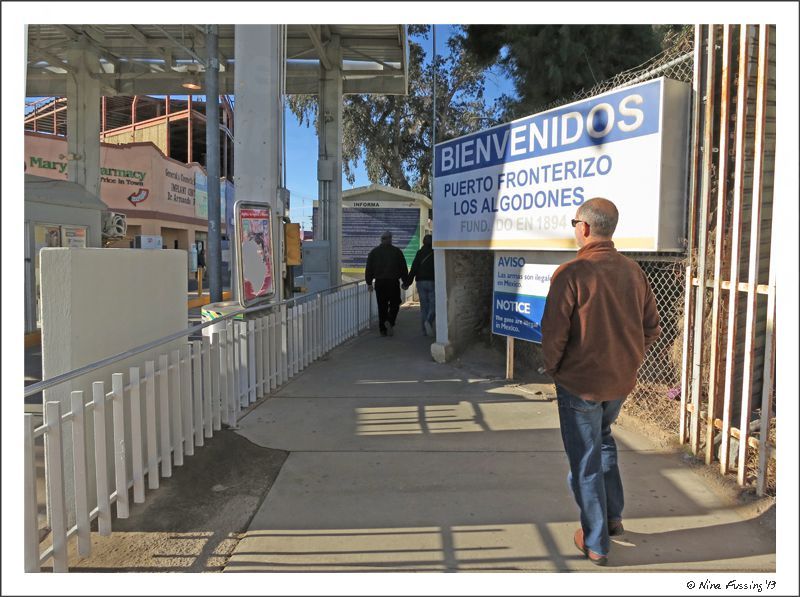 How Much Can I Save in Los Algodones?
Savings often run into tens of thousands - even when factoring in travel costs for two separate trips.
Check out the prices available in Los Algodones below for this restoration treatment:
Treatment costs approximately USD $26,000 in the US, compared to USD $9,000 in Los Algodones, which is a saving of USD $17,000.

Treatment costs approximately CAD $35,000 in Canada, compared to CAD $12,000 in Los Algodones, which is a saving of CAD $23,000.
[Please note that these are estimated prices at the time of writing. See our individual clinic listings for latest prices.]
Top Clinics in Algodones
Take a look at two of our most highly-rated listings for the All-on-4® treatment concept in Algodones below:
Sani Dental has three specialized clinics in Los Algodones. They have world-class dentists as well as modern and clean facilities. Numerous patients have gotten their top, bottom or both arches replaced with four per jaw implants, and have been 100% satisfied with the extremely high standard of work.


Supreme Dental Clinic is equipped with a state-of-the-art facility that produces high-quality dental restorations. Globally recognized brands are used in improving the smiles of patients. For example, Supreme uses porcelain, metal-free and zirconia crowns to shape the teeth, adhering to the strict guidelines on sterilization procedures set forth by the American Dental Association (ADA).
Getting There
Los Algodones is located right on the Southern California and Arizona borders. This makes it convenient for Americans who want to drive to the border. There are also many options for flying. A visa is not required so you can quite literally walk right in.
For more information, check out our Los Algodones dental travel guide here.
What's Next?
Take a trip to Mexico to get your dental restoration in Los Algodones and make savings of up to 70% with Dental Departures.
For more information and bookings, get in touch with our Customer Care Team via the toll-free number provided, or leave us your details and we'll call you back at a time that works for you.
Sources:
Nobel Biocare. Website accessed: 15 February 2021. https://www.nobelbiocare.com/en-us
Raghavendra S. Jayesh and V. Dhinakarsamy. Osseointegration. J Pharm Bioallied Sci. 7 April 2015. https://www.ncbi.nlm.nih.gov/pmc/articles/PMC4439679/
Dental Prosthesis. Science Direct. Website accessed: 15 February 2021. https://www.sciencedirect.com/topics/medicine-and-dentistry/dental-prosthesis
Dentist Capital of the World - Los Algodones. Fox News. Website accessed: 15 February 2021. https://www.foxnews.com/health/dentist-capital-of-the-world
Los Algodones. Expedia. 2021. https://www.expedia.com/Los-Algodones.dx6158212
American Dental Association. Website accessed: 15 February 2021. https://www.ada.org/en