Off to Bangkok? If you've been thinking of getting your teeth whitened then now is the time to do it. The laser teeth whitening cost in Bangkok is less than half the price compared to what you pay at the dental clinics at home. What's more, Dental Departures will help you find a great-quality dental clinic in the blink of an eye.
Why get laser teeth whitening in Bangkok?
Nothing you wear will ever look as good as a great smile – and the thing about your smile is that you take it with you everywhere. If it's looking a little lacklustre because of yellow or stained teeth then laser teeth whitening will give both it and you a boost. We often indulge ourselves with spa treatments, so think of teeth whitening as a spa treatment for your teeth.
The process is relatively straightforward, only taking a few hours out of your day, and delivering dazzling results immediately. There is no waiting around for the procedure to 'take' or 'develop' – you'll walk right out of the dentist's office with a brilliant, white smile.
Bangkok is a major dental tourism destination. There are many excellent clinics throughout the city that meet international standards – even some JCI accredited ones, like the Bangkok International Dental Center Main Headquarters and Bangkok Smile Malo Clinic . Some clinics have been established for decades, like Thantakit International Dental Center , which is Bangkok's oldest-established dental clinic with a great reputation for treating foreign patients.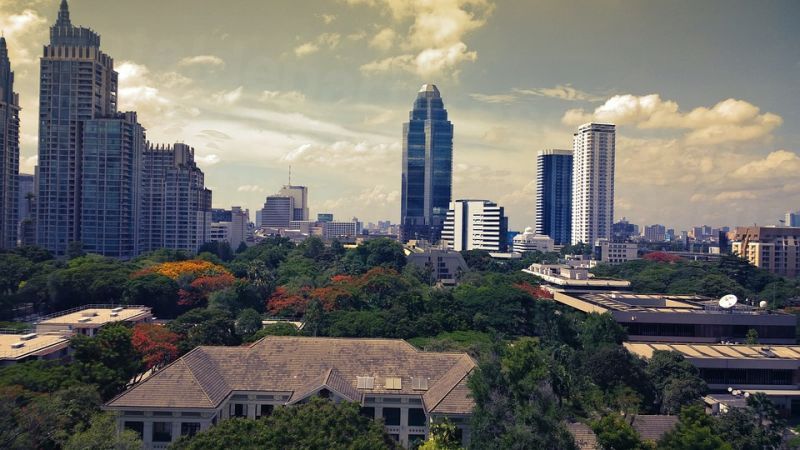 The laser teeth whitening cost in Bangkok is less than half the price you would pay at home, so is definitely worth the time out of your holiday or business schedule. Compare the prices in Bangkok with your home country in the table below:
| | | | | | | |
| --- | --- | --- | --- | --- | --- | --- |
| | AUS $ | NZ $ | UK £ | EUR € | US $ | CAN $ |
| Laser teeth Whitening Cost – Home | 657 | 705 | 387 | 460 | 496 | 669 |
| Laser Teeth Whitening Cost – Bangkok | 270 | 290 | 159 | 190 | 204 | 275 |
What is the procedure for laser teeth whitening?
Your laser teeth whitening procedure in Bangkok will be carried out in the same way as it would by a dentist at home. The same technologies and brands, like Zoom! BriteSmile and others are all available in Thailand – it's all just a personal preference what system your dentist has installed.
First, if the dentist deems you suitable for the treatment, they will compare a shade chart to your teeth to gauge what colour your teeth are. Then, a rubber dam is placed in your mouth to protect the soft tissues and your tongue from the whitening gel. The gel is painted across your teeth and left to activate for a while, and then the laser is applied to activate the bleaching agents in the gel. The gel is removed and the process may be repeated several times. Once complete, the dentist will ensure all the gel is removed from your mouth, clean your teeth and show you your new, whitened smile – which will be much whiter.
Get in touch with our Customer Care Team to arrange your laser teeth whitening in Bangkok at one of our fantastic clinics. Moreover, book with us for the guaranteed best prices.