Also, it is home to high-quality dental clinics representative of a large, modern city. They are inexpensive and have satisfied thousands of Dental Departures patients.
Dental Veneers
Veneers are thin slivers of tooth-colored material that are affixed to the front of the teeth in a relatively quick and easy procedure. They are a great way to disguise the shape, size, and color of your teeth , and when placed over the top of your teeth they provide a straight, white smile. The procedure is ideal for dental tourists as you will experience little downtime after your treatment.
Dental costs in Australia and throughout the Western world mean this treatment is now beyond the financial means of many would-be patients at home. However, dentists in Ho Chi Minh City offer the same treatment for prices that are up to 80% lower:
Country Price in Ho Chi Minh City Domestic Cost
Australia AUD $328 AUD $1,623
New Zealand NZD $352 NZD $1,744
United States USD $257 USD $1,272
Canada CAD $334 CAD $1,652
United Kingdom GBP £184 GBP £911
Europe EUR €208 EUR €1,031
Visiting Ho Chi Minh City
HCMC retains many fascinating historical sites including the Chu Chi Tunnels War Museum. It is also home to stunning French colonial architecture like The Notre Dame Cathedral and Saigon Central Post Office. Visitors can also explore the many Buddhist temples and traditional markets that have existed for hundreds of years.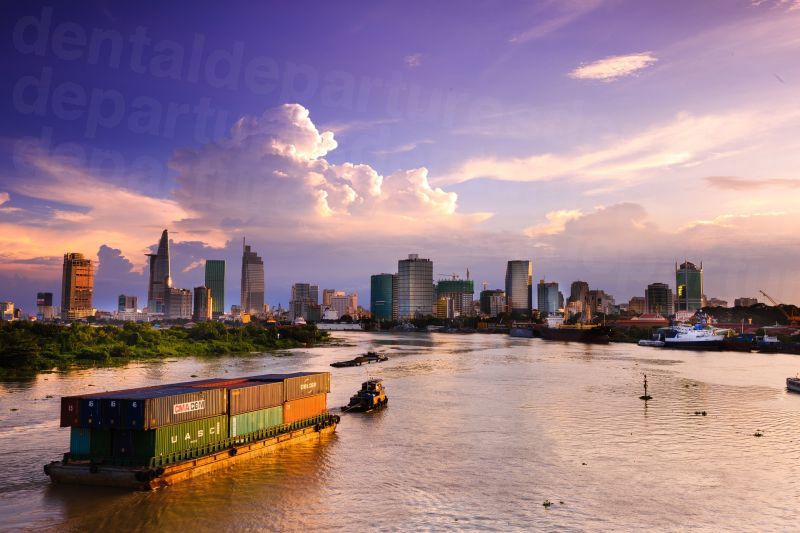 Which Clinics Are Best?
Dental Departures verifies the legitimacy of all dental qualifications and professional memberships in our listed clinics, as well as undertaking site visits to ensure that equipment and procedures comply with international standards. Only when our quality criteria have been met do we recommend them to you. The following three clinics have been given 5-star ratings from Dental Departures patients who have undergone treatment in HCMC:
Ho Chi Minh City offers beautiful veneers at affordable prices. To book an appointment contact our Customer Care Team today or you can schedule appointment at no charge directly with us online.
Sources:
Vietnam – The New Destination for Dental Tourism. Bliss Saigon Magazine. 18 August 2018. http://blisssaigon.com/38769/" target="_blank
Vietnam's Emergence as a Global Leader in Dental Tourism. The Saigoneer. 19 November 2018. https://saigoneer.com/explore/sponsored-listings/259-explore-9/14922-vietnam%E2%80%99s-emergence-as-a-global-leader-in-dental-tourism" target="_blank
Dental Health and Veneers. WebMD.
www.webmd.com https://www.webmd.com/oral-health/guide/veneers#1" target="_blank